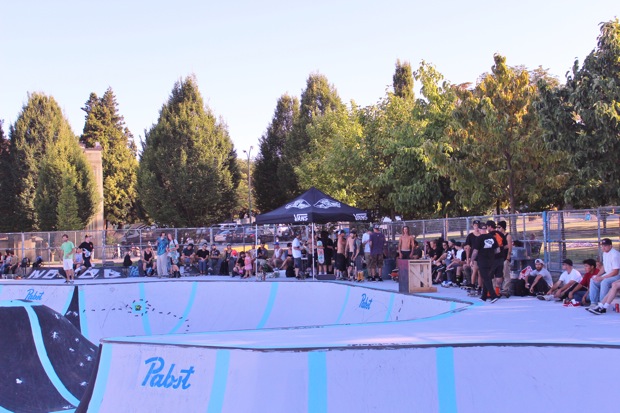 Friday night was pretty hectic but it wasn't much different than most Friday nights at Hastings Bowl, except of course for the huge coolers full of beer and boxes of prizes. Tons of people showed up to skate and to just sit and chill and check out the show. Surprisingly no one got drunk…
There was a Best Trick over the spine to get the jam rollin' and Adam Hopkins won it with a solid Miller Flip. Fighter dropped a Benihana over it right afterwards too. They had a wooden extension on the 8 foot just like last year's Battle at Hastings Real Box except way sketchier. Skylar Kehr did this crazy hippie jump off to hand on his board wallride to fakie and got nothing for it. That's life I guess, but it was sick. Jeff Muirhead stuck a super awesome nosepick on it too. Surrey Stu Benoit took the golden prize of 2 Old E's taped together for snaking everyone in the 6 foot bowl and then Chris Macallum fell hard on a shotgun speedline and cracked his head open bad – 9 stitches at the hospital and then he was back to chill. Hardcore!!
After everyone mellowed back down it was time for some good ol' Canadian Flyouts from the 6 foot. Methods, Judos and backside 360's, and that was just John Baker. Everyone was killin' this section, and a few decks got snapped hard. Even I got up and banged out a couple Madonna bucket kicks off the garbage can. This got Brad Muscat going and along with 8 beers or so, he all of a sudden started eyeing up the fence gap. There's a pretty short list of people who have air this gap over the fence from the 4 foot bowl to the bank in the street section, and add his name to it. Fighter dropped a melon grab over it and then went back to method it for the crowd.
Everyone had a good time, there were tons of awesome people there and a lot of crazy tricks. For an event named "The Booze Bash" it ended up being pretty mellow, which was good.
Thanks to Sheldon Barr for putting it all together.