I got my first impression of young Merrick Orr on July 1st of 2013 at the annual Canada Day skateboard competition kickoff to Bowl Series at Seylynn Bowl. This was the 19th year for Bowl Series and I've been at this event for about the past 12 years which is ironic since this kid was only 13 years old at that time. I had noticed him come into the park with his Mom and a true Seylynn legend Carlos Longo, and he even looked a lot like Carlos with scraggly hair and that rocker style. He had already caught my eye before he stepped on his board, but then he dropped in and started annihilating the place. Poppin' crail grabs and kickflips over the hips and just cruising hard with full speed ahead mentality, everyone was checking out Merrick, and a lot of people were saying the line "Is this the next David Gonzales or what?" It was right around the time when David's insane part had just dropped so he was fresh on the brain, but man did this kid skate like him, and look like him too…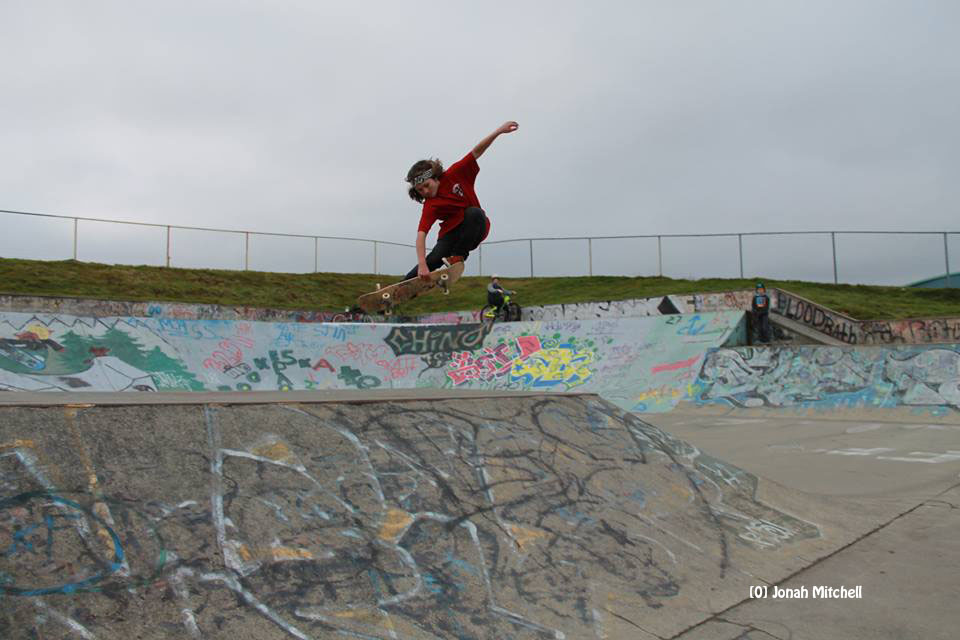 Merrick was killing the park all day and was ready to join in the Advanced category which is super awesome for any 13 year old, especially at the oldest skate park around. His run began and he tried to ollie every hip on the way down the snake run making the common mistake of smashing his head going over the last hip into the deep end which is actually referred to as "Head Bang" because of how many people who have hit their head on it. He was dazed and confused but still wanted to skate and it took me, his Mom and Carlos to drag him over to his chair and sit him down. Merrick was hurt physically, but even more scarred mentally that he wouldn't be able to compete that day. We told him it was for the best and kept him sitting down. Of course once the Advanced Finals started there he suddenly appeared back in full motion. I knew right then that this kid was determined to skateboard.
Merrick came out to all the comp that summer travelling over from Vancouver Island every time. He lives in Sooke and wanted to get down in the Vancouver scene. I think he did a great job impressing people because we all know him simply as Merrick and love to watch him skate. This kid is gonna be around a long time, and he actually may just be the next David Gonzales, or maybe he's the next Carlos Longo just in a different era. Either way, he stokes me up big time.
Check out his latest edit filmed and edited by Shawn Rowbottom and give this kid some props. He picks out the nastiest, gnarliest and most unskateable spots and lays it down