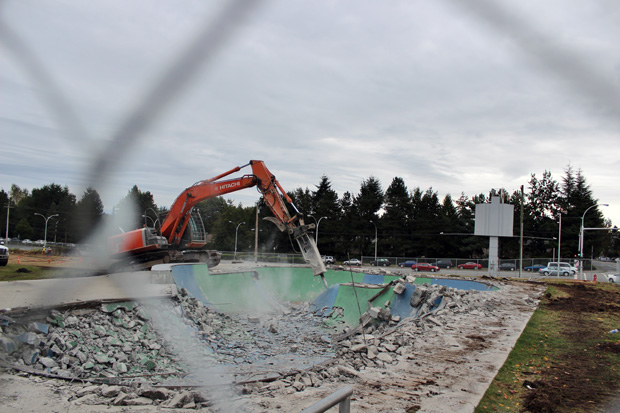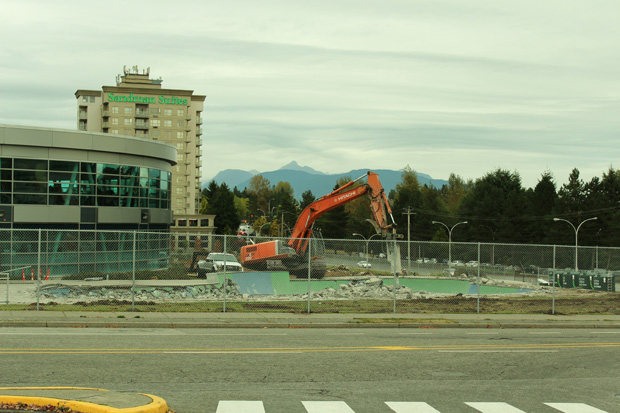 Well, there you have it – the existence of the Guildford Bowl has reached it's final moments. I got an anonymous tip that the crane was there jack-hammering the bowl out this morning so I rushed over to get a couple photos. It was definitely true, and by noon today, the bowl will be completely destroyed.
This is not the first time part of a Skate Park has been taken out in this area. New Line has removed pieces of certain Parks for Revision and Facelifts, and that's sort of what this is, except the putting it back together part is gonna be delayed until 2014 which sucks. But when the skateboarders get these parks handed to them without having to do any work for it, I don't think they can complain to much. It's a different world now and we are totally spoiled with skate parks and at least the City of Surrey acknowledged the fact that they didn't want to get rid of this one, they just had to. That's why half the park will remain, and the rest will eventually be replaced.
Thanks for all the good times Guildford Bowl, you will be missed.
For those who didn't catch it the first tome around, here's the footage from our Final Film Session there September 29th, 2012