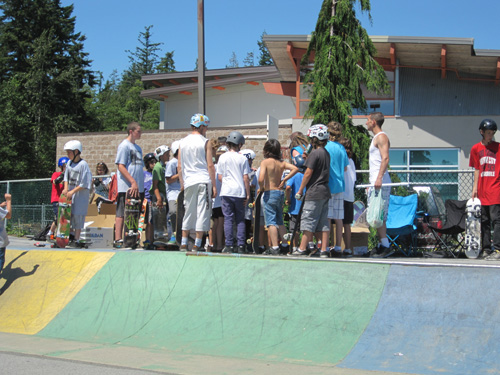 A long painful week in the heatwave, so I was glad we were scheduled for South Surrey since it's usually a little cooler down there. Most of the humidity was gone but it was still blazing out and close to 30 degrees. Lots of sunscreen and lots of fluids and the kids were good to go. Close to 50 competitors all together. We started out with the Minis and all eyes were really on Luke Thodos after his annihilation session at Fraser Heights last week. This kid set a new bar for the Minis for the entire year. His first run was untouchable, but he had trouble riding away in his second run – landed everything he tried, just couldn't hold on. Nick Logan showed up but he hasn't been skating as much as he used to so he was struggling a bit. He'll shake it off. Still skated really good for a Mini. But the audiences focus was drawn to Jaden Dahl and a new kid named Kai. They were both ripping it up, but Jaden took home the gold with a whole lot of awesome flip tricks.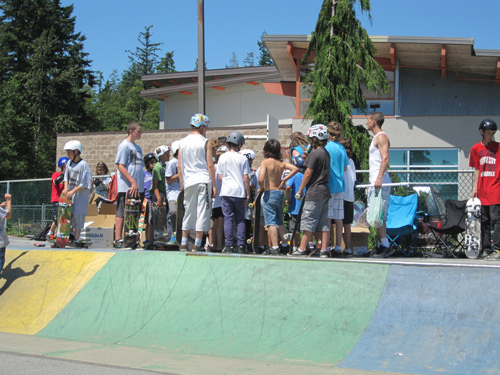 The Beginner category was packed as usual, all kids going for the win. Parker, who was at Fraser Heights skated really good and just missed placing. Riley Allen threw down tons of creative tech tricks on the little quarter pipes and finished third. Matthew F. skated with Andy Anderson style flow and took home second place. And Cole Thodos stole the show, tricks everywhere including a crazy hung kickflip over the pyramid and then finished off his runs by popping an ollie into the halfpipe top to bottom – you know, it's only like an 8 foot drop…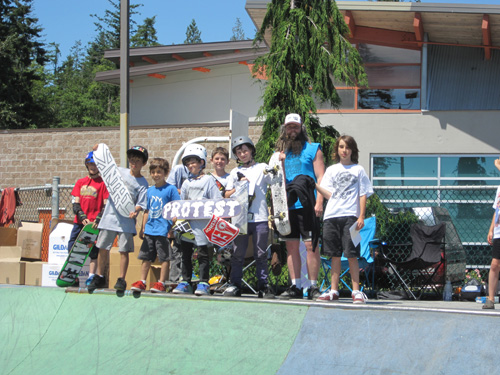 The Intermediates were having a rough time but there was still lots of talent. Andre Bissonnette stared the category off by kickflipping over one of the quarterpipes and spraining his ankle really bad, good start. There were lots of awesome tricks that went down, notably Sasha's kickflip noseslide down the long ledge, Fighter frontside 180 in to the halfpipe, and Darcy's frontside 360 off the wedge. Masayuki skated really solid, same with Coddi, Darcy and Dakota, but the top 3 went to Brendan Neilsen, Jaden Easton-Ellett and Keegan Anderson. Interesting – all Cloverdale Locals growing up… Ther was no Girls category, but we did have a Carrie Williams Demo. Carrie is happy to skateboard again, and whether there is anyone to compete against or not doesn't matter, she just goes out and tries to land as much as she can for the audience. Someone has to do it, and she does it well. Still, it would be nice to have a Girls Category.
For Advanced, it started out crazy. Brandon Baba is a young Up and Comer who has been a regular at these contests for as long as I can remember. He always had talent, and good drive. Now he has a sponsor and gets to compete against the big guns, but I think all it's gonna take is one run where he lands all his tricks and he could win one of these events. The kid is definitely good. Fighter wasted most of his runs trying to 180 into the halfpipie which he sort of rode away at the end of his second run. Jordan Strong had 2 solid runs, but almost took himself out at the end of his first one slipping out over the downledge on a kickflip 5-0 attempt. How's your ribs buddy? And speaking of soar ribs, Justin Heddle tried to break all of his out of the bowl. He was going super fast for a huge frontside 360 indy launch and just lost it completely on the take off flipping over twice and spinning about 900 degrees until he came down flat on his butt and side. If you weren't there, find the old Flip Video where Alex Chalmers is riding the bowl there and gets worked on a 540 indy, it looked pretty much like that. Somehow Justin actually skated his second run, but didn't land much. I think he was a little soar. D.J. Dale also skated pretty good with lots of creative tricks, but didn't land enough of them to compete with the top 3, and then we had Wes and Matt who showed up just as Advanced started and both skated pretty good. Especailly Matt, really layed down some unique tricks around the park. My fave was the bluntslide to fakie on the spine, tight trick. But the big decision was between the 2 little dudes that both rip it completely opposite in style. Park Local Andy Anderson shredded the transition sections of the park like only he knows how. Slashing all the coping and then tearing up the Bowl. Andrew has skated this park for a long time and has awesome flow in the bowl. He's probably the only 14 year old that can hit the Gravitron fast enough for me to follow him. But his skills didn't quite take home the gold, because Dominic DeVries is so solid. Dominic can skate everything, but is exceptionally good at flip tricks and ledges. He's young, but a definite threat in this category wherever we go. Took home the Gold!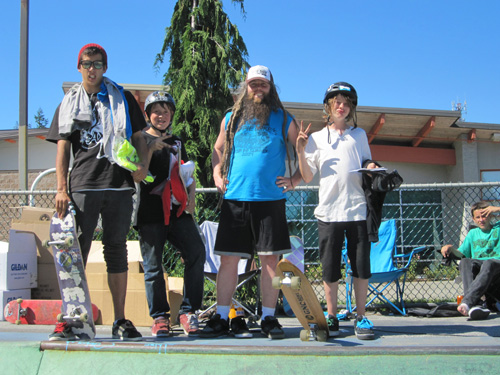 After the contest we had a Best Trick on the Centre Section of the Park. Matt started it off with a Boardslide across up and across the kink rail to fakie. I called it the winner right there, but they all still had 12 minutes to try and beat it. Matt threw down back tail shovit out of the launch, Fighter crooked and 50-50'd the big rail, Dominic kickflipped off the ledge over the bank to flat, and Baba 3 flipped off the ledge into the wedge. All solid tricks, but none of them beat the first trick that went down. Good job Wes…
RESULTS
MINI: 1. Jaden Dahl; 2. Luke Thodos; 3. Kai Searle; 4. Nick Logan; 5. Shayle; 6. Lucas; 7. Justin 

BEGINNER: 1. Cole Thodos; 2. Matthew F.; 3. Riley Allen; 4. Parker; 5. Jaeden Fitteren; 6. Alex, Matthew McCaulley; 7. Tyler, Kory Laan, Max W.; 8. Bryan; 9. A.C. & Matthew Major; 10. Tyler M, Alias
GIRLS: 1. Carrie Williams
INTERMEDIATE: 1. Brendan Neilsen; 2. Jaden Easton-Ellett; 3. Keegan Anderson; 4. Coddi Ryane; 5. Darcy Roadnight; 6. Sasha Shams; 7. Dakota Dahl; 8. Gavin Goodall; 9. Sebastien; 10. Robin Learmont; 11. Curtis Clements; 12. Francois & Jonathon Kampen; 13. Masayuki Hayashi; 14. Robert Wylie 

ADVANCED: 1. Dominic DeVries; 2. Andy Anderson; 3. Jordan Strong; 4. Matt; 5. Brandon Baba; 6. Fighter; 7. Dale Kind; 8. Justin Heddle; 9. Wes
See you at Kwantlen – July 24th