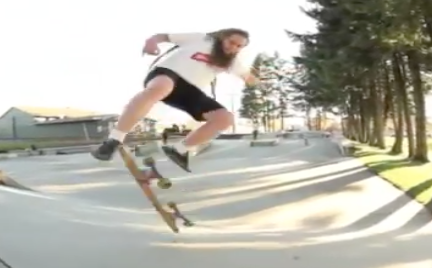 [youtube id="e7LIGQdlQ0c" width="620″ height="360″]
Well the title boldly says it all. But some people might wonder what the hell it means, that is if they don't know that I used to ride a 2×4 skateboard all the time.
My Halloween costume this year was a Caveman and so I brought out the 2×4 board as part of the outfit to a couple contests/jams. One was at Leeside and one was at North Delta Park. I hadn't pulled this deck out for years until earlier this spring for a couple clips in a video part, and then I put it right back into it's spot hidden away in my laundry room. But when I started riding it at ND for the Coastal Riders/Street Dreamz Jam it brought back the memories of how hard it was to skate but how fun the challenges of learning tricks on a 2×4 skateboard were. So I told Jordan Strong that we were gonna have to go back to North Delta Skate Park with it on a quiet day and film a quick video part.
That day was November 14th, 2012
Wet, slippery and empty – Hippie Mike represents on his legendary 2×4 skateboard at North Delta Skate Park