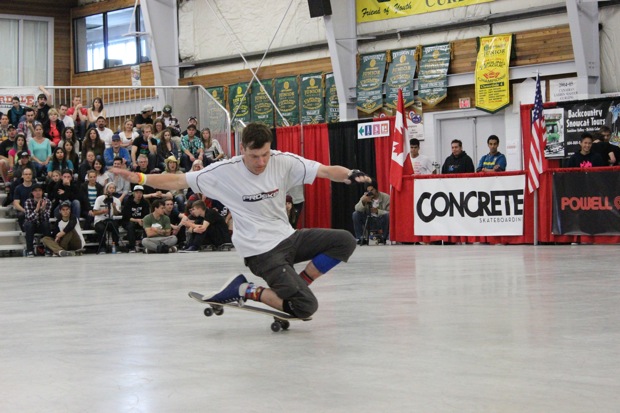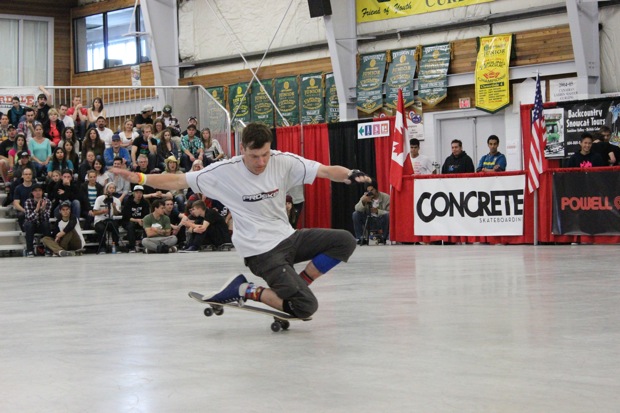 It all comes down to that 1 word – WOW!!
This event has been something else, every time your blink your eyes some other mind-blowing tricks gets stomped down. I have never seen so many handstands in my life, and all of these guys can flip out of them and land perfect every time, some can even double flips. The footage I have been capturing will change your outlook on skateboarding completely when you see it – Primos, Truck Stands, 1 foot spins and Cocunut Wheelies, there is no limit. One of the best tricks I filmed so far was a moving handstand with a bunny hop ollie still in handstand and then kickflip out by the Dr. Bert Mathieson, who is in his 50's.
That was another crazy thing, out of the Pro's that were in the Finals, 6 out of 10 of them are in there 40's, that's why they're so hard to beat because of how experienced they are.
The Amateur Category was even more crazy than Saturday's Semi-Finals with Ryan Brynelson, Kaue Arouja, Andy Anderson and Jacob Whitt all throwing down flawless and unreal runs. The technicality and consistency of these 4 made them all look like Pros and I would hate to have to judge between them.
The real Pros were just as tough of course with Guenter Mokulys ruling the floor again, Per Canguru, Rene Shigueto, Seya Nakano, Mike Osterman and others trying there hardest to beat him but it is so, so difficult. We won't know any of the results until the Awards Ceremony at 3pm to close down the contest.
All I have to say is this entire weekend has been packed full of smiling faces, heart to heart conversations, amazing people and historic memories. Great skating from everyone who showed up and good luck to those trying to win prizes.
Photos from the Finals