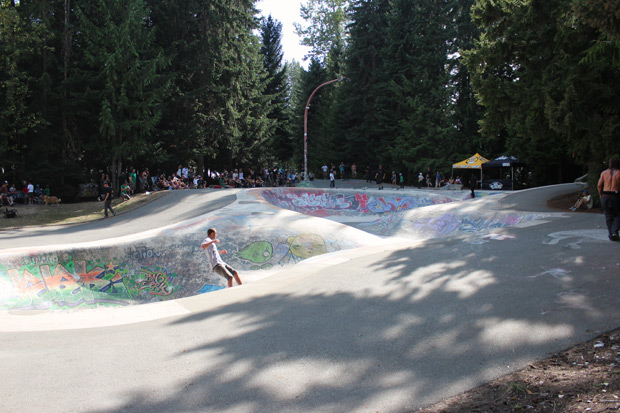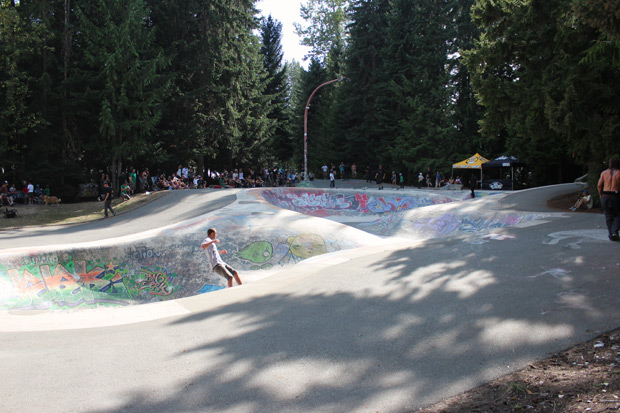 Another amazing season of Old Bowl Skateboarding comes to a close with historic style. Every year, I itch for Canada Day just for the Seylynn Bowl Contest. To me it's not at all about going out and competing to win, but just the chance to go skate with a huge crew of people that are all related in one way – Bowl Series. Seylynn, Griffin, White Rock, Squamish and Whistler, 5 great places to hang out and skate. These 4 "copingless" parks were all constructed in the 70's and 80's and are still the best parks for anyone who likes to go fast. If there's one thing that skate parks are missing now a days, it's Gravitron Speed Lines. If you don't know what a Gravitron is, then I find it difficult to refer to you as a skateboarder. All the old bowls were created in a snake format and built on a downhill slope from top to bottom, but skateboarders being crazy figured out that if they fast enough down the outside of the bowl and shoot into the deepend in a u-turn could actually make it back up to the top through the bowl – Gravitron. The weightless feeling of transferring from vertical to horizontal as you tear into the bowl at dangerous speeds – Gravitron. A whole different world…
Skateboarding has changed so much over the last 3 decades, the kids now a days are just obsessed with tricks on obstacles, and a lot of them don't know how to actually skate. They don't know how to run onto their boards as fast as they can and push as hard as possible down the street into a downhill. They don't know how to forget about tricks and just cruz. And that's why I love the Bowl Series, because people of all ages that just love to skate are the ones that come out. I was astonished at Squamish by the amount of super young kids in the Beginner Category all skating tranny. There must have been over a dozen little dudes ranging in age from 4 years old to 13. They were all having the time of their lives just skating. And even in the Advanced Sections you have super young guys like Andy Anderson and Giet Rolan in their mid-teens coming out and competing against bowl legends in their 30's and 40's like Stevie D, Eve Feaver, Don Bushman, and myself, and beating us. It's amazing.
Year # 18 was a very special year. Adam Hopkins is on what some would call a Glory Path this year winning pretty much any and every contest he enters, and he enters a lot of contests. He took Seylynn no problem, won it in White Rock on his first time ever there, wowed the crowd at Griffin for the gold, annihilated the competition at Squamish, and finished it all off with style, and huge airs, at Whistler. Adam Hopkins won all 5 stops, and is actually only the second King of the Bowls to win all 5, tying with Alex Chalmers who actually did it 2 years in a row back in 1997, '98. But back then the 5th park was New West, not Squamish. Maybe Hopkins can follow in Alex's footsteps and go for the undefeated repeat next year. Either way, you can tell that Adam is on his way to stardom and he has a huge posse of friends backing him up. Way to go dude!
Squamish was tight, Don Bushman was definitely present and showing off that this was his home park. Bushman is the only person that will always barge me out of the bowl, he's big, goes super fast and charges lines that are impossible to read. He had these mega airs in the corner pocket of the vert wall over the loveseat that were just plain crazy and would stomp every one. Steve Denham showed off the fact that he also lives in Squamish now with smooth transfers all over the bowl and sick disasters on the vert wall. Eve Feaver was killin' the loveseat and even Giver was skating good again. But no one was stopping Adam Hopkins with his inverts, judo airs and even a stomped 540 McTwist in the vert. He even melon transferred over the island in his run. A windy, but awesome day in Squamish, it even got topped off by Fighter doing the gap out to the parking lot. Protest represent buddy!
After the rowdy night everyone staggered into the old Whistler Park for the Finals. Same Beginners showed up from Squamish, but surprisingly had a tougher time skating a bowl without coping. I was on the mic giving them a hard time and they all represented. The Ladies were seriously picking out the speed lines and showing their fearless styles by going fast. There was a Best Trick out of the Slayer Hit for a Protest Cruiser Deck and dudes were going huge. Andy Anderson hit some sick tricks Sal Flips, Mute to Melon Hand Varial, and Bigspin Melon, Adam Hopkins was doing methods about 8 feet high and 10 feet long into the steep landing, but Danny Hagge took the win for going bigger. I'm not sure how fair that is though since Danny is about a foot and half taller than everyone else. Still sick though.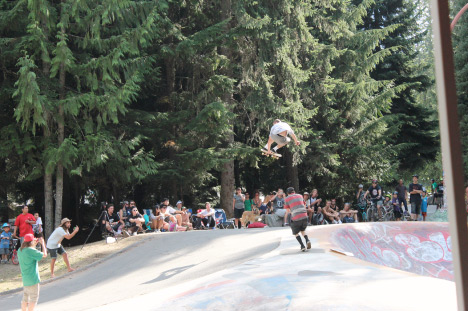 The Advanced was insane of course. My favs to watch were Eve Feaver, Turbo, Benny Stoddard, Stevie D and Hopkins. There were a lot of competitors in this category as always and it was tough to only choose a few for the Finals. I got hurt early in the day, throwing out my lower back and ended up MCing the entire event which was an honour for me. I was super hyped for the Finals and wouldn't let them end. I think we played 4 long songs for them to skate to and everyone looked ready to pass out by the end. From Andy Anderson at age 16 to Eve Feaver shredding at 40 it was tight. Benny had the speed lines and tech tricks, Stevie and Danny had the huge transfers both ways in the bowl and sick barrier tricks, Andy demoed on the barricade and Eve skated like he skates at every event – fast, furious and styley. But obviously no one was catching Adam Hopkins, tossing 360's, kickflip grabs and anything else he felt like puttin' down. Huge props go out to Mike Strato for organizing and running all the events this year with the help of Giver. I know how much work behind the scenes goes into setting up a Series like this and it is definitely appreciated. 18 years of love.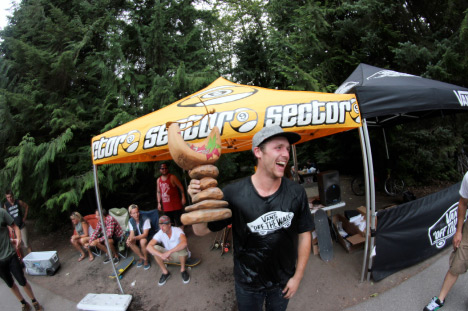 Now bow down to your new King, Adam Hopkins…