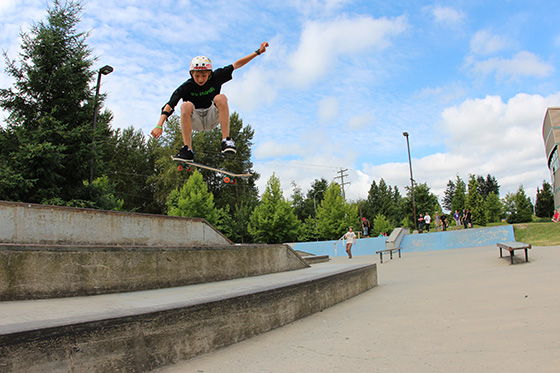 Another beautiful Saturday in the land of Skateboarding. We started the day off early with the contest beginning at 10am so that people could try to get to Hastings Park in time for the Tony Hawk Birdhouse Demo. Still lots of kids showed up for the contest, and of course they were all ready to rip it. The 3 block is the big obstacle at Fleetwood Skate Park and tons of tricks go down over it every contest. It got ollied in Mini, Kickflipped in Beginner, Benihana'd in Advanced, and Bigspin Heelflipped in the Best Trick. Kids are crazy.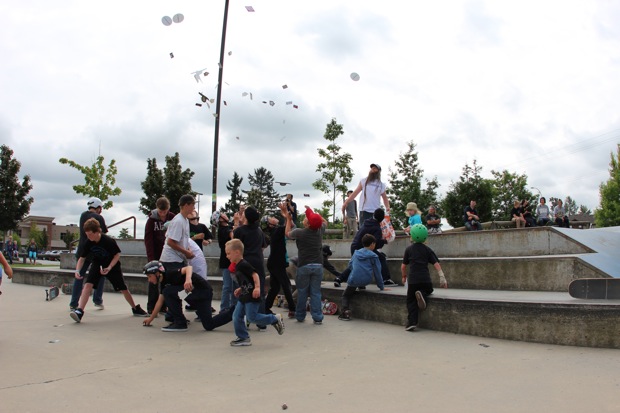 The Mini's were flying all over the park, launching out of the quarter pipe and up the step up, and Aiden represented the tranny skills with some sweet rock fakies.
The Beginners were also "Out For Justice" as they laid down trick after trick. Crooked Grinds on the ledges, Kickflips and Pop Shovits up the step and over the hip, and Big Airs out of the quarter launch. Rob Schrack stomped a kickflip over the 3 block to seal down his victory.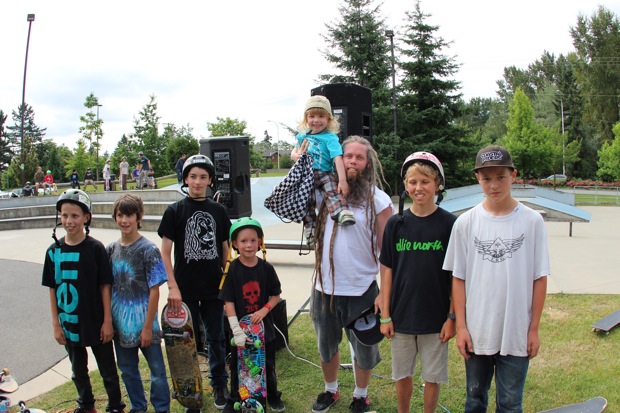 The Ladies Category was just Carrie and Heloise who both skate totally different. Carrie turned the tables from Kwantlen and displayed her skills and experience at Hippie Mike's Tour de Surrey landing everything she tried and taking first place.
The Intermediates were also tight. The Hawthorne Brothers were pretty much battling each other for silver since Mathew McCauley showed up just as Intermediate was nearing the end of their runs, registers and walks up the 3 block to turn around and effortlessly kick flip over it perfectly. Matt laid down an amazing double length run hitting up all the ledges, rails and gaps to undoubtedly take home 1st.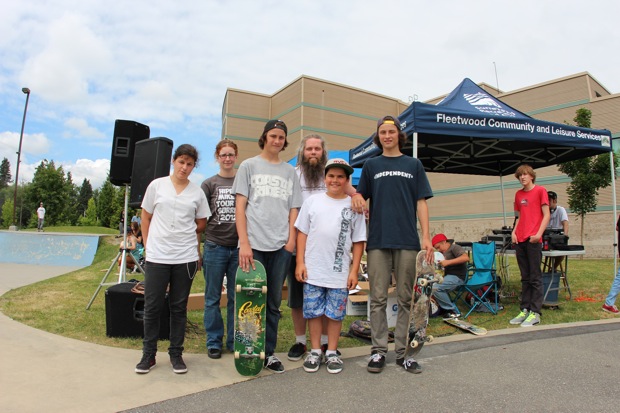 Then came Advanced. Lots of tough names in this category, Andy Anderson, Jay Mykyte, Fighter, The Dominator, but the unstoppable one was Dallas Gauthier who came down from Vernon to toss out everything he had. This kid is insane and lands everything solid. Frontside Bigspin Heelflip over the pyramid one try in his run, along with some serious 3 block action. It was tight between him, Andy, Dominic and Brad, but Dallas deserved first place for the technical showcase he brought with him. He also finished the day off right by winning the Best Trick Contest over the 3 block – Frontside Bigspin Heelflip & Nollie Inward Heelflip.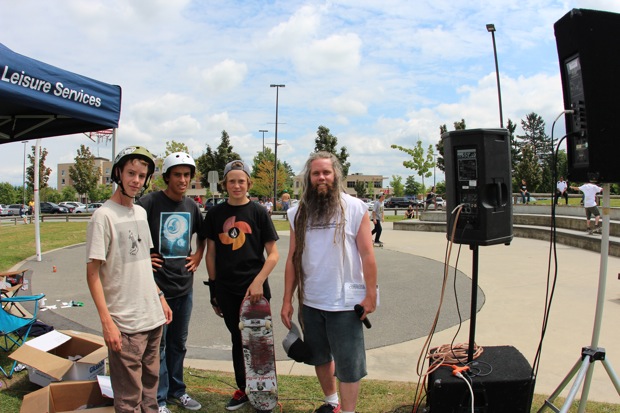 Good job Dallas!!
Results:
Mini: 1. Jon Schrack; 2. Justin Fiorante; 3. Aiden Eastman; 4. Parker Sherwin; 5. Luca Braico
Beginner: 1.Rob Schrack; 2. Matthew Major; 3. David Martin; 4. JR Barron; 5. Riley Allen; 6. Nick Bachmeier; 7. Evan Way; 8. Buddy Cadman; 9. Ethan Seemann
Ladies: 1. Carrie Williams; 2. Heloise Wathelet
Intermediate: 1. Mathew McCauley; 2. Tanner Hawthorne; 3. Jackson Hawthorne; 4. Duncan Lee; 5. Kory Laan; 6. Jacob Drescher; 7. Zack; 8. Justin James 
Advanced: 1. Dallas Gauthier; 2. Andy Anderson; 3. Dominic Devries; 4. Brad Muscat [Fighter]; 5. Derek Mayer; 6. Jordan Strong, Andre Bissonnette, Allen Handley; 9. Jigga Jay Mykyte
Best Trick: Dallas Gauthier
See you next time at
Guildford – August 11th