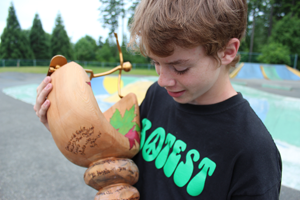 Finally, I hooked up with Andy Anderson to hand over the King of the Bowls Trophy. This trophy is a historic piece of art which was just constructed this past year to display all the winner's names from the past 17 years. It took a lot of custom work by Eve Feaver, Don "Bushman" Wilson, and Kate McTavish (Pixie) to create, and this trophy will be passed on gracefully from King to King each year from now on. Andy Anderson, the youngest of all the Kings at the age of 15 when he won the title, was totally stoked. Finally he gets his trophy, but only gets to hold on to it for a couple months, as the next King will be announced on August 19th at Whistler.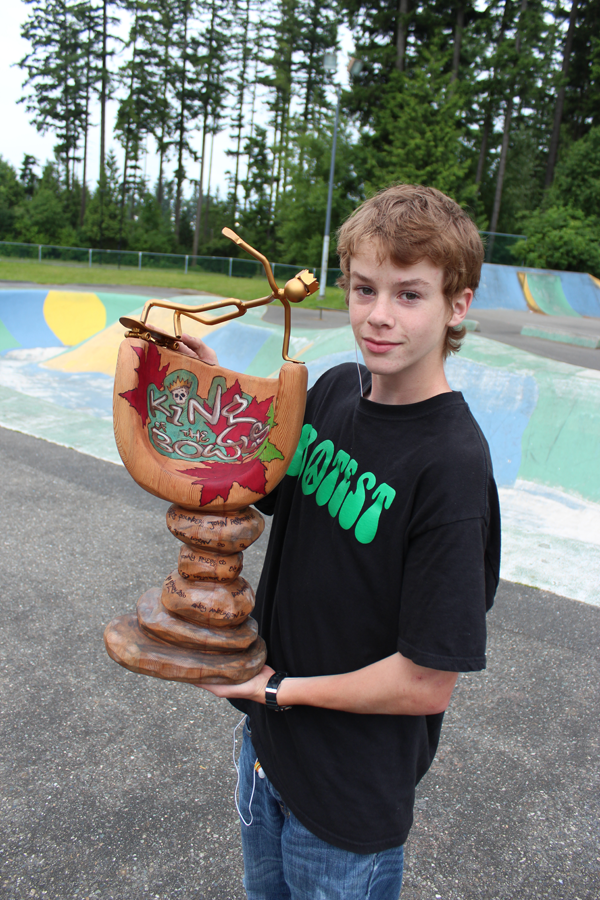 Bow down to all your past Kings…
Bowl Series Kings:
John Railmondo                1995
Ben Couves                        1996
Alex Chalmers                   1997
Gary Harris                        1998
Jeff Logan                           1999
Dave Priest                        2000
Steve Lange                        2001
Steve Denham                   2002
Johnny "B" Byers                      2003
Eve Feaver                         2004
Dave Boyce                        2005
Danny Hagge                     2006
Dave "57" Krystof             2007
Don "Bushman" Wilson   2008
Don "Carver" Hartley        2009
Rob Rickaby                       2010
Andy Anderson                 2011
 Who will be the 2012 Champion?
Will Andy be the first to claim the crown twice?
Or is that even allowed?
Only 1 way to find out…. Go to the events.
Seylynn Bowl – July 1st
Griffin Bowl – July 15th
White Rock Bowl – July 29th
Squamish – August 18th
Whistler Bowl – August 19th