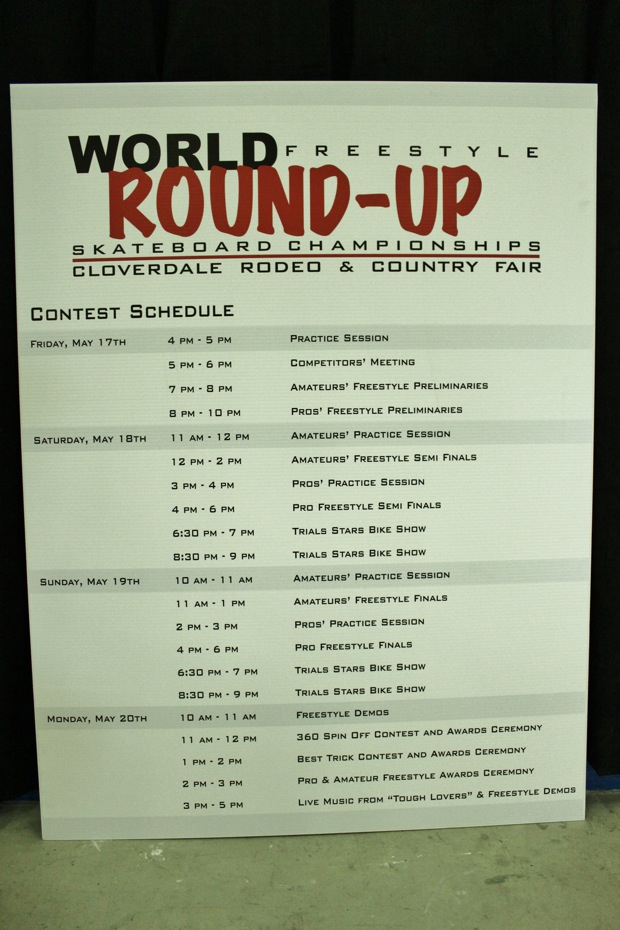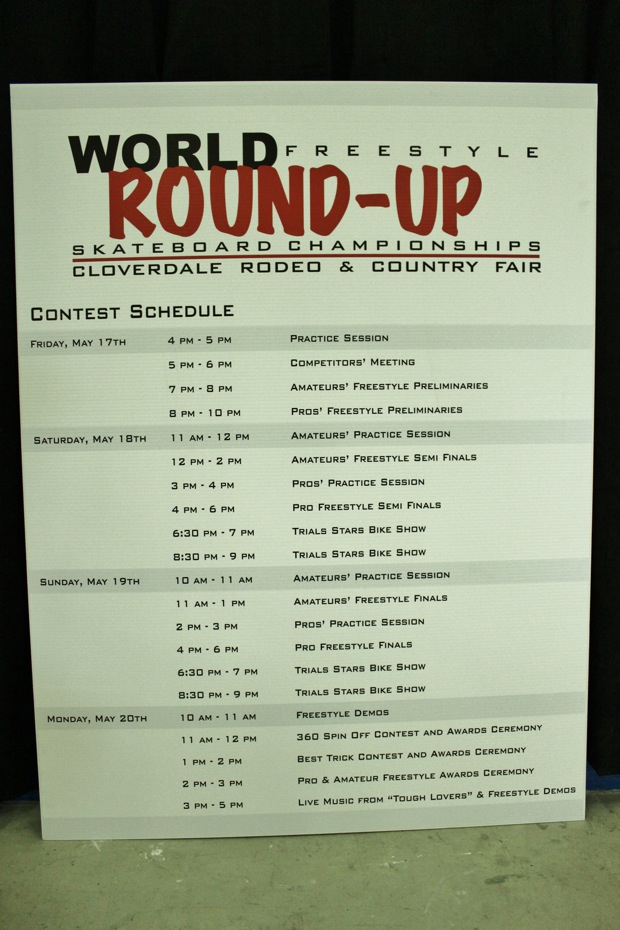 With The World Round Up 2 days away some people still don't know what it is. This is a Freestyle Skateboarding Competition for the best Freestylers in the world. 38 competitors coming from 9 different countries to compete to be the best in either Amateur or Pro categories. Put together by Kevin Harris & Monty Little, and welcoming amazing legends like Russ Howell, Jim Goodrich and Bill Robertson to be a part of the event, this will be the 2nd annual, and it is held inside the Cloverdale Curling Rink for 4 days during the Cloverdale Rodeo.
Competitors include Adam Flood, AJ Kohn, Albert Kuncz, Alejandro Finy, Andy Anderson, Bert Mathieson, Brandon Pretty, Christian Heise, Dan Garb, Daniel Trujillo, Darren Nolan, Darryl Grogan, Erick Mattos, Felix Jonsson, Guenter Mokulys, Jacob Whitt, Jesse Whalen, Kaue Araujo, Lucas Fraga de Carvalho Gomes, Lucio Flavo Simas de Lima, Lynn Cooper, Masahiro Fujii, Mic Murayama, Mike Osterman, Per Canguru, Rene Shigueto, Ricky Rodriguez, Ryan Brynelson, Sam McKinlay, Seya Nakano, Stefan Akesson, Stefan Albert, Tai Tai, Takashi Suzuki, Thomas Nascimento, Tomo Koyano and Toshiaki Fujii.
Check the listings below to see what category they are entered in, what country they represent and if you click their names you can watch a teaser video of each person.
For more information on the event click here
http://www.theworldroundup.com/
May 17-20 see you there

| | | | |
| --- | --- | --- | --- |
| | Amateur | Canada | |
| | Professional | USA | |
| | Professional | Slovakia | |
| | Amateur | Costa Rica | |
| | Amateur | Canada | |
| | Professional | USA | |
| | Amateur | Canada | |
| | Professional | Germany | |
| | Professional | USA | |
| | Amateur | USA | |
| | Professional | United Kingdom | |
| | Professional | USA | |
| | Amateur | USA | |
| | Amateur | Sweden | |
| | Professional | Germany | |
| | Amateur | USA | |
| | Professional | USA | |
| | Amateur | Brazil | |
| | Demo | Canada | |
| | Professional | Brazil | |
| | Professional | Brazil | |
| | Professional | USA | |
| | Professional | Japan | |
| | Amateur | Japan | |
| | Professional | USA | |
| | Professional | Brazil | |
| | Professional | Brazil | |
| | Amateur | USA | |
| | Amateur | Canada | |
| | Amateur | Canada | |
| | Professional | Japan | |
| | Professional | Sweden | |
| | Professional | Germany | |
| | Professional | Brazil | |
| | Professional | Japan | |
| | Amateur | Brazil | |
| | Professional | Japan | |
| | Professional | Japan | |