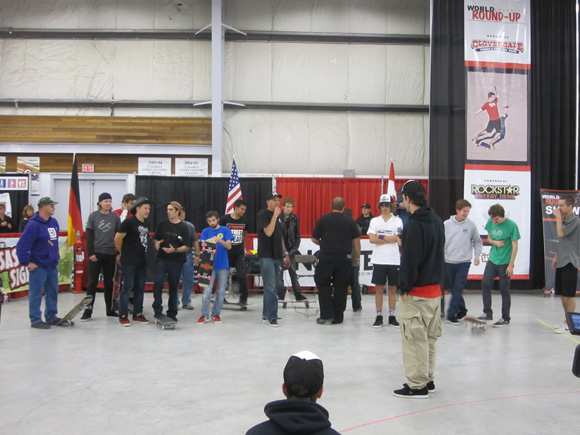 Last year was the first time for this event efficiently named The World Round-Up. Hosted in Surrey at the Cloverdale Rodeo, it's a Freestyle Skateboarding Championship event and the top Freestylers of the world are invited (Pros and Ams). The event is all put together by 2 long time promoters of skateboarding – Kevin Harris and Monty Little, and last year some serious faces of skateboard history showed their presence: Russ Howell (one of North America's first skateboarders) MC'd the event with some assistance from A.J. Kohn and "Dr. Skateboard" Bill Robertson and I believe they are all coming back again. Jim Goodrich was shooting photos, and George Powell even made an appearance on the Saturday. And the biggest name in Freestyle right now Kilian Martin should be showing up again to help out, hang out and put on some unbelievable demos.
It was a killer event last year with some bigtime competition, and the tricks were mind blowing. Shaun Gladwell took 1st place in Amateur with Protest Team Riders Ryan Brynelson and Andy Anderson taking 2nd and 5th places respectively. The Pro category was insane and super tough to judge. Everyone was stomping tricks that no one else would know how to do, and flowing with untouchable style and passion. Darryl Grogan took 1st place with Gunter Mokulys and Rene Shigueto right on his tail, but everybody did amazing. About 20-30 people competed last year in total but after speaking with Kevin Harris earlier today, we can expect a whole lot more to show up this time. All the names mentioned are definitely coming back to defend their titles, but some more to watch out for are Mic Murayama, Takashi Suzuki, Stephan Albert, Stefan "Lillis" Akesson, Mike Osterman and Per Canguru just to name a few. And maybe we'll be lucky enough to see Kai Dunkel this time.
If you don't know much about Freestyle Skateboarding, this would be a great time to learn. It is a huge part of skateboarding's history and there is only a small core group throughout the entire world that still dedicate their lives to it. These are definitely some of the best skateboarders of all time, young and old, and everyone of them skates completely different from the next.
Last year we showed up just for the Finals and weren't really prepared for how much filming we ended up doing – but this year www.protestskateboards.com will be covering the entire event in full HD so be ready for some serious coverage….
Check out the video compilation of last year's Finals and try to show up to the event this year
May 17-20, 2013
Cloverdale Rodeo & Fairgrounds
62 ave off 176 st
Learn more about the event and check out who's already registered here
http://www.theworldroundup.com/