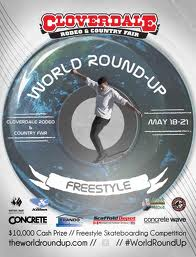 I went to the Finals on Monday, May 21st, 2012 of the first ever "World Round-Up Freestyle Skateboard Championships" held at the Cloverdale Rodeo in Surrey, British Columbia. I've been watching Freestyle skateboarding for many years so I knew what to expect, but I don't really follow the names that much, so I wasn't exactly sure WHO to expect… I knew Kevin Harris would be there since he was involved with making the event happen, but I also knew he wasn't going to be competing. I knew Ryan Brynelson was going to be there since I just added him to the Protest Team, but I knew he was going to be in the Amateur division. I did not know that Andy Anderson, another one of my riders on the Protest Team was going to show up as a late entry and compete in the Amateur. He did really well too. But it was the big names people came to see, Per Canguru, Rene Shigueto, Darryl Grogan, Stephan Albert, Stephan Lillis Akesson, Guenter Mokulys and the man of the freetstyle board –  Kilian Martin, who unfortunately was not competing. There were lots of people to watch, all putting on amazing displays for the crowd. No matter how they placed, they were definitely all seen as champions. The coolest thing about going to a Freestyle Contest as a spectator, is it's almost like you transferred into another dimension. Freestyle Skateboarding is very rare, and these guys live it so they're used to it, but any other skater now a days, gets their mind blown away when they're watching it. It can almost knock you down a couple notches in your confidence level of how good you are on a skateboard, because these guys are frickin' amazing. I've been skateboarding for over 26 years and I am still baffled by half the tricks people do in freestyle. They are definitely one with their boards.
It was an awesome event, with a great purpose.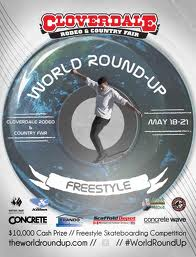 Both my Team Riders qualified to the finals in the Amateur division with Ryan Brynelson landing in 2nd place, so close to  winning behind Shaun Gladwell, and then the unknown wonder who showed up out of the blue, Andy Anderson finishing 5th. Yeah Andy!
Here are the results for the Top 5 in the Professional division:
1st Place – Darryl Grogan (USA)
2nd Place – Guenter Mokulys (Germany)
3rd Place – Stefan Lillis Akesson (Sweden)
4th Place – Rene Shigueto (Brazil)
5th Place – Per Canguru (Brazil)
For the guys who didn't make top 5, no worries. The scores were all decimal points apart through all 10 riders. Tight competition…
This is just a taste about the World Round-Up Freestyle Championships. Stay tuned in a couple of days and I will have a full story about the event, along with some seriously mind blowing footage…
Until then, click the link below
Kevin Harris – PNE Story