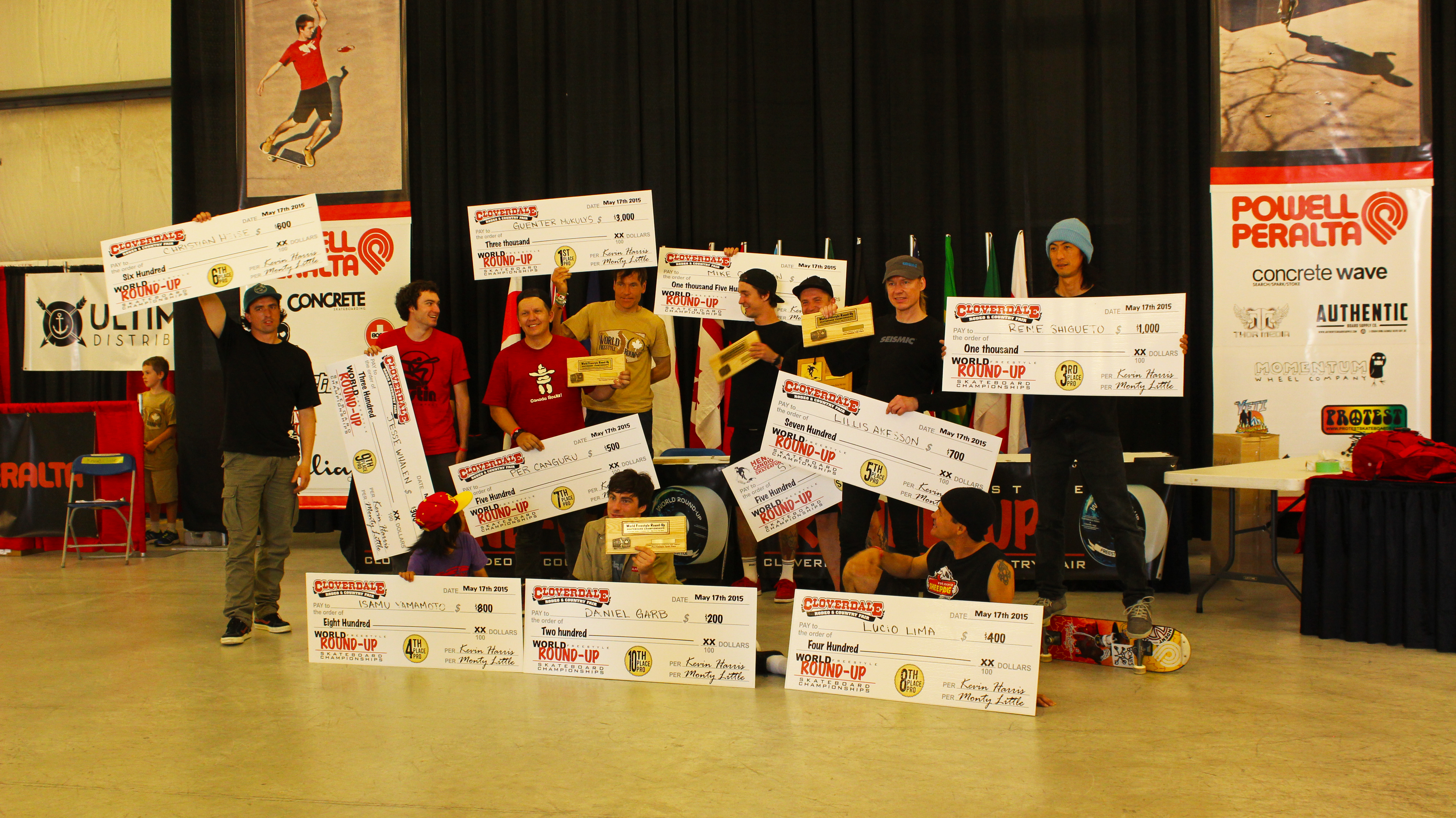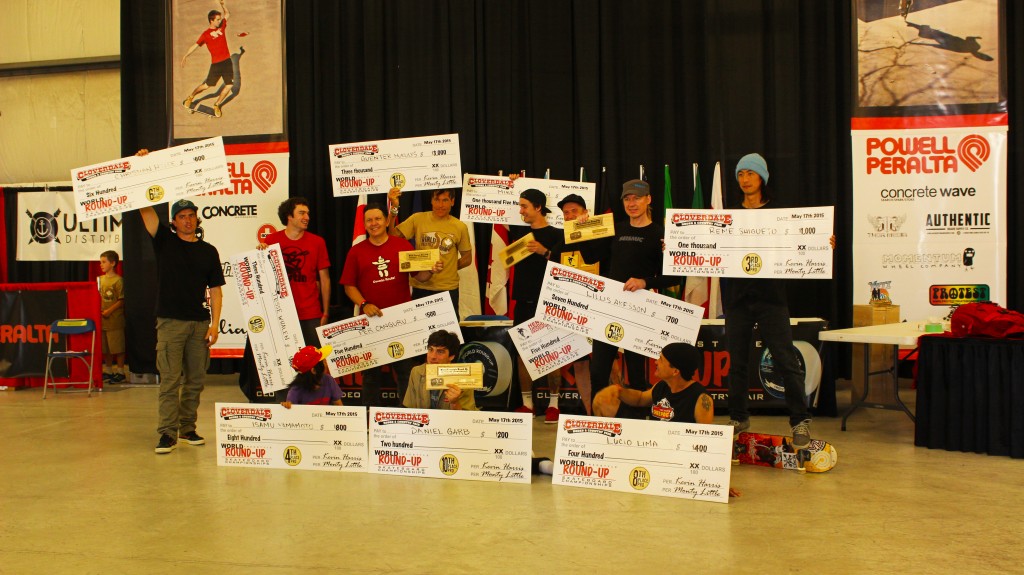 Another awesome year for The World Round Up Freestyle Skateboard Championships, this year definitely had its highlights – from local boy Andy Anderson winning the Amateur division, 12 year old Isamu Yamamoto placing 4th in his first ever Pro contest, Guenter Mokulys taking the trophy home in his 100th contest, and all the way to the new guy from the United States Derek Elliott busting out an insane, never been landed before, Jawbreaker in the Best Trick contest…
All the regulars were there like Rene Shigueto, Takashi Suzuki, Stephan Albert, Stefan Lillis Akesson, Mike Osterman, Per Canguru, Kaue Arouja, Christian Heise, Guenter Mokulys, and many more, and all the usual behind the scenes guys that help make the contest a success like Monty Little, Kevin Harris, Kolby Harris, AJ Kohn, Russ Howell, Jim Goodrich, Ryan Ellan, DJ Cuz-O, Lyle Chippaway and Tony Lum, and of course myself Hippie Mike doing the filming. It's an amazing and unique event and as Kilian Martin states in an interview in the video "Freestyle was never meant to be judged" so this makes it extra tough to be the guys with the pens in hand. It's amazing to watch these guys do the best that they can do in their own styles and hope that that will be better than the next guy and the best that he could do.
In the Amateur division Andy Anderson came out strong proving that he had been actually practicing Freestyle this year, his runs were solid, unique, and fully choreographed to the songs he had chosen. But he was facing 2 Brazilian machines – Kaue Arouja and Diego Pires Afonso. The top 3 of this category was uncatchable and it was definitely a battle to the finish. Somehow Andy took the gold medal by 1 point in the Finals. The crowd was stoked!!
In Pro it was just plain insane. Everybody was having killer runs and landing harder tricks than last year. Mike Osterman and Guenter Mokulys were bouncing back and forth on who was in 1st over the weekend and both of them wanted the gold. But little 12 year old Isamu Yamamoto from Japan was sitting in 3rd place after the Semi-Finals and you know he could taste it too…
Boards were breaking, trucks and kingpins were crumbling, and no one was ready to give up. This year felt the most intense for people actually wanting to win it. At his 100th Professional Contest, the 51 year old German machine Guenter Mokulys squeezed back in to 1st place during the Finals to take his 11th World Title. 2nd, 3rd & 4th place were all 1 point apart with Mike Osterman, Rene Shigueto and the little man Isamu Yamamoto. What a contest!!
Guenter added to his victory the next day by winning the 360 spin-off while Diego came out of nowhere in the Longest Coconut Wheelie competition hitting 80 feet long! Derek Elliott made history at the Round Up in the Best Trick Contest by stomping out a JawBreaker which is doing a handstand on top of your nose and top truck while your board is standing vertically on the floor. You need to watch the video to see it…
With true emotions in the air, the entire weekend was a hit. All participants had a blast, all spectators were super stoked, and the Freestyle Family tightened up once again.
Thanks to George Powell for coming out to watch the Finals and support this event, thanks to all the people that dedicate so much time to making it happen, and congratulations to Stefan Albert for winning the Henry Candiotti Award for being the smoothest skater of 2015…
Until next year, check out the vid
AMATEUR DIVISION
Andy Anderson – 263
Kaue Araujo – 262
Diego Pires Afonso – 251
Derek Elliott – 237
Dillanger Kane – 233
Mic Murayama – 226
Adam Flood – 224
Austin Shelton – 223
Daniel Trujillo – 216
Chadd Sinclair – 213
PRO DIVISION
Guenter Mokulys – 265
Mike Osterman – 260
Rene Shigueto – 259
Isamu Yamamoto – 258
Stefan "Lillis" Akesson – 254
Christian Heise – 245 / 243
Per Canguru – 245 / 238
Lucio Lima – 244
Jesse Whalen – 243
Daniel Garb – 242 / 241
Takashi Suzuki – 242 / 240
Shen "Dominick" Meng 240 / 225 / 224
Jacob Whitt – 240 / 225 / 222
Felix Jonsson – 238
NOTE: Ties were broken by using the 2nd
highest scoring runs and in some cases
the 3rd highest scoring runs.
LEGENDS FREESTYLE CLASSIC
Lynn Cooper
Bert Mathieson
Russ Howell
Tai Tai
BEST TRICK
Jesse Whalen
BEST HANDSTAND TRICK
Derek Elliott – Jaw Breaker
HENRY CANDIOTI SKATE-4-FUN AWARD
Stefan Albert
360 SPIN-OFF
Guenter Mokulys – 25 Spins
LONGEST COCONUT WHEELIE
Diego Pires Afonso – 80 Feet
CHAMPIONS OF HOPE AWARD
Stefan "Lillis" Akesson