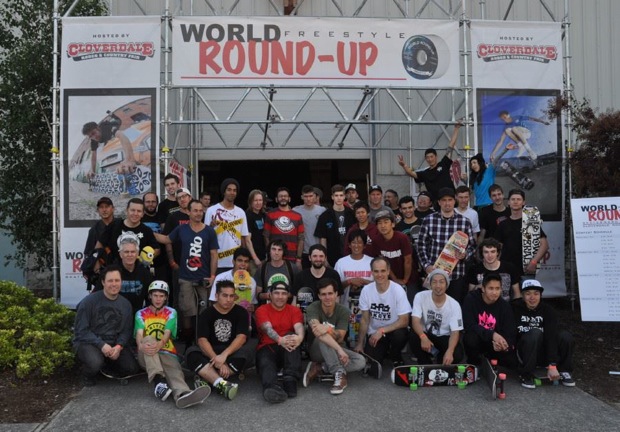 Just over 5 weeks ago on the long weekend of May, the best of the best Freestyle Skateboarders came from all over the world to the Cloverdale Fairgrounds in Surrey BC to compete in the 2nd Annual World Round Up Freestyle Championships. 9 countries were represented by close to 40 competitors in total and the crowd was loving it.
Bringing back the amazing style of Expo '86, 2 legends came together once again to bring this competition to life last year in 2012. And the 2nd year was even more successful. Kevin Harris and Monty Little put in a whole lot of effort to connect with the most experienced Freestylers around the globe and invite them out to this event. The treatment they show to these competitors is the same that the Queen of England would get if she was invited over to our country, they get picked up at the airport, deals on accommodations (some get free stays at people's houses) & meals, etc.. But that is what family does for each other, and covering the entire event over 4 days that is what I came to recognize most of all about this group of individuals is how close they are to one another, and how much they feel like they are a family. I personally filmed and interviewed every competitor over the weekend and every time I asked the question "What will you remember most of all about this experience?", the answer was the same – it was great to see everyone together, the way people cheer each other on and show love for one another, it is a world wide family… Beautiful and touching words, and fully believable. Zero Percent of disrespect at this event. It's crazy when you are in a room where there are so many different languages being spoken but everyone shares the same culture – that is a rarity. Skateboarding is a culture, but Freestyle Skateboarding is a tight-knit community. There are only a few real freestyle skateboarders in the entire world and many of them make a living doing demos and shows, and they strive to be in front of an audience. What I loved the most about this competition was how the crowd was ever changing, people just coming in for the big moments and then going back outside to enjoy the fair and rodeo. But everyone that came in sat down if there was still empty seats and stayed a while. The difference between park skaters and freestyle skaters is that freestyle skaters are used to performing for crowds of people that know nothing about skateboarding, and they always leave the crowd wanting more.
The 2013 World Round Up Championships was more about the demo than the contest itself. Sure, everyone wants to win deep down inside, but I believe that the true satisfaction for these guys comes from the cheers of the crowd that drown out the music in the stadium. You need money to survive, and another trophy for your wall is never a bad thing, but it seemed like that was all in the back of everyone's minds. They were there for the show, for the experience, and to see their friends whom they consider family.
Freestyle Skateboarding is the roots of all skateboarding we do today, don't ever forget that…
Here is the Full Video Recap of the event:
[youtube id="LgIvYaaKyCM" width="620″ height="360″]
An amazing demo from 3 generations of legends – Kevin Harris, AJ Kohn & Kilian Martin:
[youtube id="gwxzqUqe8hc" width="620″ height="360″]
And a bunch of personal interviews and close up skating with the competitors:
Stefan "Lillis" Akesson – Sweden – http://youtu.be/-ArPWRjphxI 
Rene Shigueto – Brazil – http://youtu.be/JqIkdXpsaUo 
Russ Howell – http://youtu.be/jj938rlcMUA 
Lynn Cooper – USA – http://youtu.be/lc2xeJUmAMY 
Andy Anderson – Canada – http://youtu.be/rdkTkqndCV4 
Stefan Albert – Germany – http://youtu.be/7Q1hQzW-p8Y 
Alejandro C Finy – Costa Rica – http://youtu.be/DigSAfG3QDk 
Lucio Flavio Simas de Lima – Brazil – http://youtu.be/wDNcJ8KDgAM 
Seya Nakano – Japan – http://youtu.be/kVCPzkwxStY 
Takashi Suzuki – Japan – http://youtu.be/l4DoJw1jwLE 
Christian Heise – Germany – http://youtu.be/HqbO09cZG0A 
Mike Osterman – USA – http://youtu.be/5FEh1yXW3UA 
Per Canguru – Brazil – http://youtu.be/Ujvqfi5H24s 
Tai Tai – Brazil – http://youtu.be/Hp3uHPVghuM 
Kilian Martin – http://youtu.be/vc2BSzdTpPo 
Albert Kuncz – Hungary/Slovakia – http://youtu.be/wfRugEvoTFU 
Bert Mathieson – USA – http://youtu.be/UqL0Qijsu3Q 
Masahiro Fujii – Japan – http://youtu.be/NLTqX0MJmPg 
Ricky Rodriguez – USA – http://youtu.be/hM4VwSGq6Gw 
Jesse Whalen – USA – http://youtu.be/NlseCs-dwT8 
Daniel Trujillo – USA – http://youtu.be/bkQqaBhHvcY 
Dan Garb – USA – http://youtu.be/e4YVy3hT6ME 
Darryl Grogan – USA – http://youtu.be/khbBnmfdbKQ 
AJ Kohn – USA – http://youtu.be/TDAKQAfaYJI 
Ryan Brynelson – Canada – http://youtu.be/t9Z3Qd0eKw8 
Guenter Mokulys – Germany – http://youtu.be/lZMjlXTlcIE 
Yuta Miyatake – Japan/Canada – Interview to come… 
Jacob Whitt – USA – Interview still to come… 
Adam Flood – Canada – Interview still to come… 
Kaue Araujo – Brazil – Interview still to come… 
Toshiaki Fujii – Japan – Interview still to come… 
Mic Murayama – Japan – Interview still to come… 
Thomas Nascimento – Brazil – Interview still to come… 
Tomo Koyano – Japan – Interview still to come… 
Sam McKinlay – Canada – no interview…
World Round Up 2013 Results
Amateur
Ryan Brynelson – Canada 
Kaue Arouja – Brazil 
Andy Anderson – Canada 
Jacob Whitt – USA 
Thomas Nascimento – Brazil 
Felix "Fleppo" Jonsson – Sweden
Daniel Trujillo – USA
Mic Murayama – Japan
Alejandro C Finy – Costa Rica 
Adam Flood – Canada
Professional
Guenter Mokulys – Germany
Seya Nakano – Japan
Mike Osterman – USA
Masahiro Fujii – Japan
Per Canguru – Brazil
Stefan "Lillis" Akesson –Sweden
Lucio Lima – Brazil
Rene Shigueto – Brazil
Jesse Whalen – USA
Albert Kuncz – Hungary/Slovakia