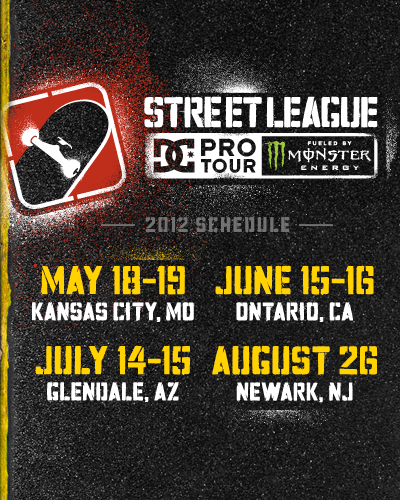 [youtube id="c6R_9PWaLOo" width="620″ height="360″]
Man, it's finally started. Last year, 2011, the world changed with the drop of the Street League Skateboarding Championships. All you could do as a skateboarder was sit in your chair and scream at the top of your lungs for every trick that went down. The competitors are insane, Ryan Sheckler, Chaz Ortiz, Sean Malto, Chris Cole, Nyjah Huston and so many more. Nyjah dominated the entire series last year and I'm sure is planning on doing that again. But the momentum of all the others is going to be driving 800 miles per hour to try to stop him. I just realized today that the 2012 Street League has begun. Hopefully I can catch a repeat of the first event since I missed it on Saturday. But here's the schedule so now we all know when it's happening.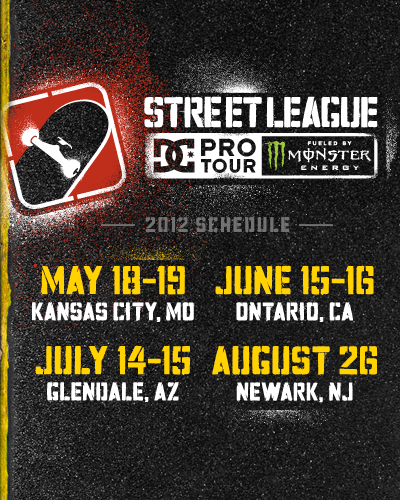 Tickets for the Street League DC Pro Tour Fueled by Monster Energy will go on sale April 2 at streetleague.com.
Stop one: May 18-19
Sprint Center, Kansas City, Mo.
Live on ESPN2, May 19, 9:00 p.m. ET
Stop two: June 15-16
Citizens Business Bank Arena, Ontario, Calif.
Live on ESPN2, June 16, 9:30 p.m.ET
Stop three: July 14-15
Jobing.com Arena, Glendale, Ariz.
Live on ESPN2, July 15, 7:00 p.m. ET
Championship: August 26
Prudential Center, Newark, N.J.
Live on ESPN2, August 26, 5:00 p.m. ET