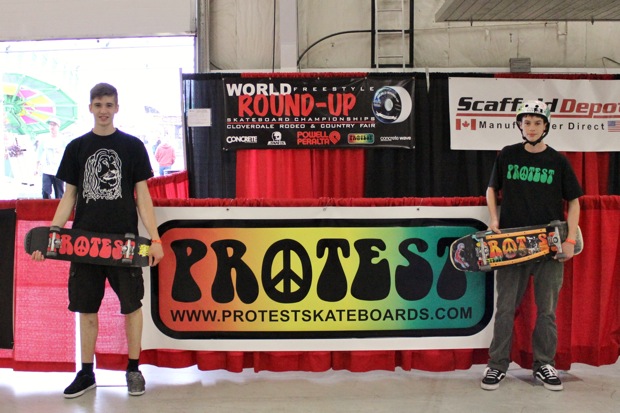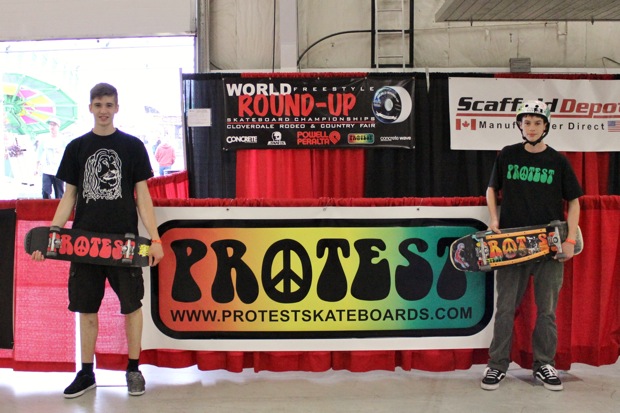 Day 1 of the World Round Up Freestyle Skateboard Championships was a hit. The weather let up enough that lots of people showed up to the Cloverdale Rodeo which meant a good crowd would come in and out of the contest. The place was packed with some of the biggest names of skateboarding like Russ Howell, Jim Goodrich, Kilian Martin and Kevin Harris, but the real talent was displayed on the floor with the guys competing. A lot of new faces from last year's Round Up but definitely people ho are not new to the skateboard scene. Freestylers Unite world wide for this event and it is amazing to see the love and excitement that fills the room. Consider the fact that there are only about 250 people in the world that consider themselves Freestyle Skateboarders and now think that I run events at Chuck Bailey Skate Park all the time where we get almost that many people out skateboarding on a weeknight. This community is so tight knit and they are all supportive of each other whether they win or lose, they're just happy to see creative people doing what they do best.
Our Protest Riders Andy Anderson and Ryan Brynelson both represented hard in the Prelims with Andy placing 5th so far and Ryan Brynelson dominating his way into 1st. Can't wait to see how these positions hold up. The Pro Competition is super steep this year and the judges have a lot of work to do. It's gonna be tough.
Semi Finals are today and Finals on Sunday. Come on out and check the scene.
Here's some photos from Day 1