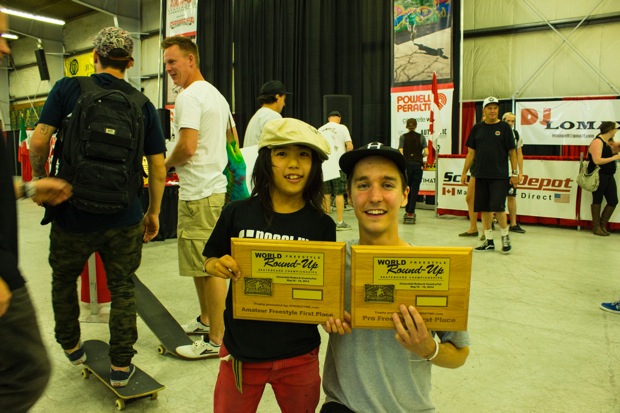 Another amazing day at the World Round Up 2014 as the best of the best Freestyle Skateboarders in the world competed for the top places in the Finals of this 3 day event. The atmosphere was positive and everyone was having fun, but you could feel the want of the win in the air. Being the 3rd year for this event it is beginning to become more important to try to win but all in all it is still about having fun and showing off skateboarding in a positive way to crowds of people that might not know much about skateboarding in general, and they were all loving it all day long. Every competitor was on their game today and there was a ton of flawless runs in both the Amateur and Professional divisions. Talk of the event was around 11 year old Isamu Yamamoto in the Am category and whether or not he could maintain top position and take 1st place at his first ever world event. Kaue Araujo and Andy Anderson were battling hard to try to take that opportunity away from the little dude but just couldn't quite do it. Isamu held on with amazing skills and won his first international Gold Medal!! Way to go dude!
[youtube id="QZR2e1qx0_Q" width="620″ height="360″]
In the Pros it was insanity all the way from 15th right to top qualifying positions but the top 5 owned it and stayed the top 5 at the end. All 5 had at least one flawless run each and it must have been super hard to judge. Rene Shigueto, Per Cangaru, Mike Osterman, Jesse Whalen and Guenter Mokulys laid it down for the audience and blew away the other competitors. It came down to 1 point separating the 1st place, 2nd place and 3rd place spots and ended in a great way with Mike Osterman from the USA taking Gold over Guenter, and leaving Jesse with the Bronze. What a way for Mike to celebrate his 21st birthday!! Tears were shed, hugs were happening and everyone was stoked. This was another great example of how tight the freestyle world is and how much these guys love eachother. Mike Osterman took home $3,000 for placing on top but he was more excited about the fact that he skated his best and somehow beat the machine.
[youtube id="jCLlP_EGFvI" width="620″ height="360″]
With demos all day, presentations by Constable Troy Derrick, and plenty of awesome contest runs, the crowd of spectators was constant and all went home with a story to tell. This event is growing and it is great to be a part of it. Keep watch on the site for a recap video coming soon, and check out http://www.theworldroundup.com for all the results…