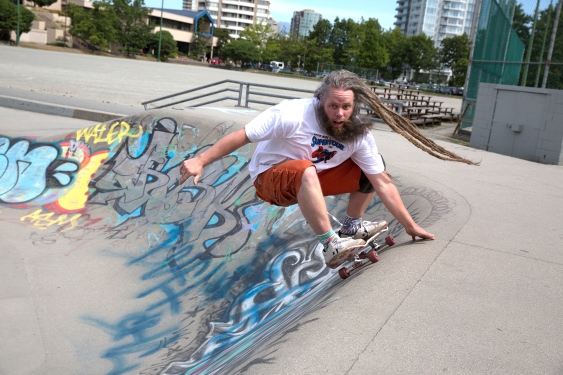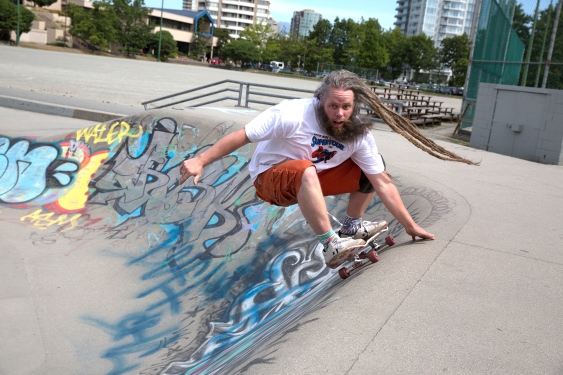 As most of you know I have been featured in the newspaper many times for many different reasons, all positive of course. This past summer I chose to make a change and take what was known as The Best Skateboard Contest Series in Surrey and expand it across the Lower Mainland bringing the same positive experiences and enjoyment to people of all ages in other cities than just Surrey. It was called Hippie Mike's Super Tour and year 1 was a great success. So many of the regulars from Hippie Mike's Tour de Surrey made themselves present at each event, and we definitely attracted new competitors from each city. The cities included this year were Surrey, Burnaby and Port Coquitlam. I chose these 3 for specific reasons:
#1 – it had to start in Surrey because that's where the last series grew to be what it was, plus the new Cloverdale Skate Park was going to be brand new and ready for  initiation
#2 – Railside Skate Park in Poco is a great park which has been the host to many amazing contests and demos over the years so it just made sense to go there for the finale of the first year. It was guaranteed that lots of people would show up, and that lots of people would skate good there
#3 – I chose Bonsor Skate Park in Burnaby for a few reasons, first and foremost it is the most centralized park in the Lower Mainland, anyone can get there and it's always busy. It's a big size park with lots of variety and a ton of locals, and just like Poco you are guaranteed to see a good show there. But there were more reasons, Bonsor was home to a tiny Skate Shop right across the road since the park had been built, it started as Push with Eve Feaver and Tony, was continued as Push by John, and then bought out and run by Sebastien "Fez" Tellez and his family for the last 2 years, but unfortunately the doors had closed over the winter of 2013 and this left a huge void at the park. They needed someone to come in and run something special to remind them that they were loved, and I was the guy.
All of these contests were great but the Bonsor one definitely showed how necessary it was to be there. So many great kids with nothing but smiles on their faces. The appreciation was huge and I have no regrets. As the year recently changed to 2015 there was a recap article in the Burnaby Now praising a handful of people who have helped to be an inspiration in their community in 2014 and somehow they featured Hippie Mike in there. It was an honour when I found out that I had been nominated for their "If everyone were like them, the world would be a better place" award and reminded me of how powerful a small event can be to a huge community. I don't do things like this to win awards or to be praised for it, I do them because I feel that people deserve to have positive experiences in their lives where everyone can feel included. If you do something in life that makes you feel special, why not share that feeling with the next generation and help them to grow up happier, and just maybe some of them will do the same thing for the future generations to come.
That is what makes the world a better place…..
Protest Skateboards – Skate For Life
Here's the actual article
http://www.burnabynow.com/news/burnaby-full-of-inspiring-men-women-and-kids-1.1724975