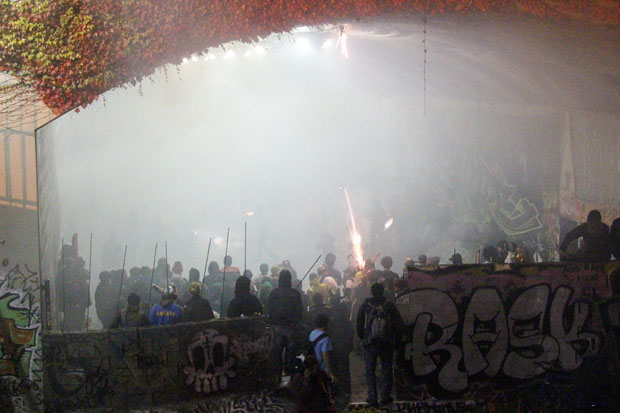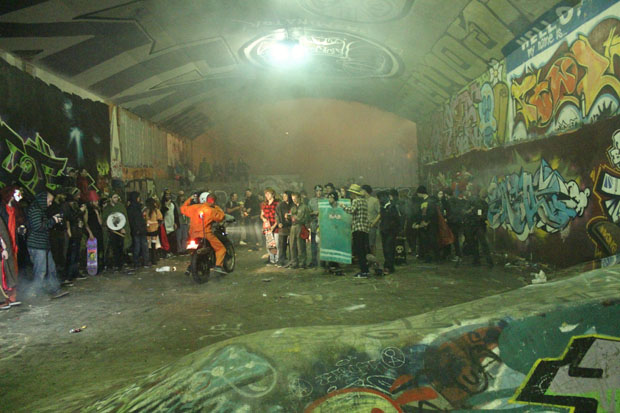 Another chaotic Leeside Halloween, every year seems to get crazier and crazier. This year was definitely the most hardcore indoor fireworks display of all time. We didn't show up till after 9:00 and it was already full blown warfare. The costumes were solid, the skating was lean and mean, and the air was filled with smoke. There was so much smoke in the tunnel that you had to go outside for a cigarette.
It was tough to get a skate in because the obstacles were all getting dewey from all the moisture in the air, plus the ashes and soot from all the firecrackers and flares were covering the surfaces of the ramps. The ground was dirty and wet from everyone tracking mud through on their shoes, and the echo of explosions throughout the whole place was deafening to the ears. But people were still skating, and lots of footage was created by multiple videographers which I'm sure will be putting out there videos very soon. The big session was on the 8′ quarter straight off the tip of the dick. I 5-0 pick turned the coping on my 2×4 board, Fighter hit the Judo Blunt 180, and Adam Hopkins put on a long demo for the crowd.
It was definitely chaotic, but really just another Leeside Halloween.
Until next year…