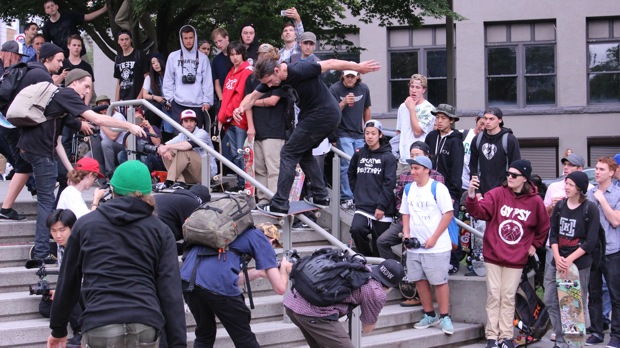 This year was large and in charge in Vancouver. There were hundreds of people at the plaza for the Vans Waffle Breakfast and then they went venturing through the streets together in a huge mob. It was craziness! Cyrus led everyone around downtown from street spot to street spot with handfuls of cash that he diligently handed out when worthy tricks went down. Andy Anderson walked away with a handful, Fighter 50-50'd the kink rail at Victory Square and Cory Lakeman back lipped it, Mikey Ray switch heelflipped over the rail at New Spot while Paul Trepp laid down a couple lines down the sets there, Trevor Greig stripped down to his boxers and jumped in a fountain, and a mob of kids took over the downtown streets between spots. This part of the day was crazy.
The group made it's way across the Georgia Viaduct like always and headed over the Strathcona Park for a BBQ and a mini ramp jam on a mini-mini ramp that Kevin Kelly provided. That was fun too.
Then off to Hastings bowl we went. This was way more mellow with The Vans BBQ and a bunch of bowl shredders of all ages drinkin' beer and chillin' out. Andy displayed some fresh lines that he's got going on, and Frontside Kid James Clarke showed how fast he could go and how big he could stalefish in the deep end of the bowl. Chris Macallum, Chris Timmers, Surrey Stu, Sheldon Barr, Baxter, Adam Richter, Jeff Muirhead & Jonny B along with many others were going hard in the bowl, but the highlight of the night came when Chris Steggles pulled his skateboard out of his trunk to shred. Steggles said he hadn't skated yet this year, but it didn't show once he rolled in – long grinds, vertical handplants and he even aired over the fence out of the 4 foot a few times. Steggles is the man, and he made the day awesome…
Happy Go Sk8 Day 2013! Hope you enjoyed it.