[youtube id="et2BjF6Q2lM" width="620″ height="360″]
Welcome to Episode 9 of Glory Daze with Hippie Mike. Today we're hanging out with one of the most innovative skateboarders in the world. He's a legend on and off the board for everything he has done for the skateboard industry and he is the main reason skateboarding in Canada is as large as it has now become. Owner and Founder of Ultimate Distribution, Concrete Powder Magazine, Momentum Wheels, Wick Winder Distribution and Sunshine Valley Development, he brought you the Richmond Skate Ranch and RDS Indoor, helped to create the World Round-Up Freestyle Championship; still sponsored by Powell Peralta after more than 30 years, and still putting on multiple Skateboard Demos every year, the best Canadian Freestyler of all time – Kevin Harris!!
Kevin Harris: Wow, that's quite the introduction – it's all lies…
Hippie Mike: (laughs) Starting off simple Kev, tell the world how old you are and how long you've been skateboarding
Kevin Harris: I'm Old… I am 50 and I started skateboarding when I was 13, kind of when the first wave of it came in in 1975. I did all other sports but when skateboarding came in in '75, that was it, all my friends stopped whatever they were doing and got skateboards
HM: What made you get into Freestyle Skateboarding?
Kevin: Good question; when I first started in skating, you did all aspects. You did everything from slalom, there was no street back then – the ollie hadn't been invented back then. So there was vert skating, which was really just as far as you can go on a vert wall, the higher the better, there was really no tricks. So you just did everything. Freestyle was just one of those aspects of skateboarding that you did, and again living in Vancouver, I found that Freestyle was something you could do 12 months out of the year, whereas riding vert and banks you could only do about 4 months
HM: What was the biggest contest you ever won?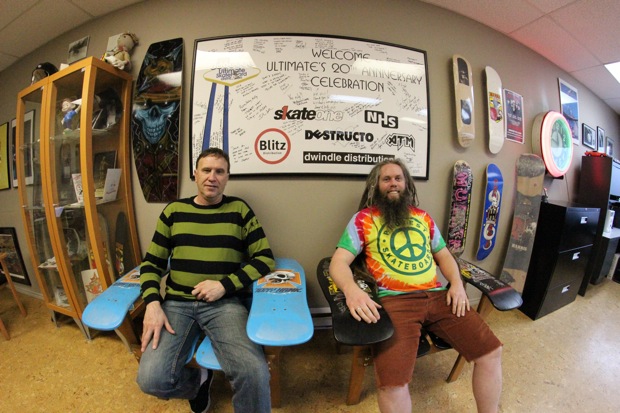 Kevin: Wow, Um… I think after I turned pro in 1982, it was the only time at a contest that Rodney Mullen didn't show up (arm pump with a "Yeeeess!"). And that was Venice Beach in 1985, and I won that one as a Pro. 'Cause every time Rodney was there right, you know you either get 2nd, 3rd or 4th, so I guess that would be the highlight that I won, but thank goodness Rodney wasn't there
HM: What was it like to get picked up by Powell Peralta in 1982?
Kevin: Oh my God!! It was one of those things that's kind of like having the birth of your kid kinda thing, you remember the temperature, the smell of the air and everything. I was riding for G&S at the time, and I call that "riding for G&S" which was a big company back then, but 1982 people gotta remember that skateboarding was dead. The '70's was huge for skateboarding, but by the time 1980/81 hit we lost Skateboarder Magazine and most of the contests were done, so I travelled down to California because that seemed to be the Hot Spot still and things were going on, and I entered a contest in 1982 while I was sponsored by G&S. And there were so little Freestylers there that what they decided to do was run the Sponsored Am's, which I was, and the Pro's together. So talk about nervous. I was like 20, and all of a sudden I was going up against the Pro's that I idolized – Steve Rocco, Rodney Mullen, Per Welinder, etc. So I went in as my very first contest being from Canada and I got 3rd, beating out all these guys that were my idols and stuff, so I was on cloud 9, and I'm walking out through the parking lot, and at that time Powell Peralta was "The Company", I mean there wasn't even a 2nd. If you could get on Powell that was the Top of the World, there was no even 2nd guy. They had all the best riders in the world, they had Tony Hawk and everything. And I'm walking through the parking lot with my wife and Stacy Peralta, who was my friggin' Idol as a teenager, he's in his car with Steve Caballero and he rolls down the window and yells, "Hey, Lou Wrigley!" And I had this nickname from Winnipeg these guys called me, Lou Wrigley, and Stacy knew these guys from Winnipeg. So Stacy calls out to me, Hey Lou Wrigley and I'm like, nobody knows that name in California, who the hell's calling me that, and it's Stacy Peralta, and I'm like, Holy Crap, and he says, "Hey Kevin, come over here". So I go over to his window and I'm nervous 'cause this is like God to me, and he says, "Man, you ripped, you skated really good, you wanna ride for our team – The Bones Brigade?" And my jaw dropped and that's how it started. And I'm still riding for them now.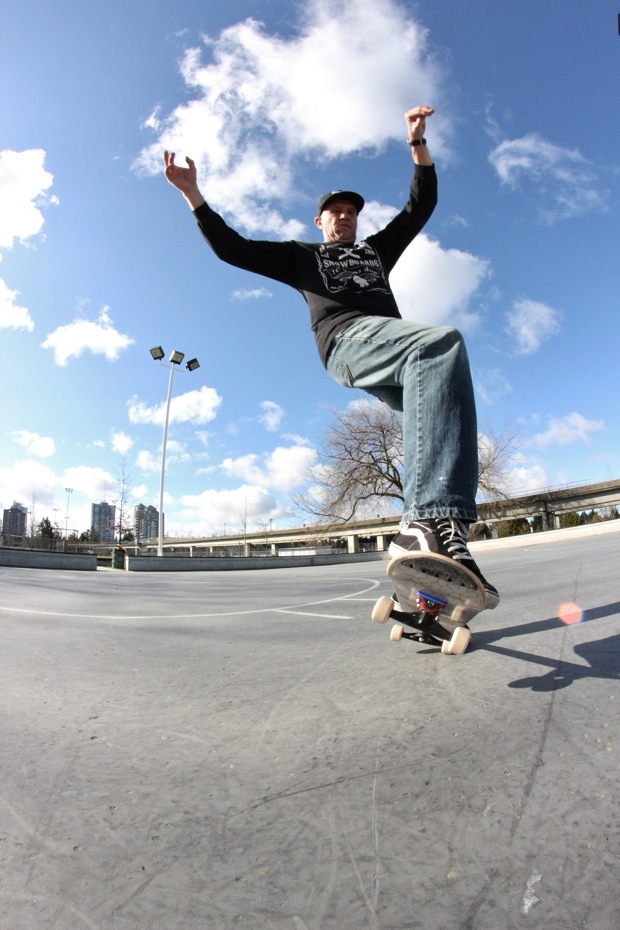 HM: The Richmond Skate Ranch was a legendary Indoor that helped to build some serious vert skaters like Colin McKay and Rob Boyce, better known as Sluggo. How long did you have The Ranch, and what were your favourite memories from there?
Kevin: Uhh, the Richmond Skate Ranch when I opened it, I didn't think it was gonna be what it was. Expo '86 had happened and there was really no place to put this $30,000 vert ramp that we had so Monty (Little) was like, well it's gotta go somewhere, we can't just trash this thing, right. It's really like me in Business too is just get that spur of the moment decision you know, so got a warehouse and put it in there thinking it was just going to be for locals and whatever. My thought was I can't skate in the rain, nobody else can, let's build something indoors for the guys to skate. I didn't realize what it would turn out to be 7 or 8 years later where, it was a lot of those guy's life. They just lived and breathed Skate Ranch, it was family to them, any free moment they had, they went to the Skate Ranch. And I watched it turn into this world-wide success. People from all over the world were coming to our park in Vancouver, because at that point there was really no parks in the United States because of insurance reasons and stuff, so we had one of the very few skateboard parks, and one of the very few vert ramps in the world. And it just created this awesome thing. And when I shut it down – there were 2 reasons: the landlord didn't want to renew our lease because it was skateboarding, it was the devil, get out of here; and plus the cities now were starting to put in skateboard parks. When I closed it down, it was devastating for a lot of people and I never looked at that until later how much of a "Life" thing this was.
HM: You created Concrete Magazine in 1990, named Concrete Powder at the time. This was the first ever Canadian Skateboard or Snowboard Magazine. What initiated you to create it, and why did you make it Free?
Kevin: I looked at it at that time as what got me into skating, why did I have that longevity towards it? One of them was to have my picture in Skateboarder Magazine, which was huge, to make me as my friends disappeared in 1980 who now wanted nothing to do with skateboarding. You gotta remember the time frame, I skated with 20 guys on a daily basis, 1980/81 came along, I'm the only guy… like seriously the only guy. So when 1990 hit and the same type of thinkg happened I wondered what can I create that will make that Canadian Skateboarder still want to skate? Ah, hang on, let's do a Magazine. So I did it at the bottom end of skating and said, let's just dump some money into this magazine and make this work. And again, I've had people come up to me and go, "Thank you for starting Concrete Powder, and I was in it when I was 14 years old, and I'm still skating now…" So my envision of why I created the magazine actually worked, and for Free what I thought was, really at the end of the day at the business level, when Time Magazine sells at a news stand, they don't make money from that, it's their circulation. So if they print 200,000 copies, they really only sell half of that. And I just felt like, why should a kid go to a 711 and pick up a magazine, I want them in that retail store so he gets the magazine for free, but he might buy a sticker, or he might buy a skateboard. So my philosophy behind it was – get the kid to pick up the magazine in the skate shop, why am I giving 711 the business?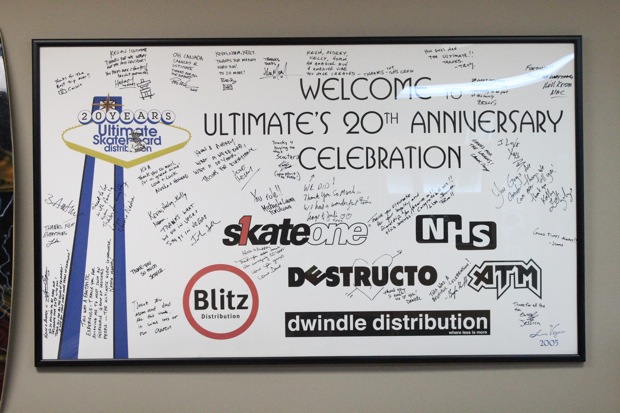 HM: What year did you start Ultimate Distribution, and how did that come about?
Kevin: Well, 1985 comes along, and skateboarding is booming by the mid 80's. So manufacturers all over the world are trying to keep up with the volume and so on, and for some reason or another Freestylers, like if there was 20 or 30 core Freestylers in the world, they had a really good business sense about them and who went on to run some of the most successful skateboard companies in the world – World Industries, a lot of the shoe brands, Etnies, all owned and operated by Freestyle Skateboarders. And I think George Powell and Stacy Peralta looked at it like, hey Kevin seems to have his act together, he's managing the Team Tours and making sure everyone was on time for demos and stuff, and they said hey, we're expanding like crazy, we can't keep up, we're selling to all these accounts in Canada, we're better to have a distribution network in Canada – Kevin do you want distribution? Again, that was like "Ah, Yeah." So my wife and I and my father helped to get that all going, but I remember knowing barely anything about business and starting off in this super small space and packing boxes on the floor with tape, and no shelving, no experience in running this thing, but instantly successful because we had such a key brand like Powell Peralta and were selling to all the stores across Canada.
HM: You demolished the World Record for 360 Spins on a skateboard when you were still a teenager, and the record has never been broken. How many spins did you do?
Kevin: A lot (laughs). It happened at the PNE Coliseum. In my brain I was spinning around, and my personal record at that time was close to 300, so I'm thinking okay, maybe I should just try beating my personal record. But the crowd started chanting, and the hype, and the announcers going okay he's at 350, he's at 400, he's at 450… So I got to a thousand and I just gave up, but I got to 1032 (360 spins) and I've never been so physically drained in my life. I think about that and skateboarding to me is still the best thing on the planet…
HM: That's great Kevin, I would really like to thank you for being a guest on Glory Daze with Hippie Mike. You are a true inspiration to myself and to many other skateboarders. You've helped skateboarding come a long way over a long period of time and your dedication to helping the sport grow is irreplaceable. I'll say it for everyone – Thank You.
Kevin Harris everybody...