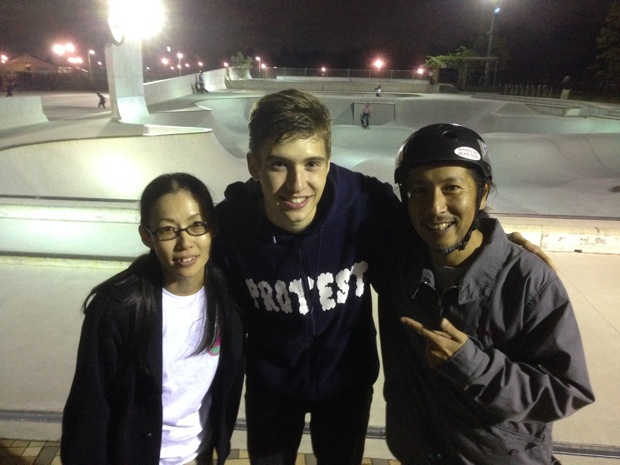 Do you know Fabric? Well unless your in Yokohama Japan probably not, which is why I'm going to tell you guys across the pond about them. I first met the owner Kojima and his wife Saori at Yokohama skatepark, the park I go to all the time. I was practicing my 360 spin variations when Kojima came up to me and said "You spin like Kevin Harris". I was shocked he didn't say Rodney Mullen, but Kevin Harris. I replied to him and said "He was the one who taught me" and from there we hit it off right away. It turns out that Kevin was in Japan and did a demo for Kojima and his class-mates in the 80's when he was in middle school. He told me how stoked he was to meet him back then and later showed a board he had Kevin sign from way back then.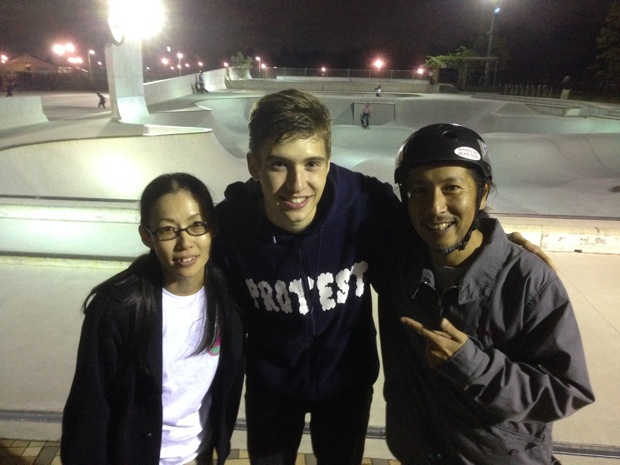 We started talking more and I found out he owns a skate-shop called Fabric, which just happened to be a 5 minute walk from my house. This shop is sick! I go in and it's like a basement where the ceiling barely misses my head, but it's definitely not too cramped. At this shop there isn't a skate wall, but more like a skate ceiling with boards covering the place. What really caught my eye though, is that Kojima does his own boards, and they are absolutely sick! He makes all kinds of shapes, experiments with them and then rides them. He loves to experiment with different shapes and graphics and each one looks just as sick as the next. Couldn't have found a more core shop with such incredibly awesome people running it. These people really deserve every bit of success and more that comes their way.
Right now, I regularly stop by the shop and talk with Kojima and his wife about various skate related things and have incredibly fun conversations with them as well as skate with them on occasion and that's when I take a step back and realize something. If I never studied Japanese, these incredibly awesome people would have been impossible to make a connection with. I am truly grateful now that my high-school offered so many Japanese programs to travel abroad as well as study the language. This is just another example of what travelling abroad at a young age will give you. A whole different view of the world with a new fascination and appreciation for other cultures and languages. We like to think that English is THE language, however I strongly have to disagree. There are so many other cultures and languages to experience with so many different communities that are not as small and tight-knit as we might think with new friends and new adventures just waiting around the corner.
Thank you Kojima and Saori for your kind hospitality and really making me feel welcome here.
-Ryan Brynelson