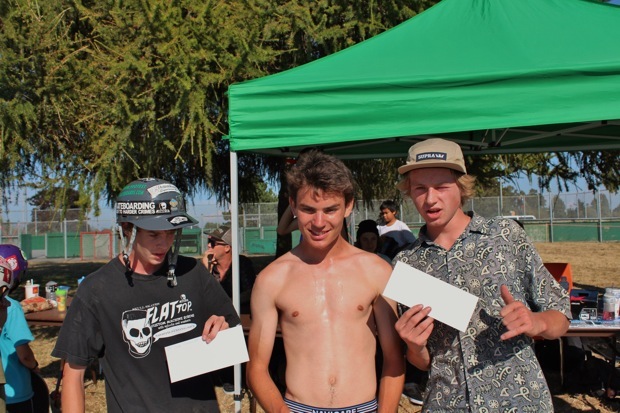 Another amazing day in Tsawwassen, what a place to live! The sun was definitely cooperating for an event named The Sun Festival, and to be honest, we have no idea what happens at this so called event except for the fact that Michael Ray and the Local Boys set up an annual skate comp at one of the best skate parks in the lower mainland. Any contest at Tsawwassen Skate Park is gonna be a tough one to win, the energy is always solid and so is the skating. Hippie Mike and the Protest Crew showed up ready throw down with Brad "Fighter" Muscat and Andy Anderson. All 3 were on their game all day, Hippie was blasting big out of the launch and threw down his patented "Hippie Hop" through the 2 bump to rails and then early roast beef down the 3 block to finish off his 2nd run, Fighter was flying high over the Van City Sign, hittin' ledge and rail tricks everywhere, bustin' benny's over the skinny hubba and just plain skating fast and hard, and Andy, well he's Andy – trick, trick, trick, trick, trick….. Can you hit every obstacle in the park in one run, maybe, if you're Andy.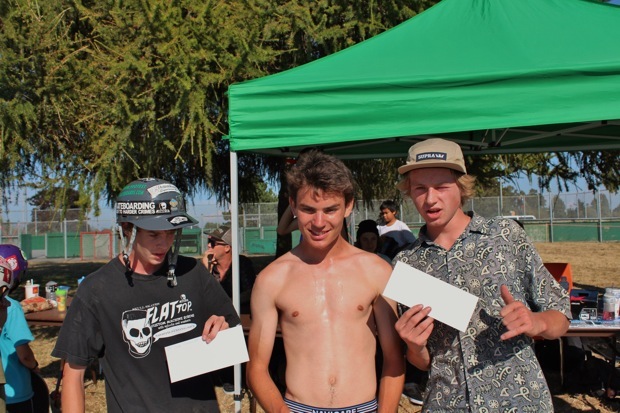 It started out with Beginners and came down to 3, Parker Sherwin, Nick Bachmeier and Lucas. All 3 of them ripped it up, Luke blasted the 3 block, Nick was boardsliding the green rail and Parker was popping big ollies and flip tricks all over the place.
The Intermediates were just as tough and the Top 3 came down to Colin Gallagher, Matt Hill and Jacob Drescher. All 3 of these guys are on their ledge and rail tricks and were landing tons of stuff, Jacob even double kickflipped up the step up. They were all tight in the standings but Colin took 1st place.
Protest Skateboards pulled out a crisp $50 bill for a Best Trick up the Step Up and Hippie Mike took over the microphone. Judge Mike Hastie said 5 minutes only so they went for 7. It was literally a person jumping up the step up every 5 seconds the entire time and tricks were getting stomped left right and centre, 3 flips, double flips, ghetto birds, late shoves, blah blah blah blah blah, but Ryan Leport laid out a sick nollie double heelflip 180 twice in a row to take the money. Solid both times buddy! Even if you landed on 1 foot only the first time.
The Advanced Category was insane of course as everyone who actually entered knows how to shred in competition. Top guys to watch were Ryan Leport, Andy Anderson, Riley Antonik and Andy Classon. Somehow Tyler Burke made the Finals as well and then skated really good in them. Everybody skated solid in Advanced but these 4 were the ones to beat all day. Ryan Leport and Andy Anderson just basically rode around really relaxed and did a zillion tricks each on the ledges, the flat bars and rails, up the step up and even on flat just for fun. Andy Classon wowed the crowd with his insane wallie skills and big pops but couldn't come through in top 3 this year. It was Riley Antonik with his barge and charge style going as fast as possible on the worst flat spots and hitting every big ledge and rail in site. Riley killed it, but he was no match to Andy and Ryan. Sick contest!
Thanks to Michael Ray and Mick Bey along with anyone else that helped to organize this event, Geoff Howe for coming all the way out to MC, Mike Hastie for judging, and of course to Hippie Mike for wearing the worst outfit of the year. Great day everybody, see you all there next year…
Results
Beginner 
Parker Sherwin 
Nick Bachmeier 
Lucas
Intermediate
Colin Gallagher        
Matt Hill   
Jacob Drescher
Advanced
Ryan Leport
Andy Anderson
Riley Antonik