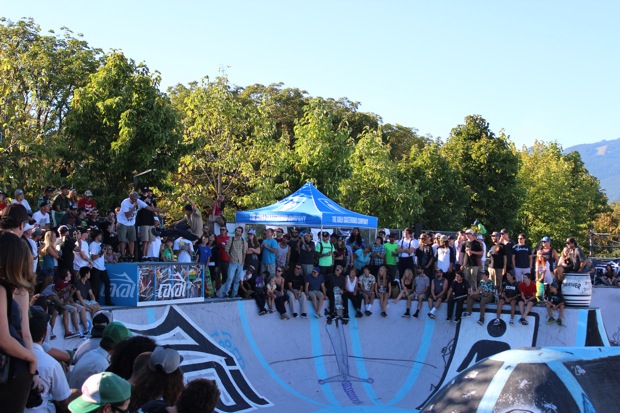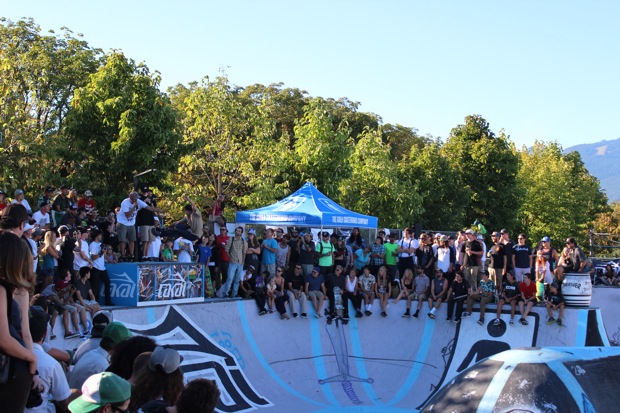 Another insane contest in the land of Vancouver, thanks Kevin Kelly for hosting Battle at Hastings IV as a World Cup event. This year changed the look of what this contest has been in the past. Having so many super amazing bowl rippers come up from the states made it a way more serious event with so much mixed talent. The local boys like Andy Anderson, Chris Macallum and Conlan Killeen ripped around like they usually do at Hastings, but Adam Hopkins and James Clarke were the only locs keepin' up in this competition. Old time Locals Rick McCrank and Rob "Sluggo" Boyce reminded the fans that they still exist and both made finals. But the real dudes to watch were Cody Lockwood & Brad McClain. Both of these dudes were untouchable in the finals dropping tricks that just weren't feasible all over the bowl and on the additional obstacles too. That's right I said "additional obstacles". Supra Distribution donated a huge clear Lakai Shoe Box full of shoes, Ultimate Distribution brought a crazy wooden barrel and Adam Hopkins went hardcore and built a tombstone channel that fit the 6 foot. Top 10 made the finals out of about 35 guys, and the judging was tough. I was a judge and it was hard to keep only 10 guys, they were scored over 4 heats but with their best and worst scores thrown away it was an average of the remaining 2, so if you didn't have 3 killer runs you were at risk of elimination. A tough way to do it for sure.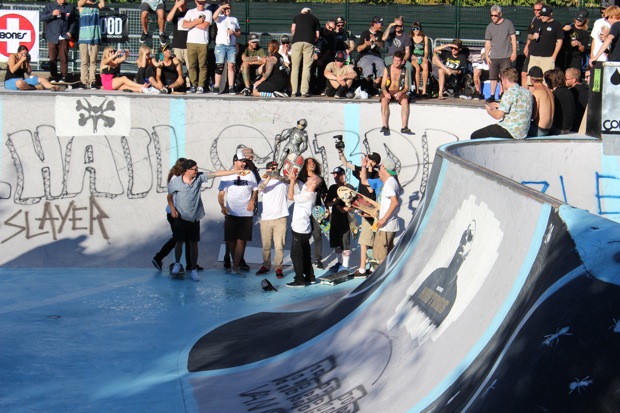 Mason Merlino who won last year was on fire but somehow got left out of finals along with Charlie Blaire. They both skated so good but their scores didn't average out enough. Shit went down on the Lakai box and the Tombstones for sure. Blunts, airs, grinds and slashers, both obstacles were demo'd by many. The Barrel didn't see too much action but there wer a few solid air bonkers and nose picks on it. Sky Siljeg wallied into the bowl off of it to start one of his runs and that was pretty crazy.
The whole contest was insane, 200-300 people around trying to squeeze into Hastings Park without being in the way of the skaters, a ton of people filming and poaching photos, Rene Rene was on the mic, and the energy level was hot. I would tell you more about it, but you're just gonna have to wait for all the videos to come out, but I will tell you the Top 10.
Battle At Hastings 2013 Results
Brad McClain – $6,000
Cody Lockwood
Frontside Kid – James Clarke
Adam Hopkins
Steve Reeves
Rob "Sluggo" Boyce
Sky Siljeg
Frank Shaw
Riley Boland
Rick McCrank
Here's a couple photos that I snapped when I had a quick minute or two