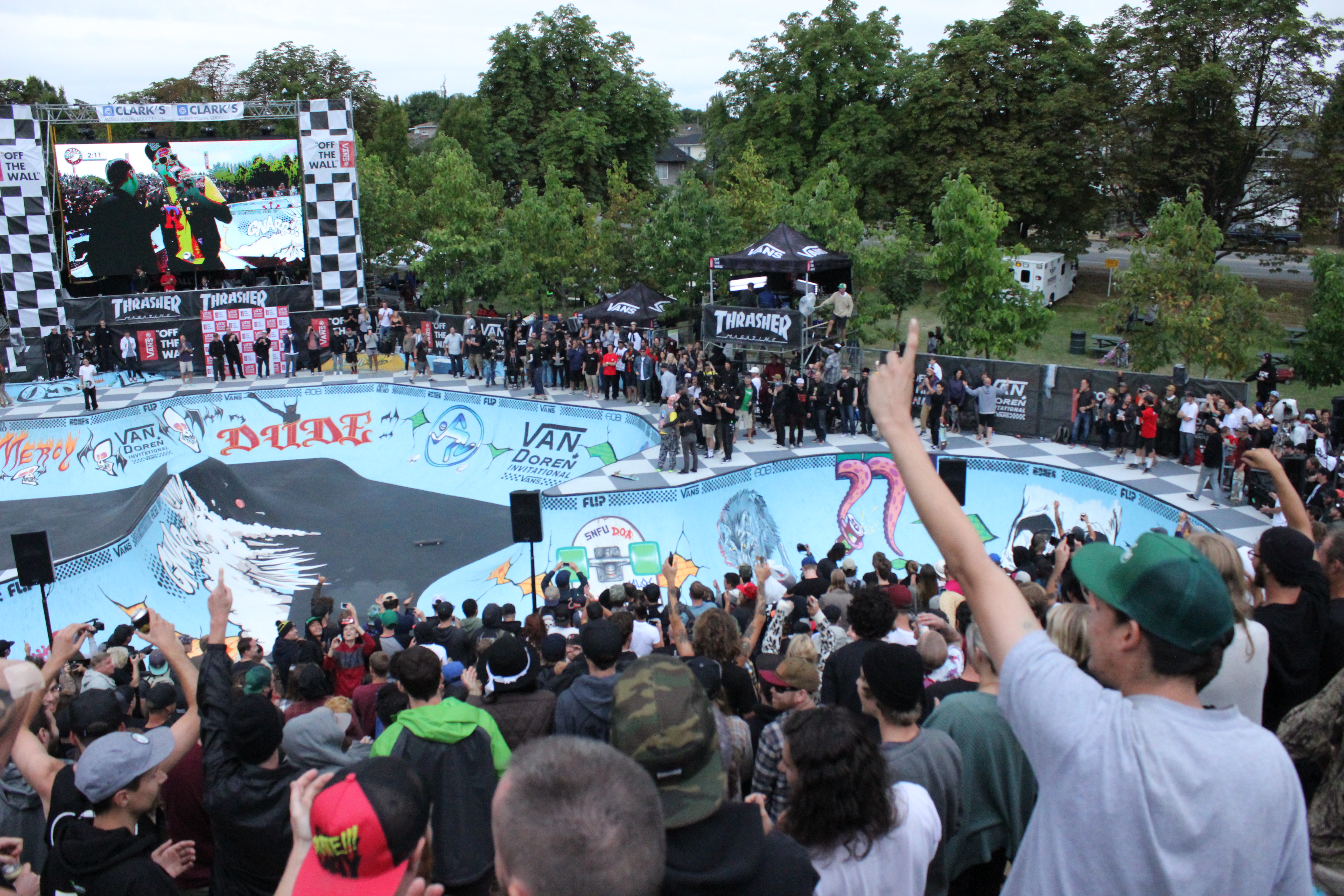 It's crazy how someone cracking their head open and knocking themself out over the biggest gap in the bowl gets the crowd more stoked…. That's the Vancouver Skate Scene for ya. Nice try Raney Beres!
This was the first big Pro contest in many years since the infamous Slam City Jam competitions shut down and the excitement was in the air. Bleachers and grand stands were set up to surround one side of Hastings Bowl and there wasn't an empty seat in the house for the Finals. Guys from all over North America came out to show their skills, Tom Schaar, Omar Hassan, Mason Merlino, Brad McClain and many others came to try to beat out the local talents of Adam Hopkins, James Clarke and the legend Rob Sluggo Boyce. All 3 of these guys skated well in prelims on Friday and all made the Semi-finals, but only Hopkins got into the Top 6 for the final Finals. He ended in 6th place and that was definitely respectable.
The highlights of both days were focused on Sluggo doing backflips to fakie in the deepend both days which amazingly are the only ones he ever landed on concrete. The crowd will remember those forever. A great guy to watch was Riley Stevens, he came out to have fun and that is what he did, best trick had to be popping out of the 9 foot to smith pick on the fence and back into disaster for the ride out. Dude had a smile on his face the whole weekend and the feeling spread. Tom Schaar killed it vert style tossing a couple different 540's around the bowl and a few kickflip indy's but he didn't quite make Top 3. Brad McClain reminded the crowd who skates the fastest, Raven Tershy showed who could hang in the air the longest of every hit and Alex Sorgente just plain laid it down all over the bowl to take 1st place.
The contest was great, it was well set up, well managed, and the weather was amazing. Thanks to Vans and Kevin Kelly for working together to make it happen. I'm sure that we will be seeing more of these types of events in the near future, but until then the Vancouver crowd has lots to reminisce…