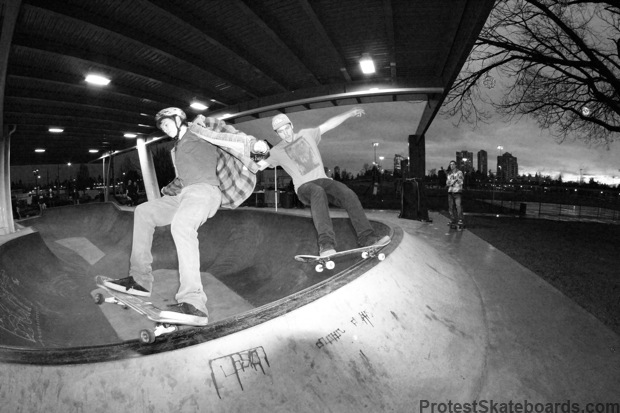 March 15th, 2013 started off Spring Break with a bang or two for the kids at Chuck Bailey Skate Park where Hippie Mike and the CBYPC organized and held a little Bike/Skate Jam in the Bowl along with a free BBQ.
Everyone was invited and lots showed up. There were some Best Trick Comps for the different age groups and Mike handed out a bunch of prizes, but mostly it was just about hanging out together with some tunes blastin' and having a good time. Amazing job once again for the City of Surrey building a Skate Park with a covered section, proving the opportunity for another successful event that ran while the rain was pouring down. It's a luxury to have.
Thanks to all the sponsors that supported – Protest Skateboards, Ollie North, Coastal Riders, Street Dreamz, AXS Gear, Bike Zone, Fiend, Ten Pack, Almond, Norco, RDS, Fallen and Safeway.
And thanks to all who came out to skate, it was great fun.
Adam Hopkins and Max Bayko shredded the deep end along with Allen Handley, Andy Anderson and Grant while the young bucks all shredded in the mini ramps. JR Barron and Riley threw down lots of tech tricks and Theo and Django Caseley impressed the crowd with their tranny skills. Especially Django at 6 years old dropping in on his knees and grinding coping in the 7 foot – Crazy!
Best Trick in the Deep was pretty tight. Hopkins was obviously killing it but didn't want to win of course, so it was pretty much between Max, Allen and Grant. Max was hitting every tough transfer in the place, but it was riding between Allen Handley's Melon Grab Feeble Grind Fakie and a sick handplant by Grant for 1st place. Then at the last moment and final attempts, Max Bayko busted out a clean Nocomply Tailslide across the big wall. He shut it down and took home a sweet Protest Deck and Tshirt. Everyone that showed up got some sort of prize, ate too many hot dogs, and most of them left in a new Protest Skateboards Tshirt. That's how we do it…
Here's a couple photos of the older dudes having fun on the big wall