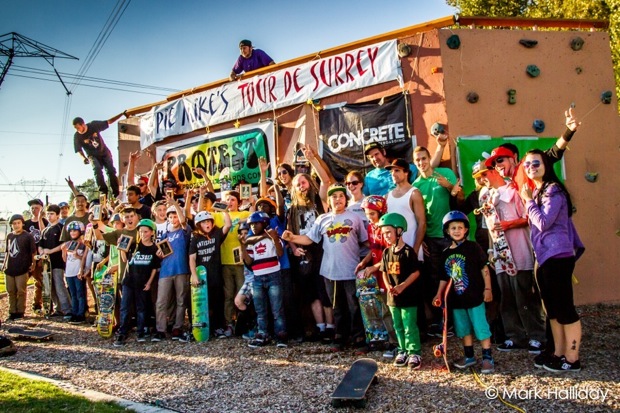 It breaks my heart to say it's over but what a perfect day to finish it off.
We hit up Bear Creek Skate Park on Saturday for the Final Finale of Hippie Mike's Tour de Surrey and it all went super smooth. It was a super long day of course but that's okay, everyone had a great time and no one got hurt, so that's really all that matters. I had a fun time MCing like usual and was stoked on how many kids and parents came out to support the event. It has been 10 years of building a family and it is a family that I will always cherish.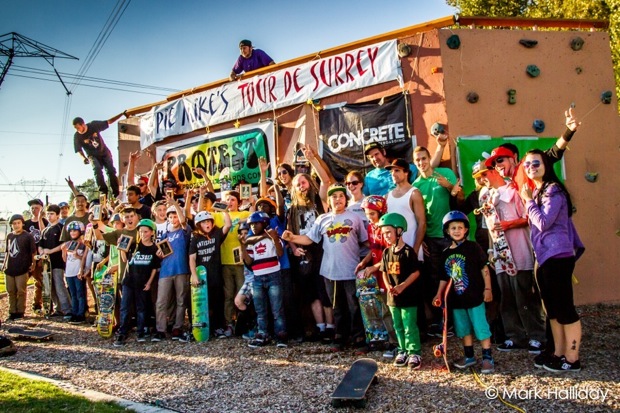 The day kicked off with a whole bunch of true Mini's from age 3-10 years old. And it proved itself ridiculous right off the bat as little Emmanuel blasted over the bank gap in the first run. It's like the size of an 8 stair. Django and Theo Caseley shredded every piece of tranny in the park while Emmanuel utilized the stairs, rail and mini quarterpipe. Kaelen, Austin and Presley showed off what being a true Mini is about along with Caden Smith and a couple others, but it was the 2 regulars stealing the show with Aiden Eastman and Parker Sherwin. They both got flip tricks and pretty much go for it the entire time they're on their boards. This one was definitely decided by the finals. Django took it over Theo – awesome!
17 Beginners were next on the agenda, and they were all lookin' like pros. The usual 5 superstars threw down and made it to finals – JR Barron, Adam Lewis, Mar Melyukov, Nick Bachmeier and Justin Fiorante, but all the other dudes were hot on their trails, especially Josh Lewis and Damon Morgan. All the beginners skated really good and landed a huge variety of tricks. The best was how many of them popped ollies over the big bank gap, twice as long as the other one and a bit higher with a super tough runway. Mark Melyukov was killing it early but had a tough run in his finals, Nick skated super consistent all day and ended in 4th place, but the Top 3 were untouchable. All 3 had almost flawless runs in the finals and they all got tech. JR landed everything he tried from flip tricks to grinds down the rails and even ollied the bank to finish it, Justin skated solid and utilized pretty much every obstacle along with throwing in a couple flatground flip tricks, and Adam played it cool by doing each trick frontside and backside on the ledges and down the stairs. He popped over the big bank gap no problem and then came back to frontside 180 down the other one. Solid runs, and his first ever 1st place victory. Way to go Adam!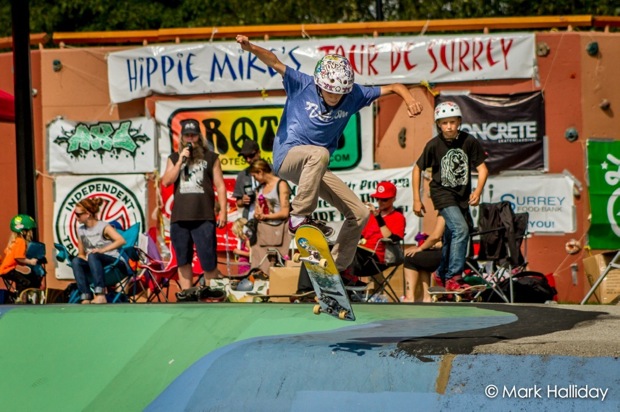 The Intermediates were very interesting to watch, a true blend of talents. 2 freestylers joined in for this one – Austin Shelton and Dillanger Kane – and they both went full hardcore on it making it to finals. Both of these kids are super tech and creative which makes it fun to watch. Old time local Max Stephans came up from Seattle just to be a part of the final Hippie Mike's Tour de Surrey and had some good runs. Max was always talented and it was great to see him there again. Jon Schrack and Doogie Lester also killed it the whole time, all the Intermediates were sick but the ones that stuck out the most were Kai Searle, Riley Allen, Weston Hutchinson & Dave Brown. Dave's one of my fav's to skate with at all the old bowls and he brought his emotions with him to this contest. It was the best that I had ever seen him skate and he went full speed at every obstacle with sick old school style. I was stoked that he made finals. Riley was all over the park too with some creative manoeuvres but couldn't beat Dave in the finals. It really came down to Weston and Kai. Both of these kids are so consistent it isn't funny and they do hard tricks, flip tricks and ledge tricks all over the place. Weston has the big gaps better but Kai was so solid in his final run that he took the gold. Tight contest boys!
The ladies had their usual jam time and all 4 of them did their thing. Nana Kunugi stuck the only kickflip for the ladies, while Tienna showed he confidence on all the obstacles. Steph rode around best she could and Carrie finally skated hard again like the old times busting shovits and 180's on the banks and even popping ollies down both sets. Good job ladies and thanks for coming out.
Then came Advanced…
13 dudes ready to rip it and then somehow I got called out by my good buddy Shadd Trepp to compete as well. So here it was as Hippie Mike competed in the final Hippie Mike's Tour de Surrey, I only did 1 run and threw down a bunch of noseblunt tricks on the quarters for the crowd but it was a good little demo that they all deserved after so many years of just seeing me behind the mic. If there's one place I don't mind showing off at it's Bear Creek Park. The real competitors though were all insane and they all wanted to take home a Top 3 plaque at the last stop of the tour. Ryan Barron stepped up his game and landed his tricks again, he even made finals. Calvin Dignard played it safe by sticking to the basics and landing every trick he tried. Jacob Drescher showed off his ledge and rail skills, along with a couple flip tricks. Fighter skated like he always does, but missed a couple moves in there. Mathew McCauley did his best against the big guys and stuck some smooth moves too. Yuya Ishikawa hit up the ledges and flatbar, while Justin James hit the transitions. Allen Handley and Jay Mykyte both did some serious tricks with sick style as well, and Brendan Nielsen spent the whole day trying to fs360 boardslide the shotgun rail. Cisco Gooding skated consistent like always with long flowing runs filled with switch grinds, blunts and flip tricks. Eve Feaver showed up to his first Surrey comp in years and skated BCP the way it was built, huge airs over the nipple and hips, and even a couple handplants on the big pyramid, but no one could catch Weston Ganger. 50-50 180 down the rail, flip tricks, grinds and gaps all over. Then he finished it off with a super long boardslide on the handybar. The competition was tight but Weston came out on top.
At the end of the day I finally announced all the winners from each category and we got photos of all the Top 3 with their plaques. I gave out plaques for Most Improved Skaters to JR Barron and Aiden Eastman who just destroyed it at every contest this year, and announced the last ever King of Surrey. The trophy went to Weston Ganger who definitely skated hard, solid and consistent all summer and took home a bunch of prizes at each event. He won this one too which made it it all make even more sense.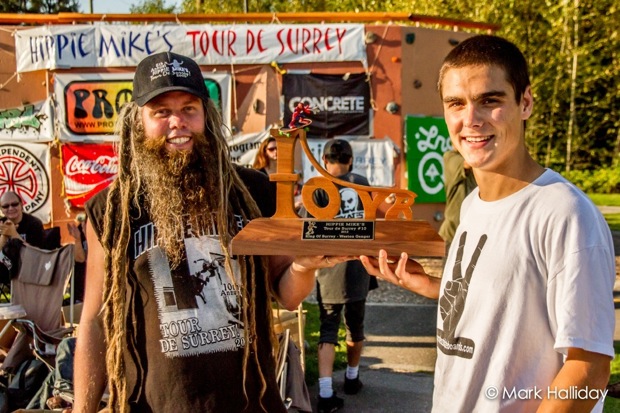 As people were cleaning up there was a Best Trick contest on the 4 stair setup for a signed Rick Howard Girl Deck that he left for me at Supra Distribution. Ryan Barron came through huge with a kickflip up the set and took that baby home.
We raised a fair amount for the Surrey Food Bank once again with
$451.00 and about 350 lbs of food and Marilyn Herrmann showed up as Executive Director to make a speech of how appreciated our donations always are. Another solid year for Hippie Mike's Tour de Surrey.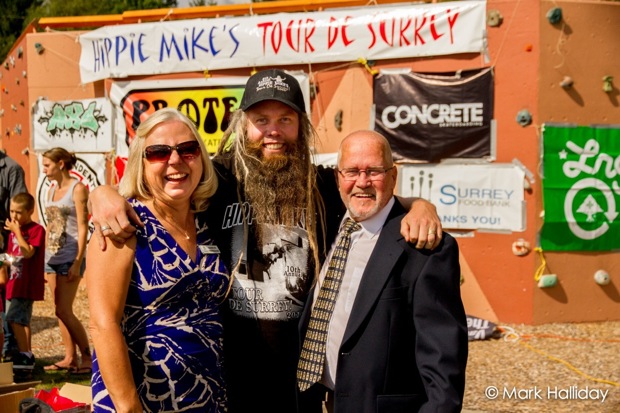 A great series, 10 years of amazement, and no better way to finish it off then a solid contest at my favourite Surrey Skate Park – Bear Creek.
Thanks to everyone who came out to all the events over the past 10 years, I will remember you all…
Results:
Mini: 1st Django Caseley; 2nd Theo Caseley; 3rd Parker Sherwin; 4th Aiden Eastman; 5th Emmanuel; 6th Caden Smith; 7th Presley Huska; 8th Kaelen Faux & Austin MacBeth; 10th Kaelen Ruiz; 11th Aidan Borthwick; 12th Rhys Eastman
Beginner: 1st Adam Lewis; 2nd Justin Fiorante; 3rd JR Barron; 4th Nick Bachmeier; 5th Mark Melyukov; 6th Josh Lewis & Carter Costic; 8th Damon Morgan; 9th Bachouch Michael; 10th Donte Gullickson; 11th  Jean-Claude; 12th Kevin Pamel; 13th Nic Hrvacanin; 14th Elesio Menta; 15th Braeden Ingram; 16th John Bastug
Intermediate: 1st Kai Searle; 2nd Weston Hutchinson; 3rd David Brown; 4th Riley Allen; 5th Dillanger Kane; 6th Austin Shelton; 7th Zacc Lester; 8th Jon Schrack; 9th Max Stephans; 10th Chadd Sinclair; 11th Eric Ream; 12th Robert Wylie
Girls: 1st Carrie Williams; 2nd Tienna Rivard; 3rd Nan Kunugi; 4th Steph Martin
Advanced: 1st Weston Ganger; 2nd Calvin Dignard; 3rd Eve Feaver; 4th Cisco Gooding; 5th Ryan Barron; 6th Jacob Drescher; 7th Allen Handley; 8th Jay Mykyte; 9th Brad Muscat; 10th Mathew McCauley; 11th Yuya Ishikawa; 12th Brendan Nielsen
Most Improved: JR Barron & Aiden Eastman
King of Surrey 2013: Weston Ganger
and a huge thanks to all the sponsors from 2013
Protest Skateboards
Coastal Riders
Amix Group
Concrete Skateboard Magazine
The Surrey Fire Fighters
The Surrey Food Bank
Vans
Ollie North
Our Beach Studio
Folk Skateboards
BLVD Skate Shop
Anti Social
West49
Have2Skate
New Line Skate Parks
Spectrum Skate Parks
Monke skateboards
The Dry Spot
Street Dreamz Board Shop
One Love Skate Shop
Ultimate Distribution
Centre Distribution
S&J
TimeBomb
Supra Distribution
Faceshots
Unit120
Chuggies
Mosaic skateboards
Chance skateboards
Element
Thunder trucks
Independent
Happy Hour
Analog
Elephant skateboards
Chocolate
Girl
Sk8 Mafia
Fallen
Birdhouse
Bones Wheels
Spitfire
RDS
Axion
DC Shoes
Circa
Almost
DVS
AXS Gear
Matix
LRG
ATM
Kitsch
Lakai
Gullwing
Sector9
Meridian Golf Par3
iJailbreak
Woodsmith Custom Cabinets
Ear Goggles
Youth Unlimited
Concrete Wave
Eswic
Moonrider Productions
DJ Cuzo 
and The City of Surrey
See ya next year when we expand to other cities for the new series
Hippie Mike`s Super Tour