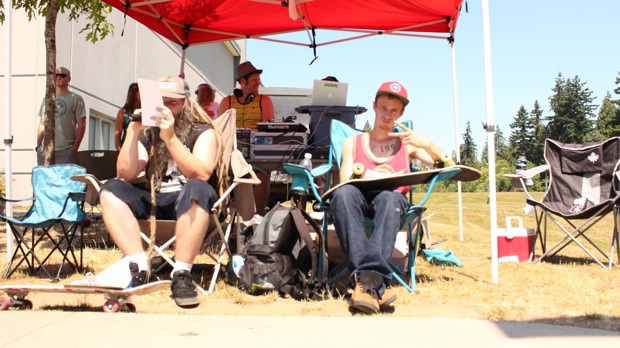 Another gorgeous sunny day in British Columbia and a perfect day for Stop #2 of this year's Hippie Mike's Tour de Surrey. Fraser Heights skate park is super street style and has lots of big obstacles so it makes for a solid competition every time. Surprisingly their weren't that many young kids at the event this year, I think a lot of people are travelling and taking advantage of this amazing weather. Lea Bolton from JoyTV10 showed up at the beginning of the day to do some filming and interview Hippie Mike and some of the participants about the event. Once edited the short clip will be aired between shows on Channel 10 for the remainder of the summer. Other media members that were present were The Now photographer Gord Goble, Dennis Regan filming for RollingBonesPodCast, and then Justin James took over filming for the Moonrider Productions documentary since Mark Halliday was away filming another project. All got tons of sick footage!
So as the contest got started the kids were ready to do their thing and try their hardest to win some prizes. Mini's were pretty slim in numbers but still had to work hard for the gold. Aiden Eastman and Parker Sherwin battled it out for 1st place and this time Parker was successful. That's 1 for each of them so far this year, rubber match in 3 weeks.
The Beginners were nuts like usual. The Top 5 went hardcore the whole time and deserved to be in the Finals as they were flying down the 9 stair, hittin' switch tricks and lipsliding rails. Welcome to Beginner Category at Fraser Heights! JR Barron had the crowd cheering hard the whole day and ended up in 3rd place, Adam Dizon laid it down all over the park and took 4th, David Martin annihilated in the qualifiers but had a choke run in the finals and ended in 5th place, Adam Lewis kept it calm and cool with lots of basics and consistent tricks but really utilized the 45 second in his final run and finished in 2nd, which left 1st place wide open for Justin Fiorante who was definitely going for it with everything he had the entire day – 180's down the sets, slides on the rails and blasted the 9 stair in every run. He had a solid day, and he deserved 1st place. Great job buddy.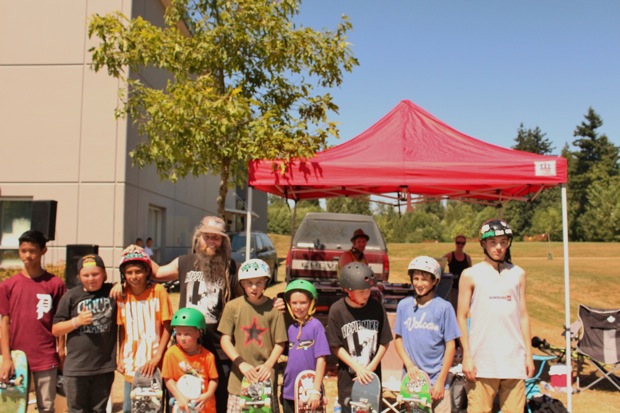 In Intermediate the competition was kind of slack. First runs everyone did good, but then most people choked in the second runs, there was even a run where neither person landed a trick. A rarity in Intermediate, but I guess it happens. Noah Eastwood skated good but just missed the Finals, and Kai Searle pulled a David Martin by being on top all day and then having a tough run in the finals. He did manage to kickflip the 9 stair which helped bump him up for a 4th place tie with Dyson Mathews. Dyson was having a good day too, and landed a lot of sick tricks on all the obstacles, can't wait to see him at some more contests. Riley Allen was the funny one because he is more of a bowl and transition rider and doesn't have too many ledge and rail tricks but he owned the park with a style of his own and threw down all day. My favourite part was after he airwalk tailslapped up the step up he was skating by me and I heard him mumble "Wow, I'm impressing myself…" Bonelesses and funky tricks all over the park – ol' purple pants came through in 3rd place.  Dillan Kane showed up and registered just as the last competitors were about to have their first runs and he just jumped right on his board and into a full Freestyle routine. He was killing it. Pogos, truck stands, primo flips and impossibles, and even stomped a handstand kickflip. It reminded me of the first time Ryan Brynelson showed up to a Tour de Surrey contest. Dillan had a flawless tech run in the finals but was kept in 2nd place behind Weston Hutchinson who was sacrificing his body on all the huge gaps and rails. He even tossed a double fingerflip caveman boardslide… Whatever, Weston is crazy – 1st Place buddy!!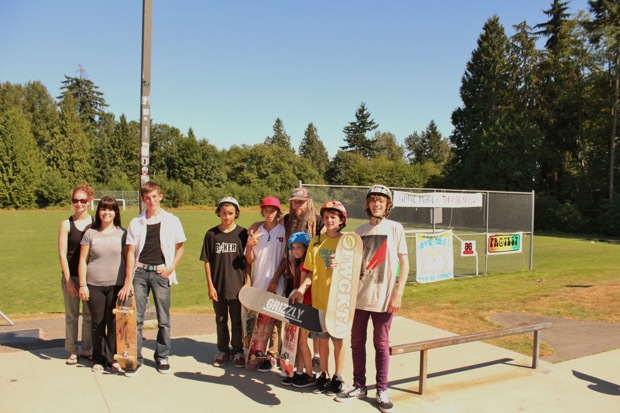 The Girls did their thing for about 4 minutes but they didn't do too much. Tienna and Steph are both learning so they can just ride around and they did good. Carrie usually rips up Fraser Heights poppin' tricks on the big banks and over the sets but her knee is all messed up and she couldn't do much, but she still did her best. Hopefully she's all healed up for South Surrey in 3 weeks.
Then came Advanced, wow… 15 dudes, all shredders, and every one of them laid it down in their qualifier runs. Mathew McCauley got bumped to Advanced for getting his first sponsor with Protest Wheels and he did pretty good against the big guys. Started his first run by kickflipping the 9 stair, threw some solid rail tricks and even dropped a perfect frontside shovit on that 9. Fighter, Jordan Strong, Ryan Barron, Peter Nicholson, Jay Mykyte, Cisco Gooding all killed it but did not make finals. When it came time to decide the Top 5, 3 of them were obvious – Tony Casano, Weston Ganger and Dominic Devries, who had 2 insanely flawless runs. The others that squeezed their way in there were Calvin Dignard and Jordan Repin. I hadn't seen Repin at one of my events in a while so I was stoked he made finals because I know how he skates under pressure. Tony had 2 amazing qualifier runs and then just couldn't pull it together in the finals. It happens man, and he still killed it, but you read the list of who made it, and really, if you miss a trick you're screwed, just like Street League. The top 4 were all really close but Weston got knocked down to 4th place. Weston Ganger is a maniac with so much skill I can't believe this guy doesn't have any sponsors, he grinded the 9 stair rail and then ollies right up the 4 stair to set up for a grind down the hubba on the other side of the park, nosegrinded the hubba down the double set, smith grinded the flatbar into the steep bank and even dropped an airwalk to hardflip up the step up. Somebody hook this guy up! 3rd place was Calvin who can lay it down at any time anywhere street style. Calvin's got so many ledge and rail tricks on lock and can hit the big gaps at any moment. He finished it off with a sick feeble grind bigspin on the bump to rail. So it came down to Jordan Repin and The Dominator, both had super perfect runs in the finals but Repin went a little more tech than Dominic and even though  he gave the judges a backside 5-0 down the 9 stair rail to finish his run, for a change Dom got 2nd place. Jordan Repin did some solid tricks, front blunts and mean tailslides on the ledges, nollie boardlides and backside 360's and just beautiful flow through the whole park. At the end of his run he stood their stunned not knowing what he was going to do for his last trick and then he just stepped onto his board slowly and busted out a perfect frontside bigspin boardslide on the bump to rail. Congratulations Jordan, that was not an easy win…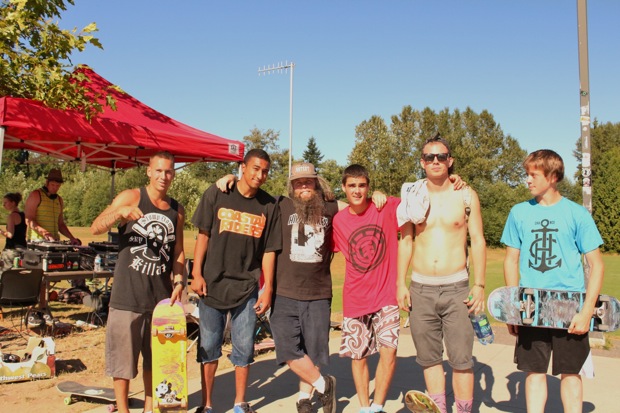 We did have a Best Trick down the 9 stair at the end but only a few guys competed. Brad Muscat hit some tricks down the rail and got a hat for a frontside tailslide to fakie, Allen Handley got a Nyjah DC Shirt with a sit down hurricane grind down the hubba and Weston Ganger took the Coastal Deck for his frontside nosegrind down the hubba – tough trick. You'll be able to see all the footage once the documentary is finished.
See you in 3 weeks at South Surrey/White Rock Park
August 10th
Results:
Mini: 1st Parker Sherwin; 2nd Aiden Eastman; 3rd Rhys Eastman; 4th Marcus Perepolkin
Beginner: 1st Justin Fiorante; 2nd Adam Lewis; 3rd JR Barron; 4th Adam Dizon; 5th David Martin; 6th Carter Nickel; 7th Daniel Herd; 8th Josh Lewis; 9th Jacob Bakker & Austin Boem; 11th Blonson Vowles; 12th Austin Bounyasouk
Intermediate: 1st Weston Hutchinson; 2nd Dillan Kane; 3rd Riley Allen; 4th Dyson Mathews & Kai Searle; 6th Noah Eastwood; 7th Jayden Ristich & Lucas Grygorczuk; 9th Joseph Madayag; 10th Mike Willms & Robert Wylie
Girls: 1st Carrie Williams; 2nd Tienna Rivard; 3rd Stephanie Martin
Advanced: 1st Jordan Repin; 2nd Dominc Devries; 3rd Calvin Dignard; 4th Weston Ganger; 5th Tony Casano; 6th Jordan Strong; 7th Cisco Gooding; 8th Peter Nicholson & Allen Handley; 10th Jay Mykyte; 11th Mathew McCauley; 12th Brad "Fighter" Muscat; 13th Ryan Barron & Jacob Drescher; 14th Darryl James