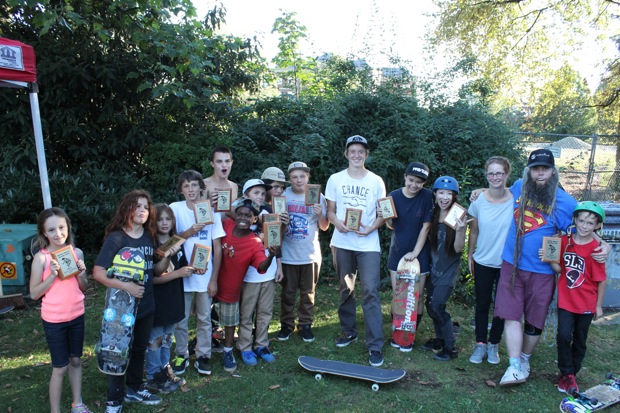 What a perfect day for a contest, the sun was blazing, the weather was hot and tons of kids were ready to put their lives on the line for prizes and plaques. Railside Skate Park in Poco has always been a big contest/demo park but it was the first time Hippie Mike had run an event there, and the response was solid. With about 80 people competing and around 150 in total at the park everyone knew that this contest was gonna be awesome to watch and right from the start it totally was. The Mini's went out there full force and tore up the place, little 4 year old Kaelen Faux ollied out of every bank there, Austin MacBeth and Django Caseley shredded the big bowl, Trent Johnson showed off his handstand freestyle skills and little Lola Palver body varialled around the whole park. But none of them could beat The A-Man Aidan Eastman. This kid has been coming to Hippie Mike comps for 3 or 4 years and is still a Mini (10yrs old or younger) and when he stepped up and ollied the 9 stair the whole crowd knew who won that category… BOOM!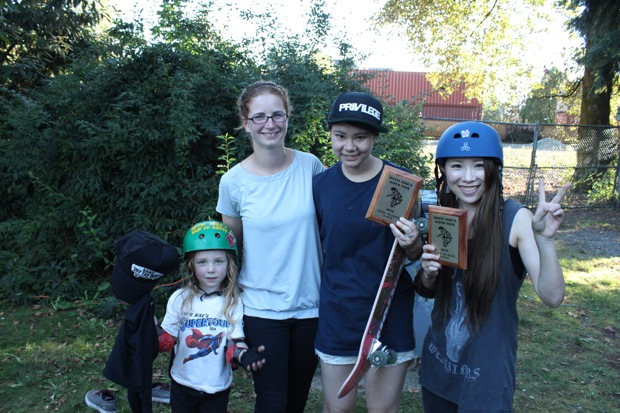 Beginners were just as crazy but I think the atmosphere got even more insane after Aidan's Ollie because all of the 17 kids were going nuts. It's awesome to see beginners riding handrails, olliing the big sets and gaps, and shredding the trannys. Top 6 made it into the finals and they were all awesome to watch – Liam Hansen was super consistent all day long hitting all street obstacles, Jake Dubinsky, Brody Van de Bon and Colby Hale-Stewart shredded all the hips and flat bars, Theo Caseley showed off the fact that he knows how to street skate and actually avoided the bowl in the finals, and Emmannuel Uwitonze just outright destroyed it hitting up only the biggest obstacles with huge ollies, 180's and railsliders. Emmannuel should actually be in the Mini category but stepped up to Beginner cause he knows he can compete. Watch out Intermediates, you might be next on his list of people to beat!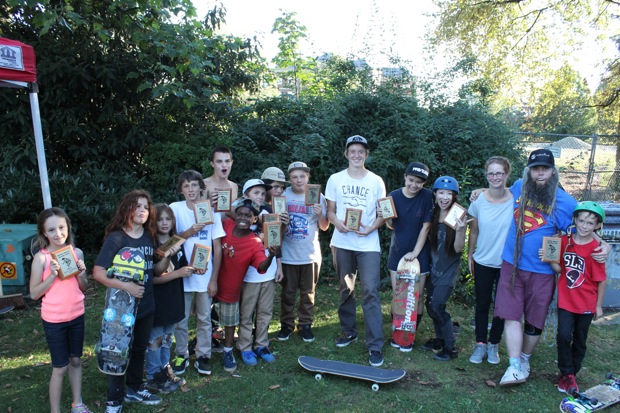 The ladies category was pretty good, 7 girls all together ranging in age from mid-teens to mid-30's. There were kickflips, shovits, 180's, 360's and a whole bunch of shredding going down and it was great to see all the ladies having fun together. Mai Tanaka stepped up for all women and beat Carrie Williams, way to go Mai!
In the Intermediate category chaos was going down the entire time. So many rippers trying to win prizes. The best runs in the qualifiers belonged to JR Barron, Justin Fiorante and Chadd Sinclair and all 3 of them made it into finals along with Shyeem Ambrose, Levi Wihnon, Tate Roulette and Connor Jollymore. All 7 went into finals wanting to be in the top 3 and it was hectic out there. Flip tricks, bigspins, rails and ledges, and of course that legendary 9 stair. Justin Fiorante ruled the pack with flawless tech tricks and took the gold!
Advanced was pretty awesome but really tough to judge since every person skating was super amazing. 26 dudes and 8 of them made it to finals – Jacob Drescher, Mathew McCauley, Travis Davie, Noah Eastwood, Gabe DiNorscio, Kyler Hale, Dominic Devries & Dave Jonnson. Jacob smashed himself into the flatbank halfway through the finals when his axle broke in half, Kyler Hale took a major head bang on a frontside feeble and both kept skating through the 9 minute battle. Dave Jonnson definitely laid down the most technical tricks in the finals but didn't quite land enough of them to make top 3. These 3 guys were stomping tricks non stop on all the big banger obstacles and kept the flow going for the whole 9 minutes. It was too bad too because he was owning it in qualifiers. Travis Davie stole 3rd place from Dave with a ton of solid ledge, rail and flip tricks; Matt McCauley squeezed his way into second by annihilating the 9 stair set and rail and Dominic Devries dominated the entire park landing every trick he tried. It was a no doubter that he took 1st place, way to go to all who made finals, you all ripped it!!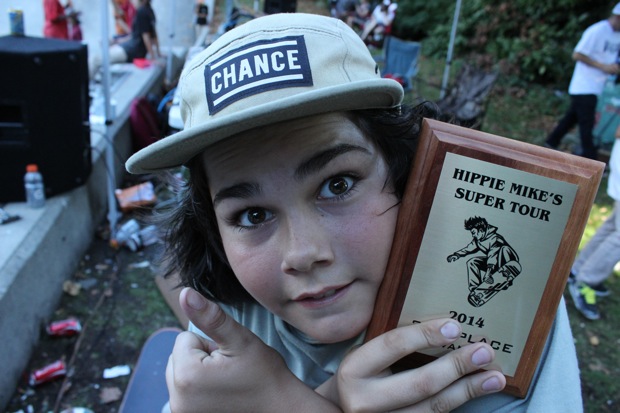 All the winners got plaques to cherish and they were all stoked. Then the first ever Super King was named. Jacob Drescher took the prestige title by being the most consistent skater of the series lacing in the finals at all 3 events and winning at Bonsor.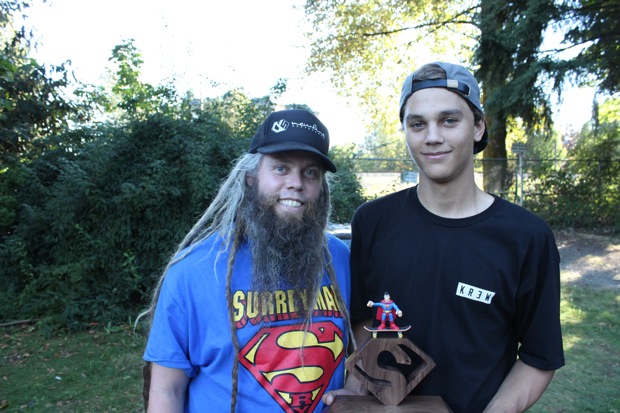 Great job to all who came out to the 1st year of Hippie Mike's Super Tour, next year we will be hitting 4 different parks so be ready, go out and practice, and remember to have fun – that is what skateboarding is really all about….
Results
Mini: 1.  Aidan Eastman; 2. Lola Palver; 3. Django Caseley; 4. Kaelen Faux, Austin MacBeth, Trent Johnson
Beginner: 1. Emmannuel Uwitonze; 2. Theo Caseley; 3. Liam Hansen; 4. Colby Halesteweart; 5. Jake Dubinsky; 6. Brody Van de Bon; other competitors – Dylan Reinheimer, Marcus Lee, Brayven Methot, Jose Juarez, Parker Sherwin, Devin Petry, Jordan Forsyth, Ken McLean, Trever LaFrance, Argento Lahue, Daniel Yule
Intermediate: 1. Justin Fiorante; 2. JR Barron; 3. Tate Roullette; 4. Connor Jollymore; 5. Shyeem Ambrose; 6. Levi Wihnon; 7. Chadd Sinclair; other competitors – Justin Karbowiak, Ethan Sacco, Sekoya Baker, Brandon Maxwell, Justin Gauthier, Damon Morgan, Austin Doquitan, Jayden Ristich, Rory Whyte, Brandon Dabul-Sanchez, Jake Taranov, Mark Melyukov, Kory Laan, Nathan Gladue
Ladies: 1. Mai Tanaka; 2. Carrie Williams; 3. Nana Kunugi; other competitors – Jess Goldstein, Jessie Smith-Manchia, Sarah Moore, Kristi Fodorova
Advanced: 1. Dominic Devries; 2. Mathew McCauley; 3. Travis Davie; 4. Dave Jonnson; 5. Gabe DiNorscio; 6. Jacob Drescher; 7. Noah Eastwood; 8. Kyler Hale; other competitors – Brad Muscat, Doogie Lester, Jacob Beauregard, DGK Trevor Greig, Hugo Bidard, Sam Cook, Andreas Tsougrianis, Travis Emerson, Riley Allen, Darian Vincent, Eli MacBeth, Calvin Dignard, Allen Handley, Michael "Giver" James, Jack Villa, Jordan Strong, Dennis
Super King Award: Jacob Drescher