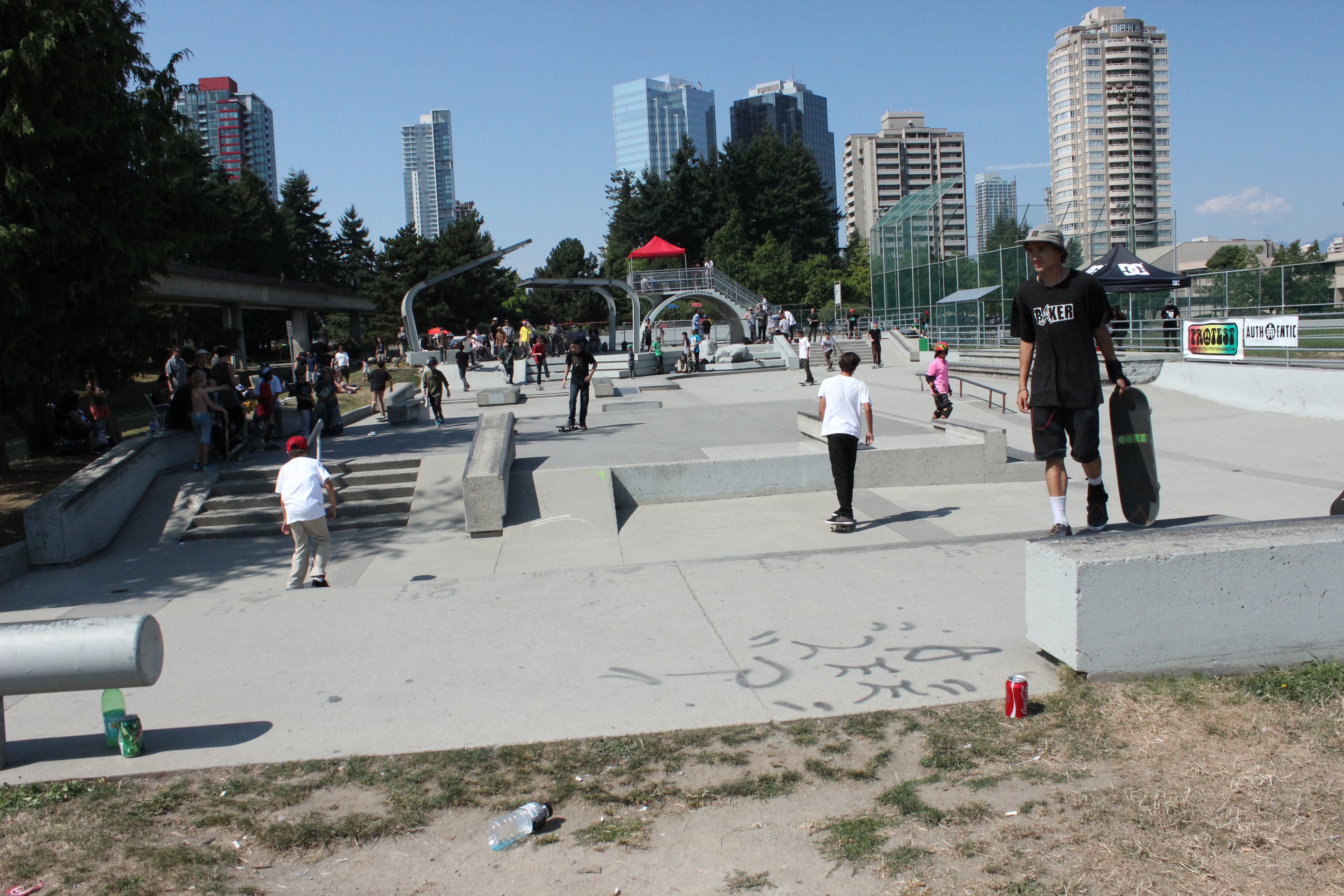 Another successful event in the new series Hippie Mike's Super Tour took place at Bonsor Skate Park in Burnaby, BC this past Saturday and even though we were competing against a big money contest in Abbotsford there was still over 80 competitors and a total number of over 100 people in the park having a blast. Reps from DC Shoes and Centre Distribution were on site enjoying what they saw and all the participants were stoked to have a contest at Bonsor, it's a sick park that all styles and skill levels can enjoy together.
We started out with Minis and Beginners and they were all ripping, kids were popping ollies and 180s over the 2block and 3block in Mini, and they were kickflipping those obstacles in Beginner. The ones that stood out in both categories were Aidan Eastman, Marcel H. and Quennel in the Minis and Damon Morgan, Emmannuel Uwitonze & Brody in the Beginners. All of the young bucks skated great and it's always tough to pick a winner but these kids made sure they stood out.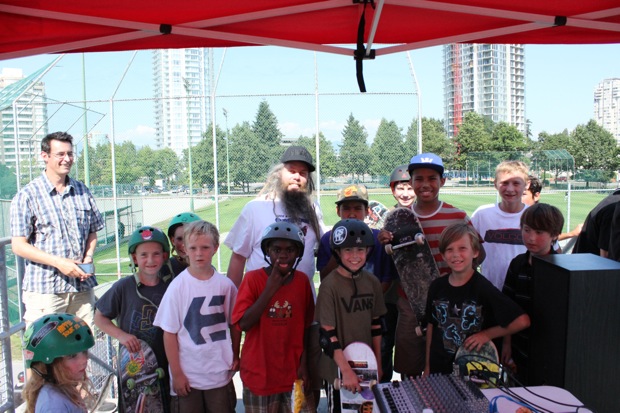 After a long delay for a medical emergency and a highest sticker slap in the full pipe put on by Wee Wong from Auto Repairs R Wee, we got on with the Intermediates and Ladies. The ladies kept it pretty mellow but Nana Kunugi managed to stomp out a kickflip for the crowd. It was still no match for Carrie Williams and all of her shovits and 180s throughout the park. The Intermediates went hard really stepping up the game to an almost advanced level hitting big flip tricks up the step up gap and over the 3 block along with a ton of ledge and rail tricks. Kory Laan blew up the crowd with a solid nollie bigspin down the 3block, Jayden Ristich and Dyson Matthews were on fire all over the park and hit up all the big parts, JR Barron threw down what he knew how and a few more things he didn't know he could while Tate Roulette and Josh Lewis stayed as close to the top places as possible. All the Intermediates killed it.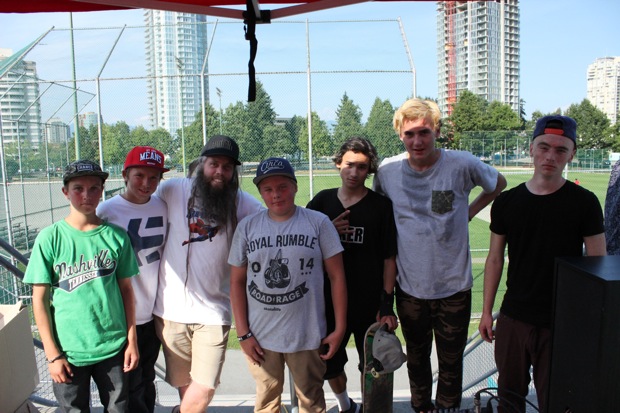 When we got to Advanced it was late in the day and these guys were more than warmed up. The finals was an 8 minute jam with 8 guys in it absolutely shredding. Mark Holland made sure the crowd learned his name with a huge array of rail tricks, Brad Muscat reminded everyone that he can rip it street style, Jordan Strong manualed his life away, Doogie Lester inward heelflipped everything in sight while Colin Gallagher and Matt Cook hit all the gaps and rails, but no one could beat the 2 Bonsor Locs Noah Eastwood and Jacob Drescher. Both of these guys were super consistent all day and blew it up in the finals – double flips, sal flips, back lips and so much more. If you missed the comp than you definitely missed the show, hopefully there will be video footage out soon. Congratulations to Jacob Drescher for taking the gold! He definitely worked for it.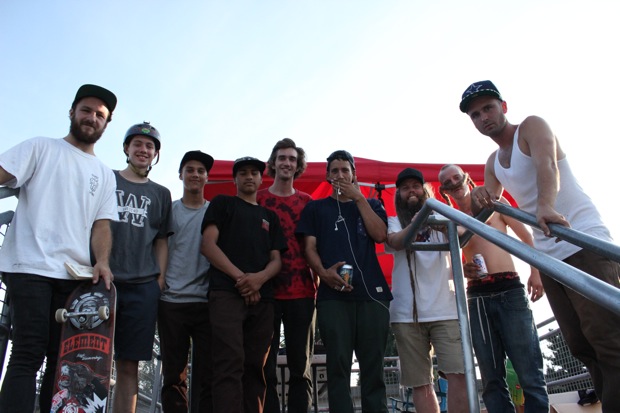 Be ready for the finale of Hippie Mike's Super Tour coming up on September 6th at Railside park in Poco.
See you there.
Bonsor Results:
Mini: 1. Marcel Haczewski; 2. Quennel Q.; 3. Austin MacBeth; 4. Aidan Eastman; 5. Taeban H.; 6. Dave McGough; 7. Kaelen Faux & Braedon Nerpio
Beginner: 1. Damon Morgan; 2. Emmannuel Uwitonze; 3. Brody Van de Bon; 4. Yoshe Dursten; 5. Parker Sherwin – other competitors: Jack Blain, Braydon Burgess, Carter Williams, Frasier Williams, Dreyden Vibe, James Graham, Devin Petry, Dylan Reinheimer, Cory
Intermediate: 1. Jayden Ristich; 2. Kory Laan; 3. Dyson Mathews; 4. Josh Lewis; 5. Tate Roullette; 6. JR Barron – other competitors: Theo Best, Adrian Romero, Andreas Romero, John Meakin, Kyle Ensor, Irvin Cruz, Austin Dagurator, Justin Gautier, Jonah, John, Bryan B, Rory, Nathan Gladue
Ladies: 1. Carrie Williams; 2. Jacky DeJo; 3. Nana Kunugi; 4. Keiko Sakata; 5. Kristi Fodorova; 6. Rebeka
Advanced: 1. Jacob Drescher; 2. Noah Eastwood; 3. Mark Holland; 4. Colin Gallagher; 5. Brad Muscat; 6. Matt Cook; 7. Doogie Lester; 8. Jordan Strong – other competitors: Kai Searle, Jake Johnson, Riley Allen, Michael Kitasaka, Brendan Neilson, Ryan Barron, Allen Handley, Justin, Jesse Moretti, Ken Li, Riku Mochizuki, Francois LeBlanc