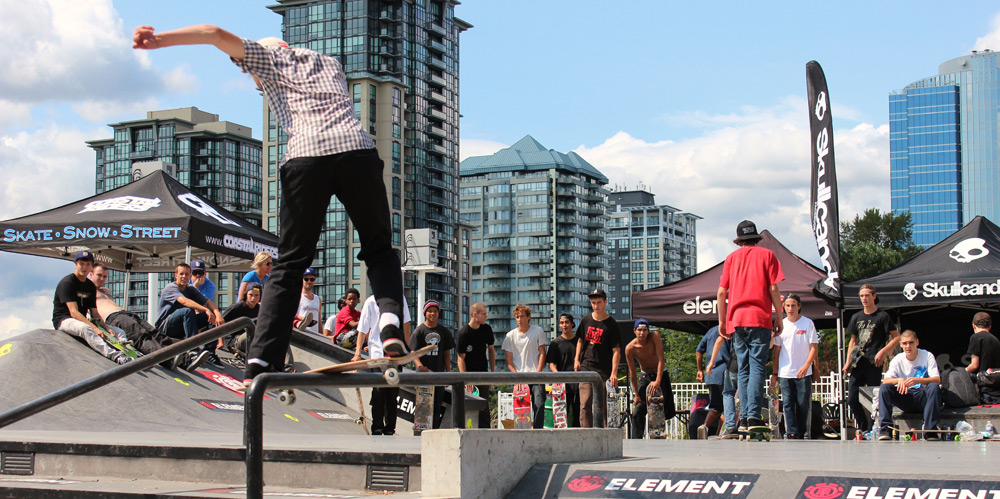 Another stellar event put on at Chuck Bailey Skate Park in Surrey, BC.
July 21, 2012 Chad Albert and some of the Element Skaters showed up to bring the "Make it Count Contest" to Surrey. The categories are 13 and under & 14 and up, and it just chaotic Jam Format on specific obstacles. All the winners get Prize Bags and the Overall Winner of the older category wins a paid trip to the next level of the contest where all the winners from around the world compete at Element YMCA Camp for a chance to be sponsored by Element Skateboards – pretty sick!!
The talent that was displayed in the 13 & under was amazing of course, but was pretty much dominated by the Tsawwassen Brothers – Cole and Luke Thodus, each of them winning 1 of the 2 obstacles. Are these guys the next Decenzo Brothers?? I mean they're already unstoppable and with the amount of parks and contests out here, they have the potential to get noticed. Plus they live in Delta, just like Scott and Ryan Decenzo did… Either way, they killed it, and took home all the prizes in their division.
In the older Category, it was complete insanity on the obstacles. The first one was the ledge that runs along the bank and there were people coming from both directions right at each other. Dallas stomped a 5-0 kickflip out right in between 2 other people at one point. Someone got there face split open right above the eye by an elbow and everything. It was crazy. But so many tricks went down by so many people – Dominic Devries, Matt Cook, Calvin Dignard, etc. I have no idea what he landed, but Sam Hampton won that part.
The next part was on the 3 block section and of course that was ridiculous. Dominic laid down about a dozen tricks including a perfect bigspin flip front board, Sam Hampton was landing everything he tried, someone double heelflipped the set first try, and Brendan Nielsen was trying to hardflip back lip the rail. But there was no match for John Purcell and his switch tricks. Switch Back Lip on the out rail, Damn!
John Purcell won that section and then was announced as Overall Winner to continue on to Step 2 of Make it Count. Way to go dude.
Thanks to Element for coming out and creating another awesome event for skaters across the world. And great job to everyone that showed up and displayed their talents in Surrey.