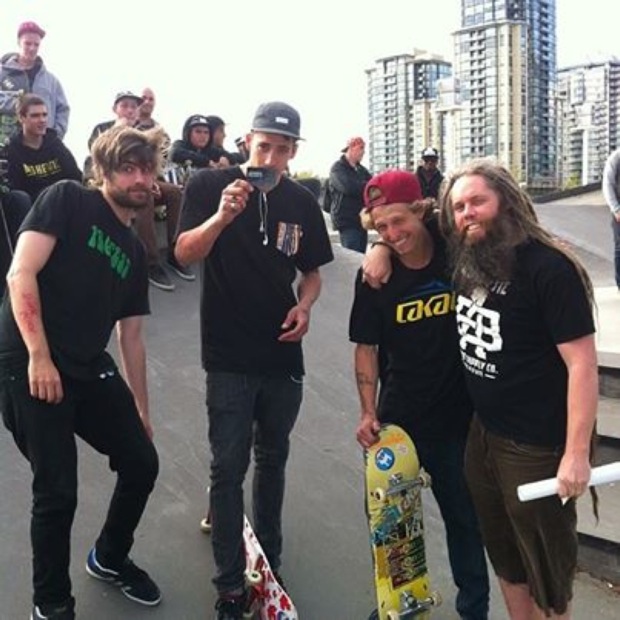 What an awesome day, and a very cool event that ended in success. Calvin Dignard came up with the idea to do a King of the Road style competition throughout the streets of Surrey and so he and myself Hippie Mike made it happen. With multiple challenges for teams to choose from and each of them worth different amounts of points, 10 teams of 4 skaters each headed out into the world of Whalley for a crazy day. Each team had to film and post their progress all day long onto facebook and Instagram with the hashtag #authenticscavengerhunt to prove that they had completed the challenge. By earning points for each completion it was a race to gain the most points in 4 hours. Solid tricks went down, some businesses were upset, cops were on the hunt and everyone was having a great time. It was true street skating at it's best.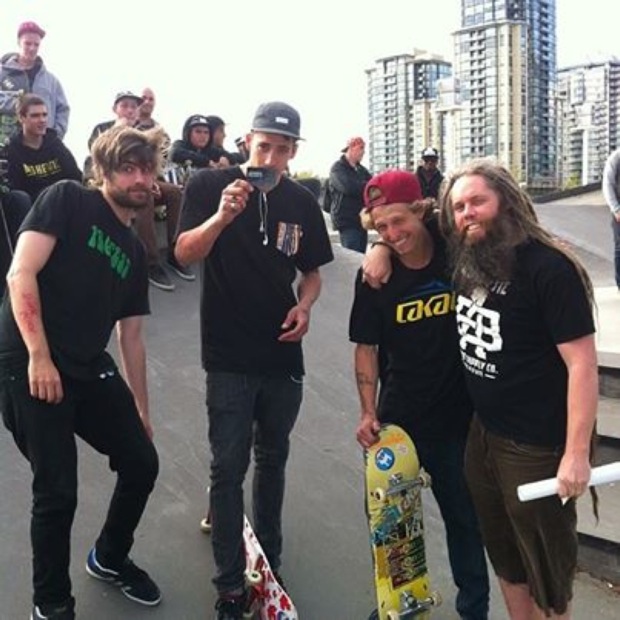 The winning team was named "The Force" and consisted of Andre Bissonnette, Jordan Strong, Shawn Beaupre and Darian Vincent, they worked super hard to complete a lot of challenges, figure out how to get bonus points, and also create a lot of posts. They took home a $200 Gift Card to Authentic. These guys were really on top of posting their progress where other teams might have had trouble getting their stuff up online. Stay tuned for more clips of all the teams with more footage that might not have made it into the contest on time.
We finished the day off with a Best Trick Contest at Chuck Bailey and everyone left with great memories of the day.
Results
1st – The Force – Andre Bissonnette, Jordan Strong, Shawn Beaupre & Darian Vincent – 430 points
2nd – Squid Hunters – Dominic Devries, Francois LeBlanc, Weston Hutchinson & Dallas Lang – 385 points
3rd – Doughboy Fresh Crew – Brett Gilchrist, Brendan Nielsen, Laine Siebert & Matt Cook – 315 points
4th – YoloSwag420BlazeIt – Donny Chang, Tony Casano, Eric Pereira, Ryan Barron – 155 points
5th – White Rock Renegades – Riley Allen, Yubo Wang, Eric Ream & Devin Christie – 140 points
6th – Multigrain Rice – Jimmy Ly, Phil Tieu, Stuart Ansley & Thomas Milne – 135 points
7th – HitSquad – Mike Willms, Nic Hrvacanin, Josh Lewis & Peter Kelly – 130 points
8th – Team Gnarmy – Fez Tellez, Michael Kitasaka, Bryan Callan & Cory Gibson – 105 points
9th – Hesh Clan – Matt McGeachan, Brandon Bishop, Jamie-Lynn Cook & Dave Brown – 40 points
10th – Brad Muscat, Chadd Sinclair, Weston Ganger & Barrett Lediard – 10 points