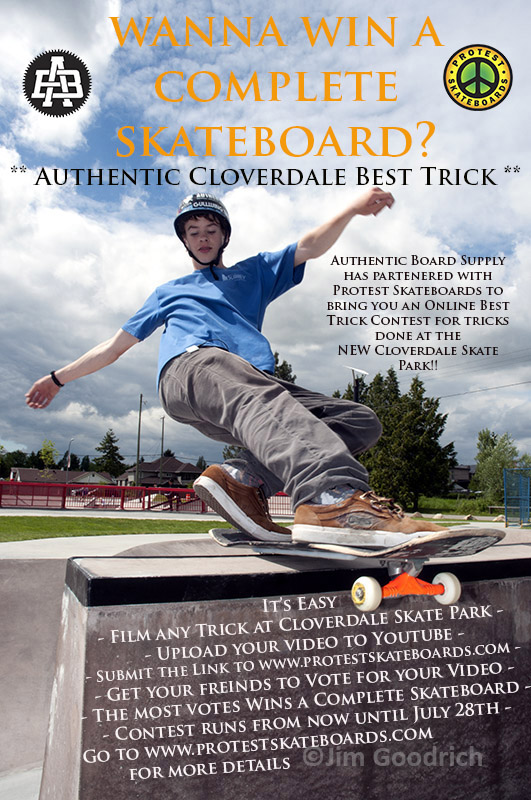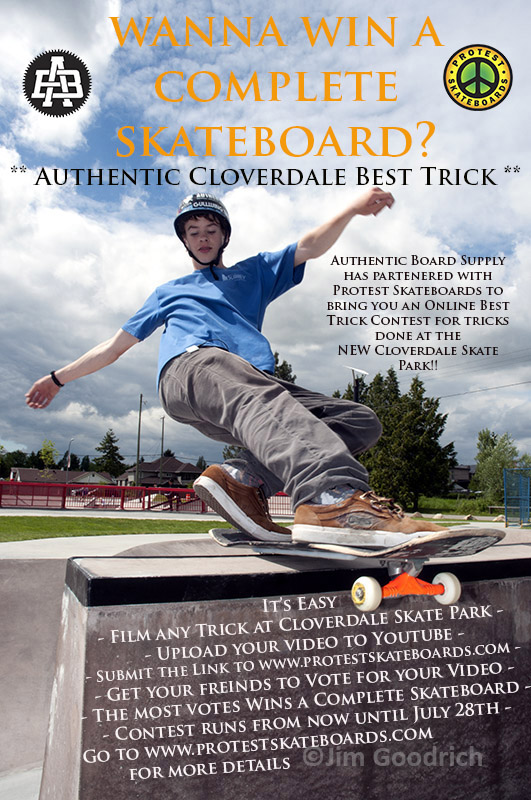 WIN A PRO COMPLETE SKATEBOARD OF YOUR CHOICE FROM AUTHENTIC BOARD SUPPLY!!
The new Cloverdale Skate Park has been jumping since day 1 and we know it won't slow down until Fall so Protest Skateboards has partnered with Authentic Board Supply to bring you a sweet Online Best Trick Contest!!
Film an "Authentic" or Awesome trick at the park, upload it to youtube and then submit the link to the contest on the protest site – www.protestskateboards.com (Please name your video CLOVERDALE BEST TRICK – YOUR NAME to make it easier for people to search for your entry and get you more votes)
Once your video is approved by our web team it will be promoted on our site and be ready for voting. You want to get as many votes as possible to try and win the contest. People can only vote once per video from their computer so make sure you share your video to all of your friends and get them to vote.
You can submit as many separate videos as you want!
Submissions cut-off date will be July 14th
Voting will continue until July 28th
Winner will be announced July 31st
 You can take a peak at the leaderboard here. Cisco Gooding was the first to submit a video which you can see below.

Take a look at all the fine details in the poster above.