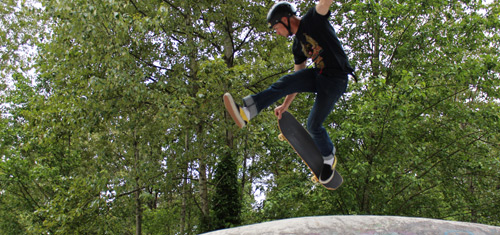 Welcome to the very first episode of GLORY DAZE with Hippie Mike!! We're here in North Vancouver at one of North America's oldest skate parks – Seylynn Bowl. Today we're spending time with a true "old schooler" that's still out here representing on the board. Sponsored by Sector9, he was King of the Bowls in 2004, the original owner of Push Skate Shop and still one of the original  NV Locs. He just turned 40 years old a couple of weeks ago but that's not slowing him down one bit – give it up for Eve Feaver!!!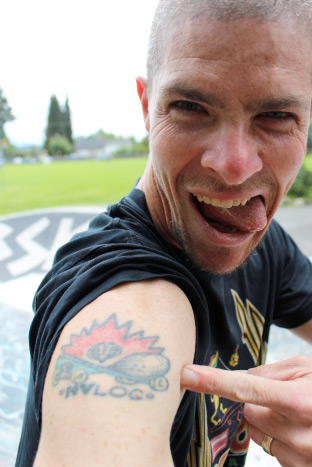 Hippie Mike: First off, how does it feel to be the very first person ever profiled by Glory Daze?
 Eve: Feels pretty good, yeah it's an honour
 HM: How many years have you been skateboarding?
 Eve: Well I got my first skateboard when I was 6, so about 34 years ago… Actually skating on it all the time, probably, close to 30
 HM: Who were your biggest influences as a kid?
 Eve: A good friend John Munro who I skated with together for a long time and had a lot of fun
 HM: Who are your biggest influences now?
 Eve: Right Now?? My kids are a very big influence on who I am, and my grandfather. He's living in Ontario, and he's an artst and a very humble man
 HM: Name your 3 favorite people to skate with and why…
 Eve: Only 3, eh… I try to enjoy skating with anyone who's around, but 3 people, I'd have to say – Bushman (Don Wilson). We've skated together a long time and we've got a lot of great connections and things in our lives in common, and we get along pretty good; Umm, Jamie Sherratt, same thing. We've been skating together for a long time and family ties, man. People you know who have families bring you closer together; and uhhh, Surfer Mark. Skates here, and you know usually you pop by for a few minutes after work and there's only a few select people who are always here, and he's one of them, a lot of fun to skate with
 HM: Where is your favorite place to skateboard?
 Eve:  Seylynn, without a doubt
 HM: Were you here (at Seylynn Bowl) for the Opening Day back in 1978?
 Eve: I was not here – I was 6. It wasn't something that my parents were necessarily a part of, so, I wasn't a part of it
 HM: Name your 3 favorite tricks…
 Eve: My 3 favorite tricks? Nosepick. Hand Plants. And I guess, slides of all sorts… powerslides mostly.
 HM: What do you do when you're not skateboarding?
 Eve: Family; my kids and wife. Try to do some sports with them, golfing with them, or just hanging out. That's pretty much it, skateboarding and family
 HM: Have you ever got a Hole in One?
 Eve: No (laughs), not yet. It's gonna happen though
 HM: are you prepared for the amount of money it's going to cost you when you do get a hole in one and have to buy the entire golf course a drink?
 Eve: I am not… it's gonna be on my own little, made, backyard, 1 hole golf course
HM: What year did you open Push Skate Shop?
 Eve: 2004.
 HM: What year did you sell it and why?
 Eve: 2007 or early '08. It was about 3 ½ years. It was hard to have a Skate Shop, a fulltime job and a family. One of them was going to go, and that's the one it had to be. We wanted it to stay there, it didn't matter who owned it, as long it was there. Everybody needs a place to stop in and hang out for a second, you know, grab a pop or something
 HM: How many companies have ever sponsored you
 Eve: (long pause) One. That's it
 HM: Any appearances in Magazines, Videos, Tv?
 Eve: I have never had a single picture in a magazine. I have a couple of small parts, like a shot or 2 in one of the Sector9 videos, in a Protest video, and The Seylynn Story – a documentary on the park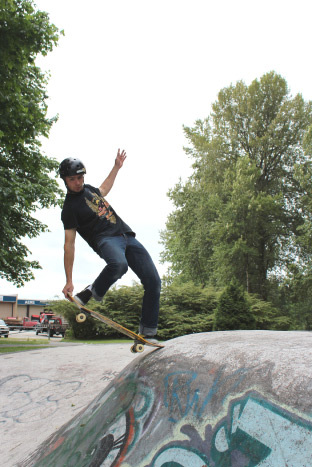 HM: One of the best videos ever… Were you ever involved in the planning of any skate parks?
 Eve: Yes, one in Coquitlam, in Maillardville, which is being built right now. It's another New Line Skate Park. We've been working on that for about 4 years or so, and it will be ready soon, hopefully in July
 HM: Have you ever had any serious injuries?
 Eve: Uhh, serious enough, yeah. I separated a shoulder at Hastings, which… sucked. It's hard to work like that. And I fractured my tibia at the RDS Park. Landed flatbottom on the big ramp and my heel smacked my tibia. That sucked too. But no, I've been pretty lucky. A little skin left a the parks, but no real breaks
 HM: What is the toughest thing about being 40?
 Eve: The toughest thing about being 40?… Um, wondering if I could keep up, and so far I can, although I don't quite have the air in the lungs as much anymore, but I think I can get there
 HM: Do you consider your skills on a skateboard to be better or worse now compared to when you were 20?
 Eve: Better. You see, it was "doing" a trick at the start. And now, it's "feeling" a trick. I enjoy all the small parts about everything I'm doing. I don't know, it doesn't have to go by fast anymore. I can take my time. I can still move fast and still enjoy every small bit of every trick
 HM: What's your opinion of having soooo many skate parks for these kids today to access – good or bad?
 Eve: It's great. It's awesome that they get so much variety. Instead of just flatground type skateboarding, there's such a mix now. You can decide on any day to go do a completely different type of skateboarding, so yeah, it's good
 HM: In 2009, we experienced the tragic episode involving a head on collision in the bowl right here at Seylynn Bowl Series contest and we lost The Mad Carver – Don Hartley – forever. I know you and Don were good friends and had known each other a long time. How did that day change your life?
Eve: (long pause)… It's changed it for every day after. I think about him every time I skate; every day, if I don't skate. A real influence was Don Hartley. Not just on a few – on many, many people, from all parts of his life… That day, I was in the run, it was during our run – all the Locs, everybody that knew each other, and it happened. And it was like the hammer dropped, you know, everything changed from that day on. But he has a very strong family, and you know, they're great, so, I don't know how much more to……. you know…. it changed a lot of people, and I am just so grateful to know him at all. I thank skateboarding for that. I wouldn't have known him otherwise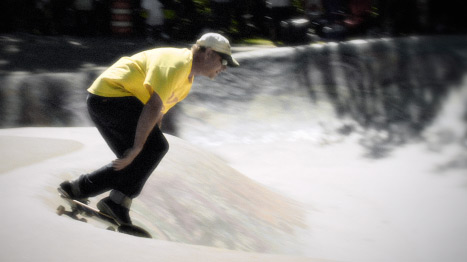 HM: If you could change 1 thing about today's world, what would it be?
Eve: That people would care a little more about just everyday life with everybody else. We all gotta deal with all the same problems basically, so everybody's gotta recognize, you know, and take a second for everybody else
HM: Describe who "Eve" is on the inside, and what motivates you to be that person…
Eve: Umm….. I like to do things… I like to work hard. Whatever it is I think I take pride in what it is that I'm doing. Try to have fun with everything I'm doing…. I don't know, that's a tough one. How do you talk about yourself that way? I look to my influences to help me make choices too. It's not just me. I am other people as well. I am who I came from. And sometimes there are battles, and sometimes you're thankful for all that you have. That's me I guess – don't need too much, just happiness I guess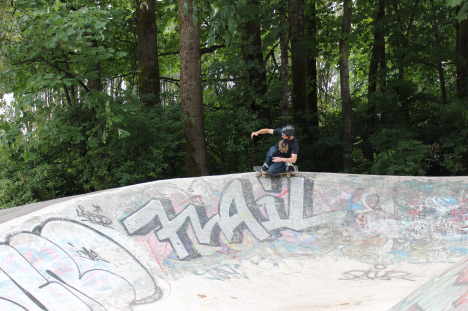 HM: Do you consider yourself to be a leader or a follower?
Eve: I think I am a Leader, but sometimes I know my place, and can follow
HM: What is the best accomplishment in your lifetime?
Eve: Well, kids are my best accomplishment. I guess that's the standard one. But something that I've done that is only mine…… King of the Bowls (2004)
HM: Who was the coolest Pro you ever got to skate with and where?
Eve: So, at the old Richmond Skate Ranch, I got a chance to build some of the ramps with Lance Mountain, and that was pretty fun. And Neil Blender was there too and me and some of the guys that were there went for a street skate through Richmond with Neil Blender. To see a guy that you only see in the magazine or something and it was a fun time just hanging out with another skateboarder who just happened to be from another place. That was good. But there was also Steve Caballero I got a chance to skate with there. Um, Adrian Demain, but Ray Underhill was one of the funniest, friendliest guys I ever got to skate with
HM: What's the best beer to skate with?
Eve: Uhhh, Ozujsko??? (laughing, since I had just given him his first taste of Ozujsko during the interview)
HM: Name your 3 favorite skate brands of all time…
Eve: Powell Peralta, Skull Skates and Sector9
HM: What is your most influential Skate Video to watch?
Eve: Seylynn Story – always
HM: And finally –
Do you ever see yourself quitting skateboarding?
Eve: Nope, not for a second. No matter what happens, I gotta roll still, so that's the way it's gonna be
HM: So I'd just like to thank you for coming on Glory Daze, especially being the first person ever. One of my favorite people to skate with – anywhere – Eve Feaver…