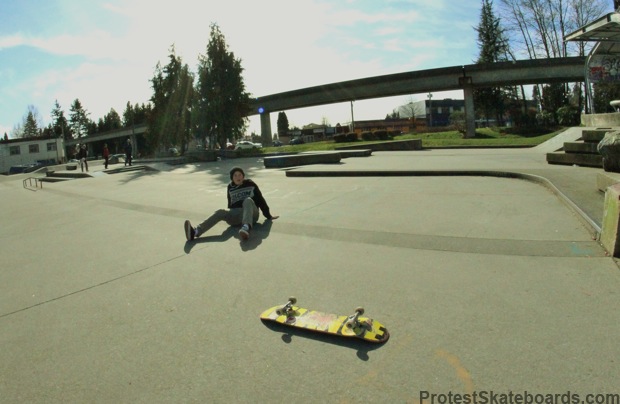 Welcome to Episode 8 of GLORY DAZE with Hippie Mike. Today we're chillin' out at Bonsor Skate Park in Metrotown with the kid I simply call "The Dominator". He's young and full of talent, and wins a lot of competitions. His sponsors include Chance Skateboards, Volcom and Vans Shoes. He recently won Wild in the Parks last year and was also named King of Surrey for winning the most Hippie Mike's Tour de Surrey contests in 2012, give it up for Dominic Devries!!
Hippie Mike: Welcome Dominic. Please, tell the world how old you are and how long you've been skateboarding
Dominic Devries: I'm 16 years old and started skating when I was 9
HM: What was the first experience you remember as the moment you decided that you loved skateboarding?
Dominic: Um, my cousin got me a Hulk Skateboard on my 9th birthday and I just had a lot of fun with that. And I just kept skating since then
HM: You just broke your arm for the second time last September, what are some of the worst injuries you've had?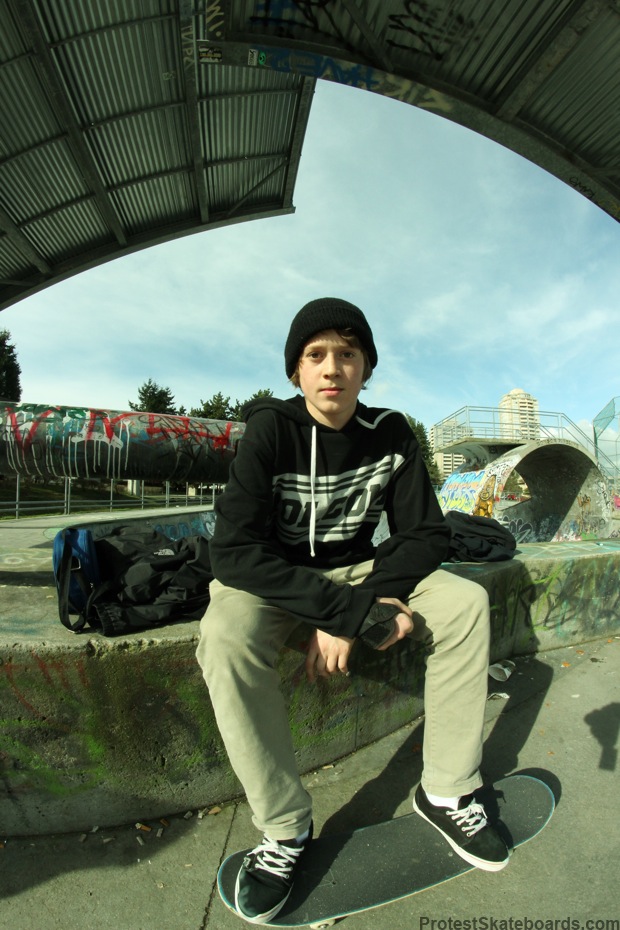 Dominic: Well, those are probably the worst, but I've broken my elbow twice too. Yeah, and my foot
HM: Ouch… Do you ever just feel warn out and tired, and not want to skate anymore?
Dominic: No, never
HM: Tell us the best accomplishment you've had as a skater
Dominic: Probably the biggest one was winning the "Element – Make it Count" contest here at Bonsor
HM: Cool. Who are the people that influence you the most?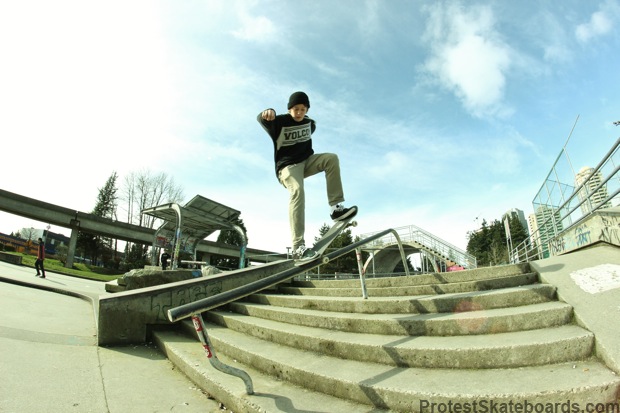 Dominic: Um, I don't know, I like watching Micky Papa skate. He stokes me up to do new tricks and stuff
HM: Okay, I notice in the contests that the other kids cheer for everyone but you during the runs, almost like they're more depressed when you land stuff than excited. Does that hurt your feelings at all?
Dominic: Not at all
HM: Does it pump you up?
Dominic: It doesn't pump me up, or stoke me up, it's just…
HM: Just Life?
Dominic: Yeah, it's just life…
HM: Do you think you'll ever become a Top Name Pro?
Dominic: I don't know, no idea. Hopefully, that would be pretty cool (laughs)
HM: Are we gonna see Dominic Devries on the TV tearing up X Games or Street League some day?
Dominic: Maybe (laughs)
HM: So I gave you the nickname "The Dominator" a couple years ago. Do you like it?
Dominic: Uh, yeah. It's cool, but… sometimes people make fun of me for it (laughs)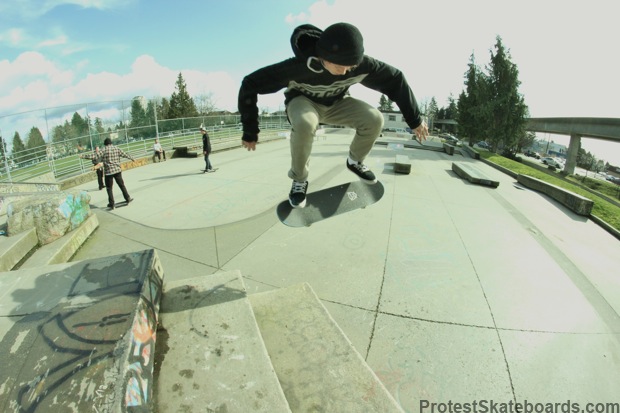 HM: Last year you won your share of competitions, and you finally accomplished winning the King of Surrey Trophy at my Series with three 1st Place and two 2nd Place finishes out of the 5 contests. How did that feel?
Dominic: It felt good. That was one of my goals last year
HM: Name your 3 favourite Skate Parks
Dominic: Probably Bonsor, Chuck Bailey and Plaza
HM: 3 favourite Street Spots
Dominic: Granville 8, and uh… Terry Fox Plaza, and maybe… Hot Spot
HM: 3 Best Tricks you've ever landed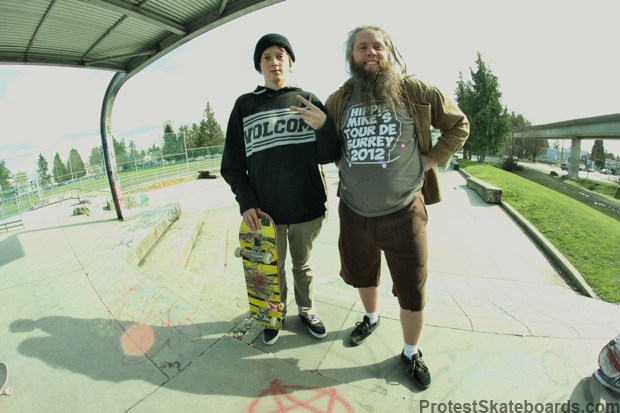 Dominic: Probably Tre Flip down the 12, and Kickflip Front Board down Bricktown 10, and…. maybe front blunt shove on Granville 8
HM: Nice!, and the 3 coolest people you've ever skated with
Dominic: Mark Appleyard, Chad Tim Tim, and, and I saw Nyjah Huston for a bit (smiles)
HM: Nice. So, what's next for The Dominator in 2013?
Dominic: Uh, skating a lot, going to lots of contests, and filming lots
HM: Okay. Well Dominic, I'd like to thank you for being on GLORY DAZE with Hippie Mike. I've been watching you grow up as a skateboarder for a few years now and I am always stoked when you show up. You're one of my favourite people to watch skate and I know a lot of kids look up to you. I wish you all the best in your future and really hope to see you on the TV someday getting paid for doing what you love – The Dominator everybody!!
Check out the montage of 2012 Summer from The Dominator
[youtube id="limN2Qz7oW4″ width="620″ height="360″]