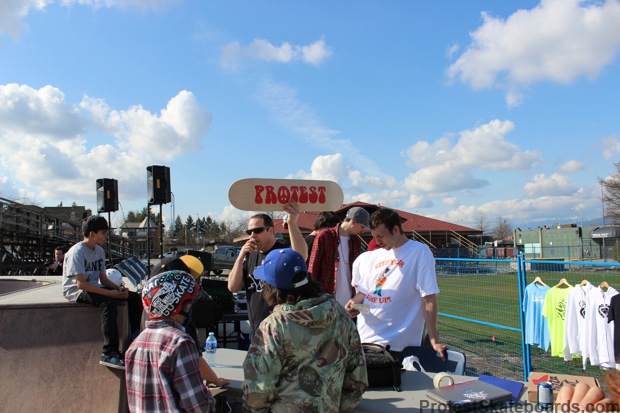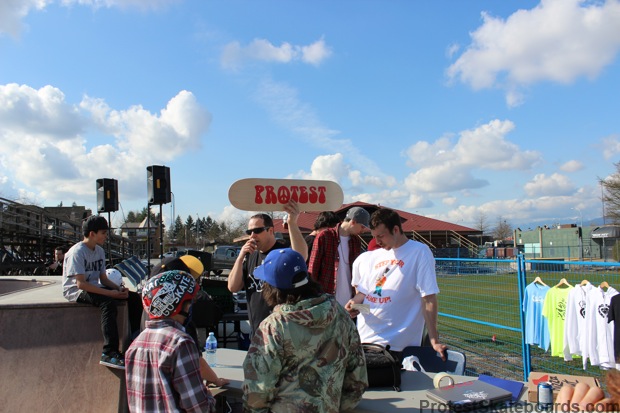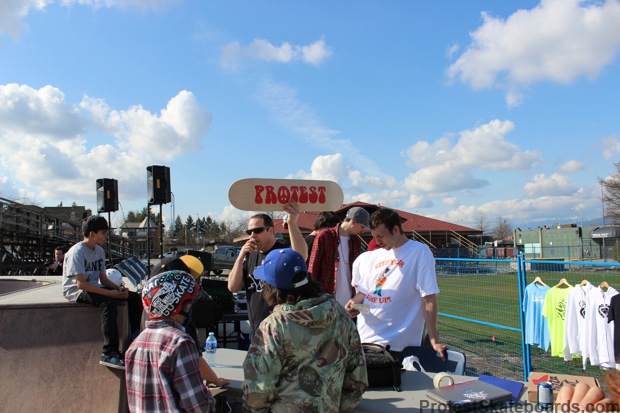 It was one of the first big contests of the 2013 season, and Dan Pageau couldn't have chosen a better date. The Spring Kickoff Contest at Pitt Meadows lived up to it's name by being on a beautiful Spring Day, and the day the clocks move ahead. Tons of kids showed up, lots of Locals for Pitt Meadows and Maple Ridge, and lots of the One Love Skate Shop Crew. Lanny Deboer and Andre Tsougrianis both hung out and skated a bit, Lanny won the highest air contest out of the bowl, and then MC'd a bunch of the contest. But we had a full sized crew show up from Surrey and Delta, including Jordan Strong, Brendan Nielsen, Ryan Barron, Jacob Drescher, Mathew McCauley, and JR Barron, along with Hippie Mike, Carrie Williams and Jaden Easton-Ellett with the Protest Skateboards Tent.
It was a solid competition, everyone was throwing down. In the beginner category there were lots of little rippers all doing different tricks left right and centre. JR Barron shredded it in the qualifier run and then smashed his face on his first trick in the finals chipping a tooth. But he just bounced up and fought through the pain to finish an unstoppable run, winning the Beginner competition. That's how we train these kids in Surrey.
Jacob Drescher showed everyone how Delta does it as Chis Sommerville from Street Dreamz Board Shop sat and watched him beat out all the Intermediates with ease.
Ryan Lepore kept Delta's reputation of amazing ledge and rail skating in full effect as he terrorized the entire course in both runs. The way it worked was you got to skate until you fell off your board twice. It took over 3 minutes for Ryan to slip up twice in the finals, beating out some tough skaters like Jordan Repin, Jesse Holland, Dominic Devries and Ryan Prasad.
Tsawwassen Represent!
They decided to have a Master's/Senior's division for people 30 years and over, so Hippie Mike got in there with Carrie Williams, Jonathan Reichert, Tim R and Dan Pageau. After complaining all day about his injured back and how hard it was to move, Hippie Mike went to town when it was his turn, utilizing the entire park and lasted a long time before falling twice. Of course his second fall was a crash hard enough to rock a nation.
Hippie Mike takin' it home for Surrey!
It was a great event and I think everyone had a blast. We sold some gear, hung out with lots of dudes we haven't seen in a while, and skated.
Here are some photos from throughout the day, mostly of the younger kids since they ripped it so hard.
Thanks to Dan Pageau and One Love Skateboard Shop for hosting the event. Support your local businesses