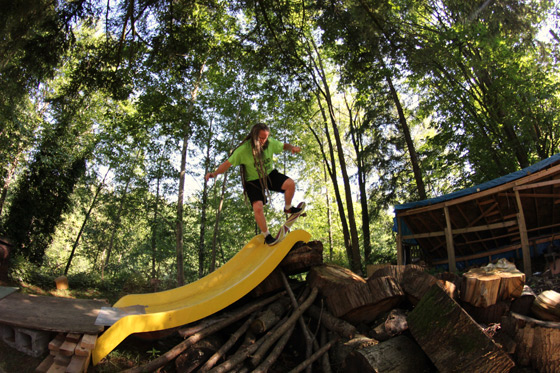 At the end of June, my awesome filmer/team rider Jordan Strong emailed a link to this online contest that Lucky Surf and Skate Shop was having where you film, edit and enter a video part up to 3 minutes long. I tortured Jordan by taking him to some of the nastiest street spots around every day when he got off work and getting him to film me, but that's the way I skate. We worked hard together to make this part, and of course we filmed way more footage than we needed to. From bare foot skating to riding the yellow slide, and I even pulled out the 2×4 skateboard for the first time n years, it's a must see for creativity.
Jordan and I also went out a few times with Andy Anderson and we got enough footage to put a part together for him too. This one really shows Andy's ledge and rail skills.
We all worked hard and the parts were submitted the day before the deadline. Then we received word that only 4 people submitted videos to the contest, including the 2 of us, so they are hooking us up with $150 each to spend at the shop.
Thanks Guys!!
And thanks to Jordan for workin' hard last month. At least we had fun making them.
Enjoy the videos
Hippie Mike
Andy Anderson