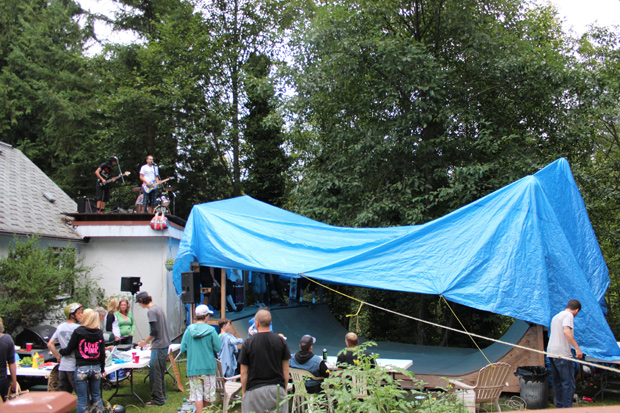 It was just like old times, the way we used to party in our yard, except there was a full on Ramp Contest happening. The weather was a little shafty so all the people that said they were coming who had never been to my house before must have thought it would be cancelled, when in reality, the whole point of the contest was to raise money for new masonite and another new tarp to keep us dry all winter. The beauty of my ramp is we float the tarps like a false roof and skate hard when it rains out here. So as soon as the drizzle started the tarp went up for the rest of the day.
[youtube id="rle-EKXNDgE" width="620″ height="360″]
 There was only about 50-60 people that showed up to party, some of the usuals, and some that even I hadn't seen in a long time – Russia, LegenBarry, Homer and the Pimpin' Kings to name a few, so I already knew it was gonna rock. We started warm up around noon, and threw the best trick early because that obstacle wasn't covered from the potential rain. It was a normal Hippie Mike obstacle, just a straight up nasty tombstone built out of a fridge and a monster truck tire, no big deal…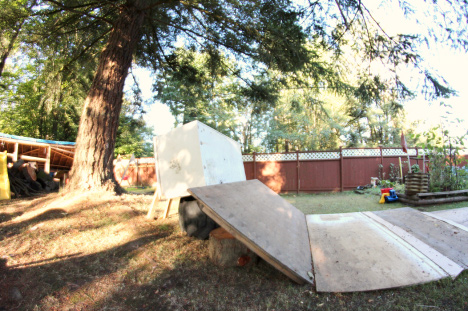 This thing was tough to skate, maybe the toughest obstacle built in the yard so far. I tried filming on it on Friday and only hit 2 tricks, and they would be considered basic on anything else. Eve struggled for rock & rolls the whole time, Jigga Jay stuck down a couple for him. Cisco did a frontside rock but had to grab it in and Andy landed the most but still couldn't get on top with trucks. Russia went hard at it the first attempt and actually shot himself over the whole fridge into the tree roots, but he came right back and kept givin'er. He was the only one who was getting' trucks on this thing. Russia battled it out hard and finally won with a feeble stall. That's how god damn hard this thing was to skate. Good efforts form everyone there, Russia took home a complete new outfit donated by legendary Moses Itkonen – DVS Shirt, Fallen Pants, Shoes and RDS Hat. Not bad for a guy that hadn't stepped on a skateboard for about a year and a half.
We let the dudes warm it back up on the fresh masonite mini while the Pimpin' Kings rocked out hard for almost an hour on my roof. I've had these guys play at so many of my contests and I always say the same thing afterward – "Best Small-Man Band I've heard". And I'm not saying their midgets, they just only have 2 band members, Chris Burnstad on Drums and Chad Whittingham on Guitar, but they threw in a sick Bass player named Mike Currie to bring extra power and sounded awesome. Every time someone drove down my street they would stop and stick their head out of the window to get a good taste of the tunes. Sick set boys, glad I could reunite you for a banger show, everyone loved it.
The keg was getting emptier and the burgers were getting scarce so it was time to start the Ramp Contest. Only 9 entries, but they were all destroyers. I split it into 2 heats and each heat got 3 minute rounds for the guys to throw down as much as possible and try to make it into the finals. It made good cause for lots of snaking and barging from everybody to try and get more time in the ramp, especially in Round 3. There were a few times where I saw 3 people on one piece of coping at once, no mercy. 49 year old Barry Blatter was the Barge Master for sure never losing a battle that he dropped in for and even smashing his face fully off the flatbottom at one point and just getting up, licking off the blood dripping from his nose and dropping right in again for more. Andy Anderson was crowd favorite of course completely annihilating the entire ramp like he knows how with a zillion tricks. Jeff Cole was another one who throws down the tricks you've heard of before but never seen, and he was showing them to ya, Fighter did every Judo Blunt combination imaginable, Eve Feaver put his 40 year old bones on line with handplants, nosepicks and huge airs over the hip, and Giver even Gaver, hitting up the whole ramp fast and frontside and even bonelessing in off the side rails. It was insanity.
The judges, Jay White and Brad Milburn did not want to be judges anymore, but I fed them more 311 Lager and we went over by the wood shed to discuss who was making finals.
Cisco Gooding did a lot of switch and techy tricks but didn't pull through to Finals. Allen Handley threw down a bunch of dirty manoeuvres that others do not understand, but didn't make the Finals. And Fighter did not make the Finals…
That left the infamous 5 – Andy Anderson, Jay Mykyte, Eve Feaver, Jeff Cole and Giver (Michael James), plus Barry who got the buy in for being the most hardcore without a doubt. It was a 20 minute, straight up, Battle – for $200. Shit went down, chaos everywhere. Jeff, Giver and Eve were all missionning hard throwing every trick they knew how with pure old school styles and skills, and Andy was in his usual "I can land anything I try" mode, but the eyes were on the Jigga, Jay Mykyte. Big Flip tricks, fast grinds and solid tech tricks left right and centre. Every one of them was touch every square inch of the ramp, the hip, the inner kink the decks, the rails, everything. And the more time that ran down the more snaking that went on. Finally right near the end of time, Jay climbed up onto the top railing behind the platform and tried to Tail Ollie over the deck into the ramp. Like true skaters, everyone kept skating but giving him the opportunity to try again and he stuck it down 4th try. Contest over. Jigga wins the cash!!
 It was an insane event, and it wasn't over yet. Nothing ends retardedness like a Barefoot Best Trick Contest. Only Cisco, Fighter, Allen and Ryan Barron wanted in. Cisco had it right from the start with a frontside 50-50 around the inner kink to nollie 270 in, only to have it stolen from him by Allen at during the final minute with a tailstall fingerflip disaster. Took home a pair of Fallen Shoes, some funky Shorts, and a Protest Deck. If we had known Cisco had already drank 12 beers at that point we might have let him have that win, damn.
Thanks to all that came out, we raised lots of funds and had a great time. Thanks to my Chef Bogdan, my Bartender Deena Z, to everyone that came out and supported, and of course DJ Cuzo. Until next year, that's the Jam…
Results:
Jay Mykyte – $200
Eve Feaver – $40
Andy Anderson – $20