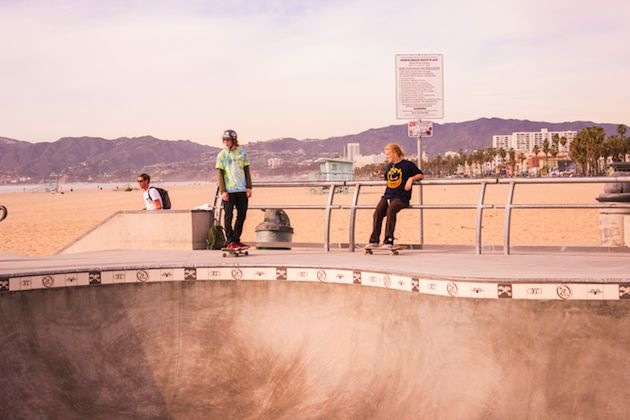 It was a quick decision when Rob from The Boardr sent Andy Anderson an invite to compete in the first ever Boardr Am contest series that qualifies 1 person automatically into an upcoming X-Games Am comp. The question wasn't whether or not Andy wanted to go and compete but more about which ones of the 6 stops would be best to go to. Well, stop 1 happened to be in LA, in January, that made the decision easy. We flew down on the 21st giving us a couple days to hang out and see the town before the event. Day 1 we hit up Venice Beach, starting off with the Skate Park of course. What a great place, 3 bowls, some fun shaped clam shell quarters and a little bit of street obstacles. Andy and I (Hippie Mike) both shredded the snake bowl mostly, just having fun going fast and catching waves. After filming a couple quick Instagram videos I pulled out the real camera and caught a sick line of Andy in the deep bowl. He was wowing the audience both inside and outside of the park.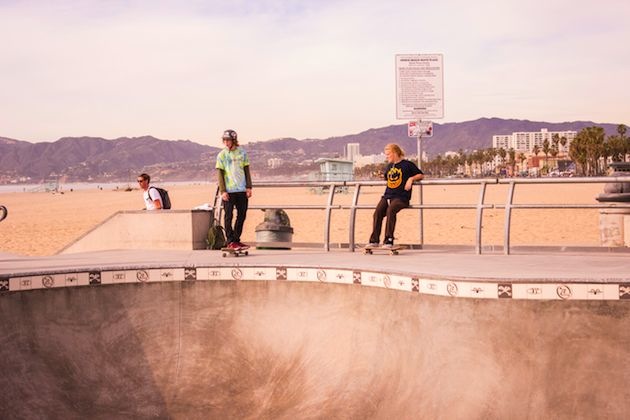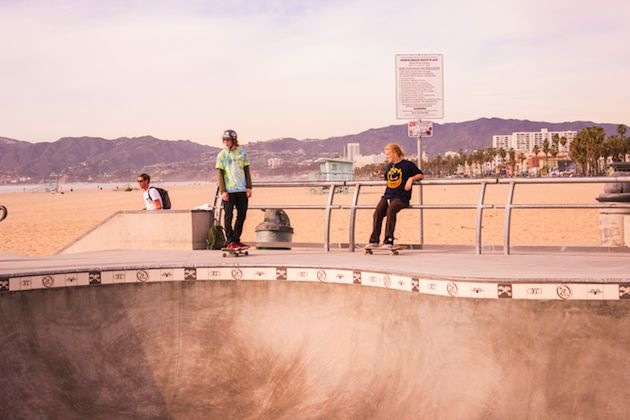 After a solid session we strolled down the strip a bit and saw the sights that reminded us of good old Hastings Street in East Van except with actual tourists around. It was a gorgeous day to hang out in Venice and then we headed off to some street spots and finished off the day with an evening LA Clippers game at Staples Centre. Blake Griffin demo!
The next morning we went over to Sheldon Skate Park where we thought the contest was to check in and warm up, but the contest location had been changed to Stoner Plaza because of them not getting the right permits for Sheldon. Oh well, we had to stay and shred this Sheldon Park, it was sick – Triple set, ledges, rails, quarter pipes everywhere, Andy put on a show at this park for sure. After getting heated up and filming a few lines we ventured off to Stoner. Stoner Plaza is a lot more streety and all the kids were bangin' out the tech tricks. The most popular obstacles were definitely the bank to bank gap, the quarter pipe hip, the hubba and the rail. This location change definitely changed the style of the contest, but that didn't change our attitudes. We were here to skate, and Andy was there to be seen. He definitely did some tricks that turned heads while we were there. After a solid warm up session and some quick filming we headed down the street to skate the ledges at Santa Monica Courtyard. The sun was going down so we didn't stay long, but we made sure to get some footage. After that we jumped in the car and blasted off to Anaheim to check out the infamous Wouldshop Skateboards backyard pool and DIY park. Ben Butler was a great host letting us shred away until we felt like it was time to quit. Andy shredded hard in that pool and learned some fresh lines that had some danger factor in there for sure. What a sick time!!
Day 3, contest day, and it was hot. We headed back to Stoner and got right into it. The gate was still locked when we arrived so Andy started warming up in the little picnic area by putting on a Freestyle Demo for the other competitors. Once the gate opened up it was every man for himself and the park was flooded with talent of all ages. There ended up being about 115 competitors altogether that day so warm up time was pretty crazy with people skating fast in every direction. The contest got underway and Andy was in Jam 4 (out of 41 jams), 3 people, 3 minutes. He skated good and did lots of funky tricks that some people couldn't comprehend and most people would never attempt. It wasn't one of his best runs ever, but he made a mark with his creativity. Only 18 people were going to advance to the semi-finals so all he could do was hope he made it. The skill level was high at this comp and there were some dominators for sure, Dashawn Jordan, Sebo Walker, Micky Papa, Nate Greenwood, Paul Hart and Jon Cosentino were definitely the guys to watch out for in this one. Jon Cos represented hard all day with consistent style and perfect landings all over the park. He led the entire day, and stepped up his game in the finals to keep his lead and take the first all-expenses paid ticket to X-Games Am!! Way to go Jon, and way to represent Canada. Andy finished in 33rd place which was really good considering the talent he was up against and the fact that Stoner Plaza was not fully his style park. We got some grub and headed back to the hotel to chill for the night. We had all day the next day to go hit the streets before our flight home.
Woke up, got breakfast and started hunting out spots on www.laskatespots.com – first stop was Hollywood High. No warm up and a sneaky move through the gate, Andy started the day with commitment and style dropping 4 solid tricks down the 12 stair rail in about 10 minutes. We headed out from there and found a couple of the popular high schools from all the videos but there wasn't much luck getting through the gates. We moved over to Santa Monica and ended up back at Stoner Plaza where we got directions to University High School for a little 8 stair action. Andy stuck a couple tricks down the rail and then signed his name with his patented Half Flip (or Anti-Flip) down the set and we called it a day.
It was a great trip and we got to see a lot in 4 days, the contest was sick and it was sweet to see everyone rip it up. It's too bad the location was changed but it was still a great event. Thanks for travelling with us, now Click the link below for the recap video of Andy Anderson and Hippie Mike in LA