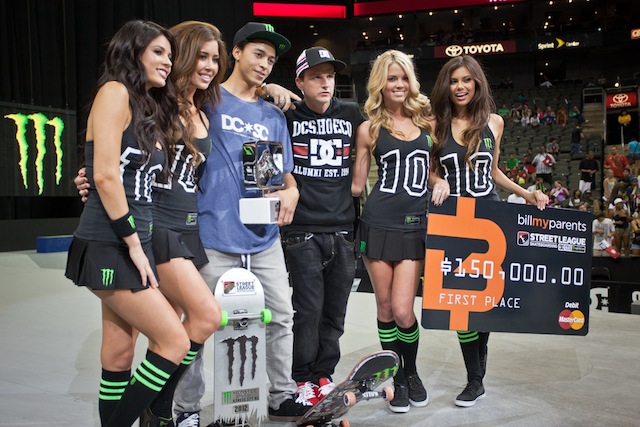 [youtube id="UzpturREbO4″ width="620″ height="360″]
Round 2 comin' up.
Just a quick reminder that the 2nd stop for 2012's Street League Skateboard Contest is right around the corner. They enter the Citizens Business Bank Arena in Ontario, California to see who will be the next winner. Nyjah Huston started the series off just like last year by taking home 1st place, along with another $150,000.
All the top names will be there. Chris Cole, Ryan Sheckler, Bastien Salabanzi… Who has the balls, and the skills, to take Nyjah off the top podium??
Set your PVR Boxes to record this one, June 15th-16th, live on ESPN.
Tickets for the Street League DC Pro Tour Fueled by Monster Energy went on sale April 2 at streetleague.com.
Stop two: June 15-16
Citizens Business Bank Arena, Ontario, Calif.
Live on ESPN2, June 16, 9:30 p.m.ET
Stop three: July 14-15
Jobing.com Arena, Glendale, Ariz.
Live on ESPN2, July 15, 7:00 p.m. ET
Championship: August 26
Prudential Center, Newark, N.J.
Live on ESPN2, August 26, 5:00 p.m. ET