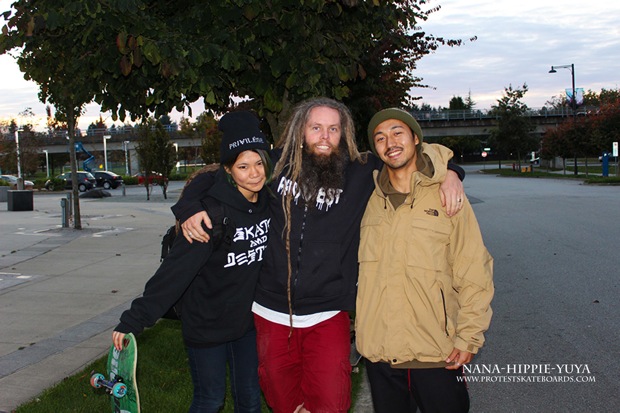 I was always a very social person in the sense that I loved adventure and would always just talk to anyone anywhere. That's how you meet people and how you expand your mind by listening to random people's stories. It's great to meet someone new and only know them for a few minutes but remember them forever. In skateboarding this happens all the time.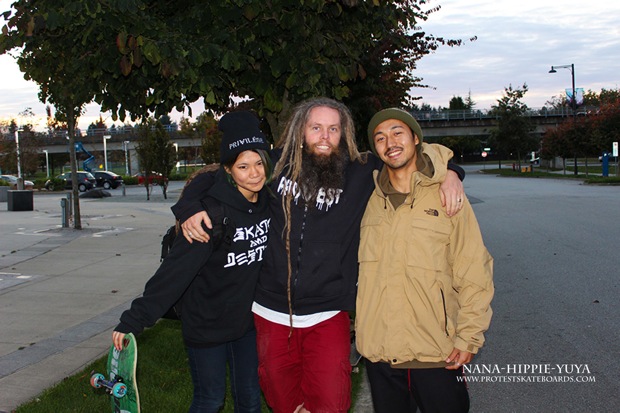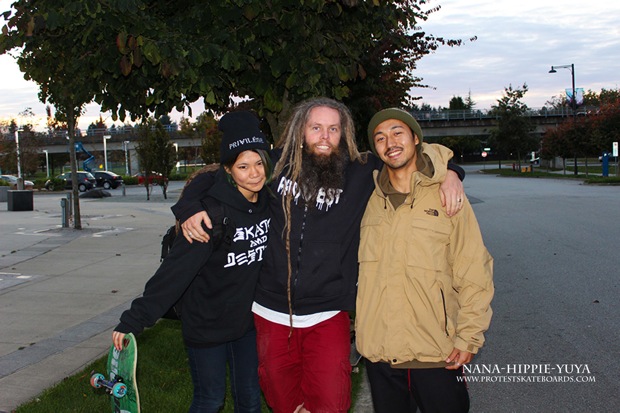 Earlier this year I was on Facebook and saw a photo of one of my distant friends Yuya Ishikawa posted and he was at the Plaza and I wasn't sure if the photo was recent or not. I new Yuya from a visit he had made in the past to BC but knew he was back in Japan. Next thing I knew Bam, there he was at Chuck Bailey Skate Park the very next day. I was so stoked to see him as he is such a rad dude, and sick ledge skater. Yuya had a girlfriend with him named Nana Kunugi and she was very happy to meet me. I gave them both Protest Stickers and told them to check out the website as there were lots of upcoming events that I was posting about and wanted to make sure they knew about them. These 2 hardcores started coming out to every event I was running in Surrey, they would bus all the way from North Burnaby out to Cloverdale or South Surrey just to be a part of these events which takes hours, and I thought it was so cool. It showed how much they enjoyed the atmosphere at the events. I considered them real friends and was super happy at how much they appreciated the skate scene out here, so I would try to give them rides to save them travel time and they would come back to my house and hang out whenever they could. It is so great when you can overcome a language barrier and still just hang out with others because you have things in common. So many people visit here from Japan to skateboard and they are all so amazing, super friendly and inspirational. We had some great times this summer together and created some awesome memories. Now these 2 friends will be flying out of Canada on Monday to spend a year in Australia and I wish them the best. I know I will miss seeing them around.
People come and people go, some are forgotten and others are always on your mind, and with today's technology we can actually stay connected forever.
To Yuya and Nana –
Thanks for coming to Canada and sharing your smiles, spreading your joy, and displaying your happiness. I can't wait until we meet again. Good luck on your journey
– Hippie Mike