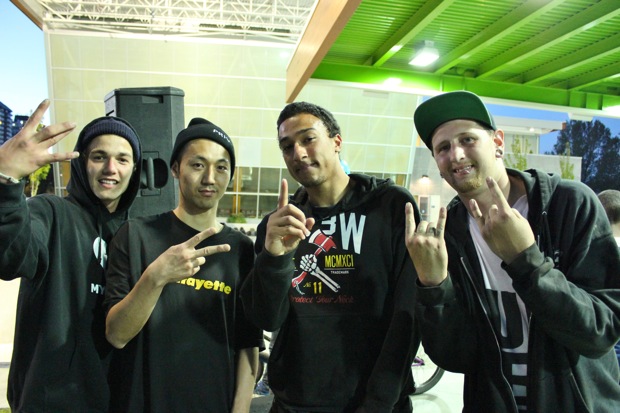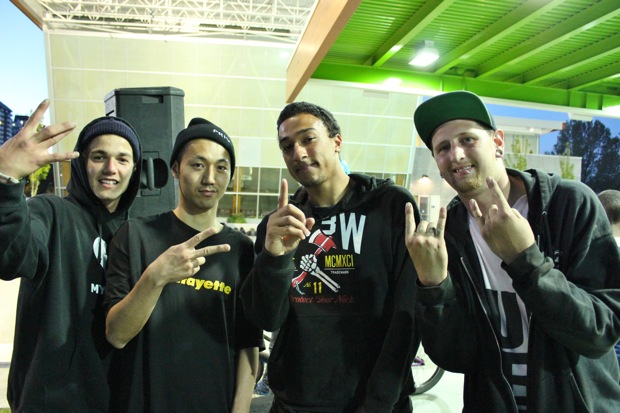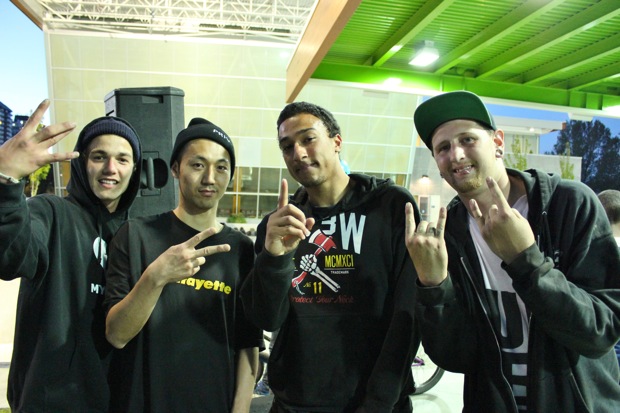 It was definitely a day to shine, the sun sure was…
Hippie Mike hosted Surrey's 9th annual Youth Week Skate Jam, this one was at Chuck Bailey Skate Park, and it incorporated a BMX contest into it as well. The Surrey Fire Fighters donated some funds for food towards a free BBQ and members even showed up and cooked and served the hot dogs for  over 2 hours. There was a ton of people who came out to participate in the event and also just to watch.
The BMX Contest ran as a Jam for about 40 minutes in between the qualifying runs and Finals for the skateboarding and most people were patient enough during that time, but the real deal was the skate comp. 4 Categories – 9 & under, 10-13, 14-18 and 19 & over, and all 4 of them were stacked. The 9 & unders all ripped as hard as they could, with Emmanuel N. Busting an ollie down the 3 block at 8 years old, and 7 year old Django Caseley putting on a knee boarding demo. The 10-13 yr old category was intense. JR Barron, Mathew McCauley and Adam Lewis all destroyed it – ledges, rails and tech tricks over every gap there. The 14-18's was dominated by Fighter (Brad Muscat) and The Dominator himself – Dominic Devries. Gabe Dinorscio was there but had to leave before the finals, it would've been nice to see how he would have fit into the winner's circle if he had been able to stick around. And then there was the 19 & over category. Francois LeBlanc was on his ledge game for sure, but so were Yuya Ishikawa and Calvin Dignard. Allen Handley and Eve Feaver also made finals for killin the tranny, but Nothing was stopping Calvin form winning that one.
So many tricks were stomped so solid in every category it was mind-blowing. If you missed it, you really missed out. But here are the results and some photos so you can at least pretend you were there…
Results:
9 & under – 1. Django Caseley; 2. Emmanuel N.; 3. Aiden Eastman; 4. Emmanuel G.; 5. Tienna Rivard
10-13 – 1. Mathew McCauley; 2. JR Barron; 3. Adam Lewis; 4. Theo Caseley; 5. Mark Melyukov; 6. Ethan Clark; 7. Josh Lewis; 8. Austin Bolm & Jacob Gilbert; 9. Jean-Claude N.; 10. Fish & Bachouch Michael; 11. Jayden ; 12. Damon Morgan & Dylan Reinheimer; 13. Matt Kipp; 14. Matthew Lalim
14-18 – 1. Dominic Devries; 2. Brad Muscat; 3. Jacob Drescher; 4. Tanner Hawthorne; 5. Noah Eastwood; 6. Henry McQuaid; 7. Gabe Dinorscio; 8. Riley Allen-Clerihue; 9. Brendan Spinelli & Nicko Garrido; 10. AJ Muhammed & Giet Rolin; 11. Jackson Wakabayashi; 12. Fredi Perez; 13. Zacc Lester; 14. Derrell Laughcane
19 & over – 1. Calvin Dignard; 2. Yuya Ishikawa; 3. Francois LeBlanc; 4. Allen Handley; 5. Eve Feaver; 6. Ty Koeller; 7. Trevor Greig & Kazuma; 8. Ryan Barron