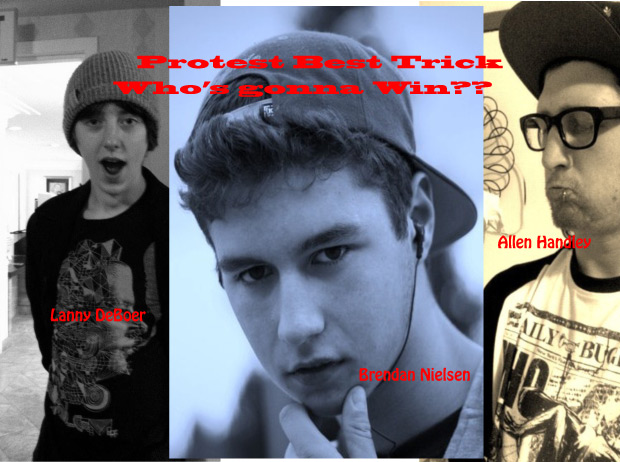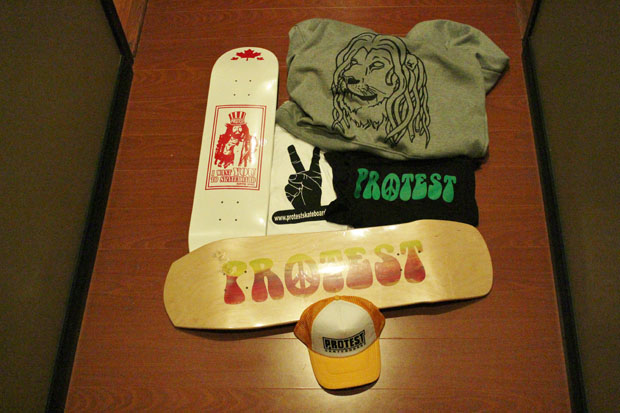 It was a great contest and I'd say majority of the tricks entered were definitely sick tricks. Some were big, some were tech, some were just weird, but all were awesome. You, the public, narrowed down the Top 10 by voting for your favourites, and then it was Team Protests turn to decide the winner. We narrowed it down to the Top 3 with Allen Handley's Miller Flip over the fireplace at Chuck Bailey, Brendan Nielsen's Smithgrind Hardflip on the ledge at White Rock Res, and Lanny DeBoer's Frontside Kickflip 360 over a big wedge gap in the streets. All 3 of these tricks were super unique in their own ways but we were forced to choose just one. After lots of debate back and forth and asking the opinion of a couple outside sources it was confirmed…
Congratulations to Brendan Nielsen!!
The winner of the 2012 Online Protest Best Trick Contest!!
Brendan has won a huge Prize Pack containing:
A Protest – Hippie Mike Deck, an Old School Shaped Protest Team Deck, 2 Protest T-Shirts, a Trucker Style Protest Skateboards Hat, and a Custom Protest Skateboards Hoody.
Check out the winning trick
http://www.protestskateboards.com/online-skateboard-competition/brendan-nielsen-smith-hardflip/
and click here to see the rest of the entries that Brendan beat
http://www.protestskateboards.com/leaderboard/
Thanks to all that entered.