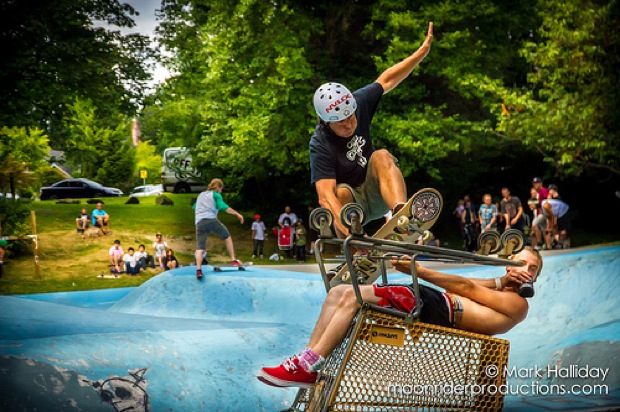 Second stop on the King of the Bowl Series #19 saw the circus show up at Griifin Snake in North Van. Plenty of skaters on hand to lay down some awesome runs and lots of pleased spectators.
The beginners contest was great to watch as always, love to see the stoke in those kids eyes, kinda like the stoke that's still in mine after all these years on board! Congratulations for my fellow Squamish ripper Jacob Leblanc for taking first place in beginners!!!
Intermediates was a great show too. Some of these skaters should maybe have been in advanced I think, with the tricks being displayed and them nailing the landings, showing that they have the cajones for the next level. Congratulations to whomever won, I can't recall who it was (old age and sitting beside Chalmers didn't help), but you guys were rippin.
Advanced saw a nice large field of well seasoned riders, my own old ass included. Speed lines galore, huge ollie-fest and a ton of old school trickery to be had. The heats were full on and in the end, came down to eight men in the final. I was stoked to make the final, having missed it last year and skated like I was 20! I wish. After all was said and done, the top five were as follows: 1-Danny Hagge 2-Andy Anderson 3-Adam 4-Rob Rickaby 5-Dave 57 Krystof and Bushman (me)
See you all at the next stop Whiterock/South Surrey – July 28th!!!
PS, the highlight of my day at Griffin, was airing over my teammate Fighter as he laid inside the shopping cart I was blasting over out of the bowl. That, or maybe laughing so hard, as Alex Chalmers tried to pass off his judging duties on the girl Nora, a skater visiting from Denmark, sitting right in front of us. After some coaxing, she was a judge… skateboarding rules!
For all the photos from Mark Halliday and Moonrider Productions click the link
http://www.flickr.com/photos/moonriderpro/sets/72157634787834588/