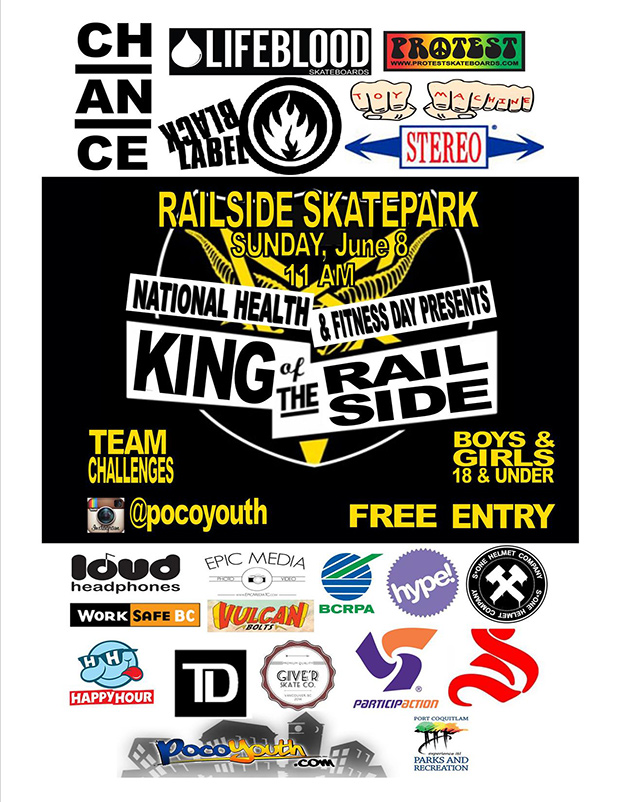 This sunday June 8th, Michael James and the City of Port Coquitlam are bringing King of the Road to Railside Skatepark. The first ever "King of the Railside" will features teams of youth skating and completeling various challenges throughout the day. Teams will complile points throughout the day with the end result to be the "King of the Railside". There will also be individual awards and prizes which will be announced in the coming days.
This free event is open to boys and girls age 18 and under and features team challenges that are fun and inviting for all skill levels.
Registration for the event begins at 11am SHARP at the Railside Skatepark. Deadline for registration is 12:30pm that day so get there on time. Once registration is closed, there will be no opportunities to compete as the teams will be set. This is to ensure that all the teams are fair and the balance isn't thrown off.
We invite you to follow @pocoyouth on instagram for all the details on the event including what the challenges might be, contests, prizes, awards, registration info, and much more. Keep an eye on their instagram for contests where you can win decks from the events sponsors.
See you this sunday, June 8th at Railside. Don't miss out, this will be awesome.