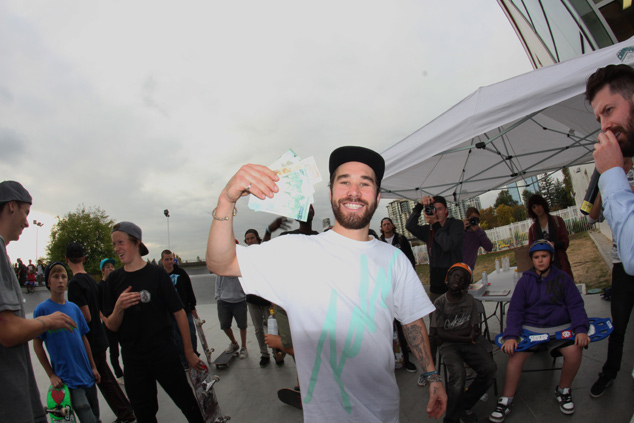 Another great event at Chuck Bailey Skate Park. It's awesome how many different types of contests have been held at Chuck in the past year and a half since it opened. This was another first, and I'm sure it will happen again next year because it was definitely a success. Lots of rippers there from all over the mainland, but mainly Surrey, Langley, Delta, Tsawwassen. 3 Best Trick obstacles and then the ledge battle, with over $1000 to give away.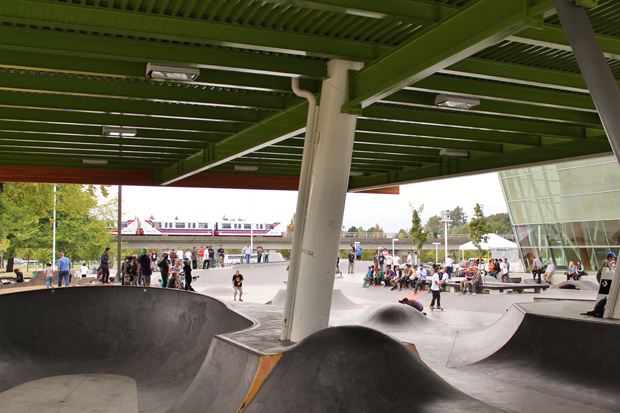 It started in the deep end of the bowl, and shit was goin' down. Fighter hit a solid invert revert, Allen Handley was droppin' Miller Flips, I saw someone bust a switch Judo Blunt, and Hashbrown battled hard for a Blunt Kickflip, which he unfortunately didn't land. Andy Anderson took the $100 in this one with a Frontside 5-0 across the whole wall 270 out. Yeah Andy!!
On to the Channel Gap, or as some call it, The Chimney. Magnus Hansen was killing this thing with every trick imaginable both directions and I think he won it but I'm not sure. There were so many amazing tricks that went down over that thing. The ones I remember were Back Tailslide Revert, Miller Flip, Kickflip Fakie, Alleyoop Back Smith. It was sick.
Then we moved to the hip to hip. I personally got things started with a Halfcab Kickflip, and there was a ton of tricks to follow both directions. My favs I saw were Bigspin Tailgrab, Fakie Inward Bigspin, Nollie 360 Heelflip and Hasbrown's Miracle Flip. I think he might have taken the prize money on that one, but I know Magnus was really close to hitting a 540 Nollie Heelflip. MC Cyrus Thiedeke really wanted to see that one and kept pushing Magnus for more tries. So close buddy.
Last event was on the flat ledges and this was where you skate until you miss a trick and then you're out. Once it's down to 3 skaters, the judges would decide who won by the Best Tricks that those 3 had landed. There was about 50-60 people to start, and some of the big timers went out early. Dustin Locke, Shawn Beaupre, Brendan Neilsen Tommy Gudmunson, Matt Cook didn't make the cut. Magnus Hansen was right there till the end, and definitely threw some of the most tech tricks, but your Top 3 ended up being Dominic Devries, Trevor Greig and Jorden Murray. They all got money, but Jorden won.
At the end the judges decided who was the Top Skater of the Day, and they had a bit of an issue picking just one. It came down to Andy Anderson and Magnus Hansen, but since Magnus didn't particpate in the Bowl Section they gave him $100 and Andy took home $200. Way to go Andy, Protest Represent!!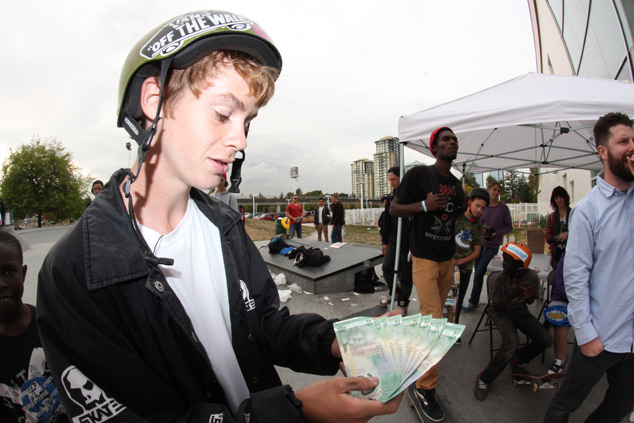 Thanks to Cons, Coastal Riders, and Color magazine for puttin' it on…