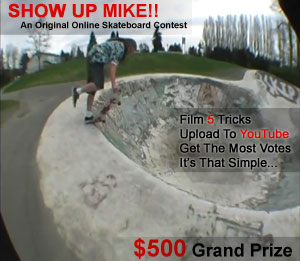 SHOW UP MIKE!!
An Original Online Skateboard Competition presented by Hippie Mike
"$500 Grand Prize"
Well, you better be ready… Ready to skate. Hippie Mike has skateboarded for over 26 years and has learned a lot of different tricks over his time. He may not be a good as he once was, but time has been taking its toll on him. Nevertheless, he is still one of the most creative skaters the world has ever seen, and loves to remind you of that.
In the past few months, Mike has been making his rounds to all the skate parks in the Lower Mainland and filming 5 tricks at each park.
From Abbotsford to Horseshoe Bay; Maple Ridge to Tsawwassen – over 45 different parks!!
Come mid-June, Mike will release the footage on the Protest Skateboards Website
and the contest will begin. This is your chance to
SHOW UP MIKE!!
The rules are simple:
Choose any of the parks that Mike has already filmed his 5 tricks at.
 Film 5 tricks of yourself in

One Session

at that park
 Edit your 5 tricks into a video and upload it to Youtube (name it : Your Name – and whatever park it is)
 Submit your Youtube link to www.protestskateboards.com along with your contact information (kept confidential)
 See how many votes you get
Repeat steps 1-5 at another park
The contest winner will be the video who receives the most overall votes. Viewers will be able to vote on as many videos as they want, but only once per day per video. Each park listed will have its own winner as well, and this person will win a Protest Skateboards T-Shirt.
Keep checking in to the site for more information of when the contest will begin.
Approximate date – June 16, 2012
Better start filming!
Skate Parks included in Show Up Mike contest
Abbotsford
McMillan Youth Park
Mouat Skate Park
Burnaby
Confederation Skate Park
Bonsor/Metro Skate Park
Coquitlam
LaFarge Skate Park
Delta
North Delta Skate Park
Ladner Skate Park
Tsawwassen Skate Park
Tsawwassen First Nations Youth Park
Langley
Brookswood Skate Park
Walnut Grove Skate Park
Aldergrove Skate Park
Murrayville Outdoor Activity Park
Langley City Skate Park
Maple Ridge
Schoolyard Action Youth Park/Thomas Haney Plaza
New Westminster
New West Skate Park
Queensboro All Wheel Park
North Vancouver
Seylynn Bowl
Kirkstone Skate Park
Parkgate Skate Park
Pitt Meadows
Pitt Meadows Skate Park
Port Coquitlam
Settler's Skate Spot
Railside Youth Park
Port Moody
Port Moody Skate Park
Richmond
River Road Skate Park
Surrey
Bear Creek Youth Park
South Surrey Youth Park
Cloverdale Youth Park
Kwantlen Youth Park
Fleetwood Youth Park
Fraser Heights Youth Park
Guildford Bowl
Chuck Bailey Youth Park
Vancouver
China Creek Skate Park
Cooper's Park
Hastings Skate Park
Leeside Memorial Park
Strathcona Park
Quilchena Skate Park
Skate Plaza
Kensington Skate Park
The Dry Spot
Mt. Pleasant Park
West Vancouver
Ambleside Skate Park
Lonsdale/City Skate Park
Griffin Bowl
Gleneagles Skate Park/Horseshoe Bay