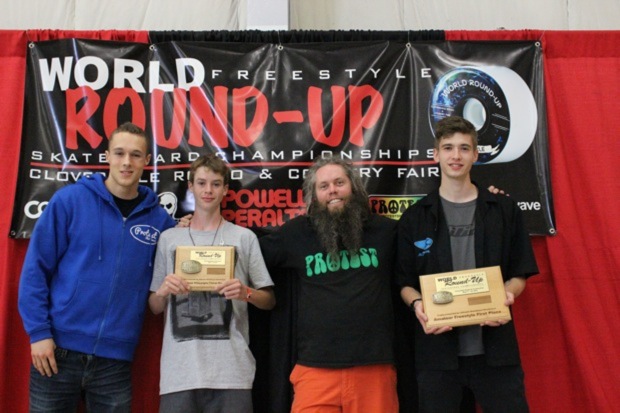 Hey everyone, how's it going? Things have been quite busy here so I apologize
for the late post. A few months ago I got a call from Kevin Harris that him and Hippie Mike were going to try to get me over to the World Round-Up Freestyle Contest held in Canada in May. I wasn't planning to go due to the cost of flying over, but they said they would try to work something out. I knew Isamu Yamamoto, the child prodigy of Freestyle Skateboarding, would be going but I didn't expect that I myself would go.
Some friends and business partners of Hippie Mike helped out and agreed to pay for my flight over. I couldn't believe it when I heard it, but I guess this is happening. I'm incredibly excited to enter the pro division for the first time with a bunch of my friends and test myself against the world's finest on my very own Protest Pro-Model Deck. I don't know how I will do, but this will definitely be one amazing contest and we will also be filming my Welcome to Pro video part while I'm in Canada. Stay tuned to see photos of the deck.
I just want to thank Hippie Mike and Kevin Harris, and everyone else involved very much for making this
opportunity a reality. I hope I can make you all proud in Vancouver.
-Ryan Brynelson