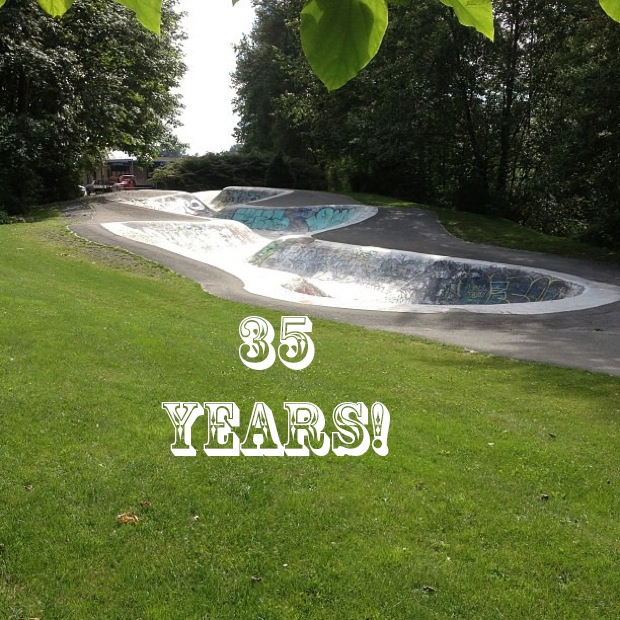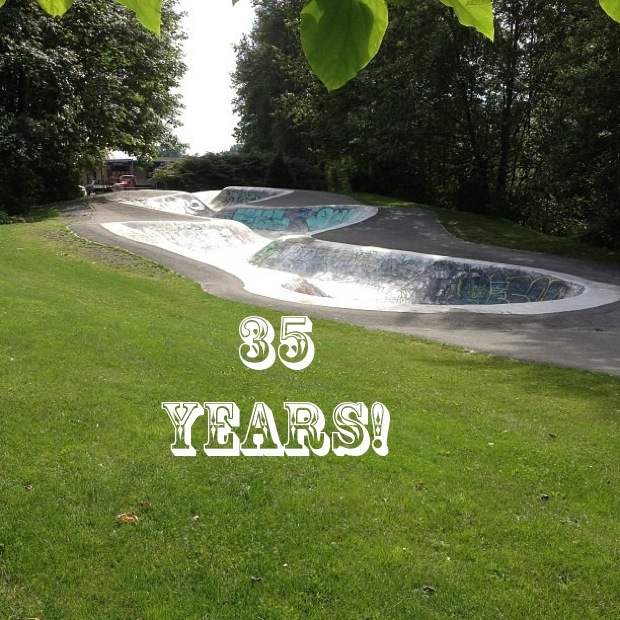 Wow! Can you believe that Canada's first Skate Park is 35 years old? And along with that, Canada's oldest Skateboard Company "Skull Skates" and PD's Hot Shop turn the same age. 1978 was a solid year for legends to come to life, ironically I was born that year as well.
This Saturday Night, come out and celebrate the once in a lifetime anniversary of these 2 iconic pieces of Canadian Skateboard History. You gotta be 19 years old and you need to have your name on the guest list to get in. The 2nd show on Sunday afternoon might be all ages, not sure.
PD and Skull Skates have worked very hard to create this event and are basing it around the history of Seylynn Bowl with George Faulkner's documentary video The Seylynn Story playing on a loop the whole night and a historic photo gallery of some of the amazing people and tricks that have been a part of Seylynn over the last 35 years.
This event is for real skateboarders so don't come if you can't represent
Here's the original info from Skull Skates
 Skull Skates Seylynn Bowl 35th Anniversary Event
Established in 1978, Canada's oldest skateboard company, Skull Skates celebrates Canada's oldest skateboard park, Seylynn bowl in North Vancouver with an art and photography show Saturday August 10th 2013 from 7 pm til late at the Red Gate in downtown Vancouver. With live entertainment by DJ Kilocee w/special guest, plus live performances by Perchoron & Sorcerers. Additional show viewing Sunday August 11th noon til 6 pm.($5 admission)
In April of 1978 an experiment that would become Canada's most enduring skateboard company started in Regina Saskatchewan. In October of that same year Canada's most advanced and now longest standing public skateboard park opened in North Vancouver, British Columbia. It's with a feeling of gratitude that Skull Skates has assembled a tribute to one of the world's most important and durable skate spots, the Seylynn Bowl.
Seylynn bowl was the brainchild of the district of North Vancouver. It was designed by Calen Sinclaire, Monty Little, Niko Weis and Rob Leshgold with the initial process of a secured site and mandate to build a park beginning in the Spring of 1978; the park actually opening officially on October 7, 1978. Special mention goes to Terry Snider and Dirk Oostindie from the District of N.V. for their initiation and dedication to the project.
Seylynn thrives as a landmark in the international skateboard community, plus N.V. of course is home to some of the most dedicated locals to be found anywhere. But Seylynn is more than just Canada's oldest skateboard park. It's a public space that fosters creativity in people of all skating styles and abilities.
If there were anything close to sacred in skateboarding, Seylynn would have that distinction.
YOU MUST BE ON THE GUEST LIST TO ATTEND THIS EVENT. FOR LOCATION AND TO RSVP EMAIL warehouse@skullskates.com