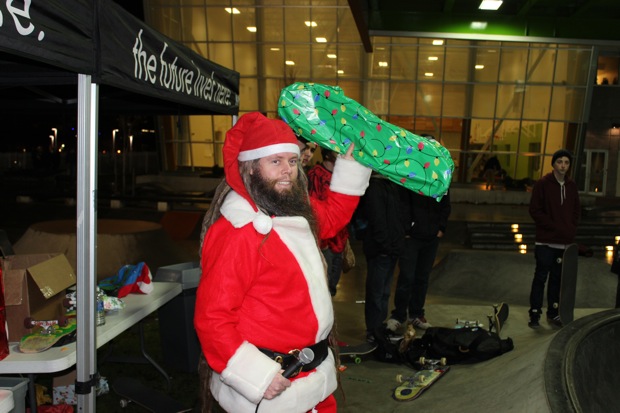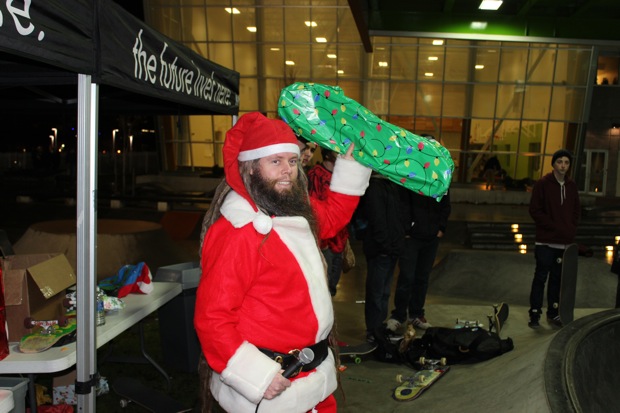 It takes a lot to hold ol' Hippie Santa back from showing up to Chuck Bailey for his annual Spirit of the Season Jam each year which usually falls on the Friday before Christmas, but last week Father Winter decided to bury the bowl with snow so the event was held off until December 27th. Now after Christmas is always a tough time for Santa because he's super warn out and tired from being overworked, but he came through for the kids, even with being half down with the flu.
Authentic Board Supply partnered with The City of Surrey to bring you year #3 of this awesome event which is supposed to remind people the meaning of the Christmas Season and how it is all about giving and sharing. So all the prizes that are donated by distributors and companies get gift wrapped before the event and are just given away throughout the night. If it doesn't relate to the person that gets it, they can just give it away to someone that will appreciate it.
The usual Chuck Bailey crew was in full effect and everyone was shredding the bowl. Allen Handley was killing the deep end all night long with inverts, miller flips and crazy grabbing grind maneouvers, while Mathew McCauley, Weston Hutchinson and Cory Gibson were blasting all the big gaps. Fighter was all over the map landing tons of tricks and Calvin Dignard impressed Hippie Santa by learning some sick Madonna Tailblock transfers from deep to shallow. The young kids were having fun in the shallow end all night and everyone had a great time together which is truly what was important, but the show was all Andy Anderson. He got called out to frontside lipslide the whole capsule of the deep end and did it, he got called out to kickflip the biggest section from top to flat and stuck it 2nd try, and the rest of the time he just did what Andy does best, DEMOOOOOOO!!
Everyone had a great time, it was super fun to see so many people together under the cover at Chuck Bailey again. Pretty much every person there received at least one gift and DJ Cuz-O kept us rocking all evening long. Thanks to all the sponsors, thanks to the City, thanks to the peeps that came out, thanks to Dennis Regan for filming, and Matt Roszmann for shooting pics, and thanks for the good Christmas Spirit.
Until next year…
(Keep an eye on our Facebook page for photos in the next few days)